I lost my dog a few weeks ago and now Facebook is showing me ads for dog products. Very upsetting. How can I change my ad preferences on Facebook to stop them appearing?
Oh gosh, I'm really sorry to hear about the loss of your dog. Something like that really demonstrates some of the fundamental weaknesses of the keyword scanning that Facebook does as part of its ad targeting. Perhaps you were posting about your dog for years, but even if your one post was to notify friends and family that your pup had crossed over, that's enough. Facebook would see 'dog' or even the breed of the dog, perhaps scan and analyze the photo you would likely have posted of your dog, and identified that dogs, pets, animals are all interests of yours.
With that identified, you could then be targeted by pet food companies, dog toy projects on Kickstarter, even animal charities seeking to raise money to help find homes for unwanted pets. All quite upsetting, without question. Fortunately while Facebook might zoom along behind the scenes trying to identify interests and topics, we have some level of control of how we're targeted by advertisers and Facebook itself. Let's have a look…
Start by clicking on the "?" on the top right of any Facebook page. You'll get the Help menu, including "Privacy Shortcuts":
Choose "Privacy Shortcuts" from this menu and one of the many boxes of information you can then access is Ad Preferences. It's presented mostly as an informational area, but there are quite a lot of preferences and settings you can tweak:

Choose "Review your ad preferences" (which isn't intuitively where I would look for targeting keywords about myself, but that's where it all is!) and you'll get here: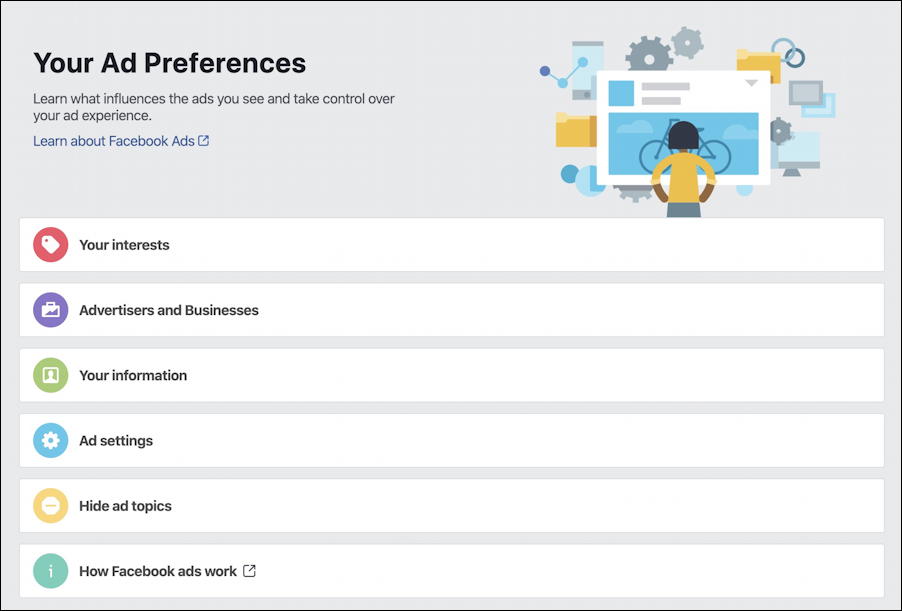 That's a lot of categories of information, isn't it? If you think about it, revenue from advertisers is what funds Facebook and keeps it free for us users, so to some extent it might be a necessary evil. But still, it sure keeps track of a lot of info and makes it all available to advertisers. Worse, since it's just a matched keyword or sentiment, there's no way for the advertisers to know that you posted about the demise of your dog, not a post about her latest antics.
Let's start with the biggest, highest level categorizations. Click on "Hide ad topics" to find out where you are in all the major categorizations:
Great. My three topics are alcohol, parenting, and pets. I talk about other subjects a lot more than alcohol, makes me wonder if that's just such a valuable target for advertisers that Facebook associates people with it after just one or two posts?
To get rid of pets as an ad topic, for example, I can specify that I want to hide ads that are targeting me through "pets" for 6mo, a year, or forever. In your case, perhaps 6mo will be enough that your heart will heal and you'll have adopted a new pupster to fill that part of your life. At that point, those ads are a good match again.
While we're looking at these preferences, go back to the main list and look at "Your interests". Again, this is a rather staggering list of words related to anything you've ever posted, commented on, or otherwise engaged with. For example, here are my "Hobbies and activities":
It's actually an interesting list because they're generally well tagged for me and my interests. Except perhaps horses and horseback riding. And birds. I like birds as a board game theme (see the terrific (and expensive) board game Wingspan) but otherwise, if it's not about the Hitchcock film of the same name, that's a bad match.
Fortunately you can delete mistargeted interests. Move your cursor over the image or icon and an "X" will show up:
This is pretty interesting anyway: If you click on just one advert for a specific keyword, you'll have that associated with your account forever on Facebook. Hmmm… might be worth going through ALL of these keywords to prune the list, yes?
Oh, and check "Your information" too to ensure that you're comfortable making your personal information valid targets for Facebook advertisers:
I suppose the good news is that we do have control over all of this shared information, but really for the 1.5 billion daily users of Facebook, how many are paying attention? Are you?
Finally, one more. Ad settings:
This is a really big category that is why Facebook keeps getting into trouble with privacy; it's how your Facebook experience is affected by what you do on other sites on the Internet. Me? Keep 'em separate, please. You can choose what you want, but the more you seek to have control over your Facebook ad experience, the more you might want to disable all of the above.
And that's it. Again, so sorry about the loss of your dog. Hopefully this will help clean up Facebook for you so it's not quite so painful and annoying while you grieve.
Pro Tip: I've been writing about Facebook for years. Please check out my extensive Facebook help area for tons of tutorials and don't forget to Follow Me on Facebook too!