Dave, I just switched from the iPhone to a new Google Pixel 5 and so far am really liking the Android experience. I'm curious about whether I can customize the pull-down shortcut buttons on my phone, however. Is that possible? Can you show me the basics?
Welcome to the world of Android. It's a lot more similar to iOS than it is different, but there are plenty of quirks and changes to the user experience that will keep you on your toes for a few weeks. There are also a ton of great features that are included in Android, and since you have the Google Pixel, you'll be the first to get new versions of Android too, which means you'll have even more stuff to figure out! Good stuff, though. 😁
What you're asking about is known in the Android world as the Quick Settings area and it is divided into two areas: The mini Quick Settings, a single row of icons without any explanation that you see on your first swipe down from the very top edge, and the Quick Settings windows that show up when you swipe down a second time. The mini area can't be customized directly, but if you look closely, it turns out that it's the first six shortcut buttons that you have on your Quick Settings main window, so it can be customized indirectly.
That's a lotta chatter, let's just jump in with some examples.
THE ANDROID QUICK SETTINGS WINDOWS
Different versions of Android have slightly different icons for the various shortcuts. Everything I show is based on Android 11 on a Google Pixel 5. To start out, here's my mini Quick Settings icon row: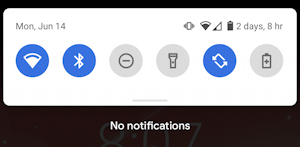 You know what all those icons mean, right? No? Left to right, it's Wi-Fi, Bluetooth, Do Not Disturb, Flashlight, Auto-rotate, and Battery Saver.
I know flashlight is popular – which is a bit weird if you think of the technology required to bring a modern smartphone to life – but I never use it, so that's definitely one I can bump off the mini screen without a problem. For that matter, I very rarely disable auto-rotate so that probably doesn't need to be a quick shortcut either.
How do you change these? In the bigger Quick Settings area. But before we change things, let's just swipe down one more time to see the bigger view, thankfully with labels: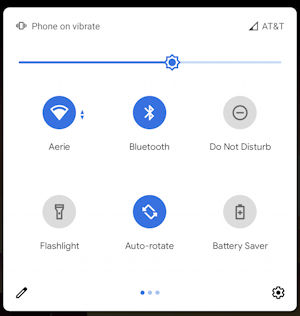 There are those same six icons, but this time there's the brightness slider along the top and, of course, text labels. Also notice that along the bottom are three blue dots, one dark blue, two light blue. That is a super subtle indicator that I have three screens of shortcut buttons. Okay. Swipe from right to left to slide the next set of buttons into view: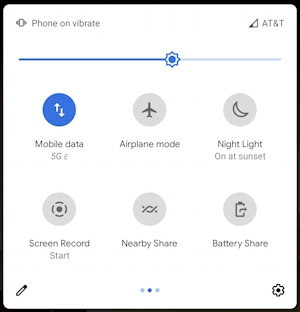 Notice the tiny blue circles now indicate that this is the middle of three screens. Hopefully you have already figured this out. But look at all these useful new shortcuts!
HOW TO EDIT AND CHANGE YOUR QUICK SHORTCUTS IN ANDROID
To change the order of your shortcut buttons – and add new ones that aren't included! – simply tap on the pencil icon on the lower left. If you're running an earlier version of Android, there might be a tiny "EDIT" link on the lower right instead.
The Edit screen lets you easily rearrange your tiles (as they call them):
To reorder things, simply tap and hold your finger on an icon for a second or two, then drag it up or down. Things rearrange as you go so it's easy to pull Flashlight out of my top six, for example, and replace it with something more useful.
What's not obvious, however, is that there are additional tiles, err, shortcuts that can be added too! Just swipe from the bottom upwards and you'll find a whole 'nother set of buttons waiting to be added: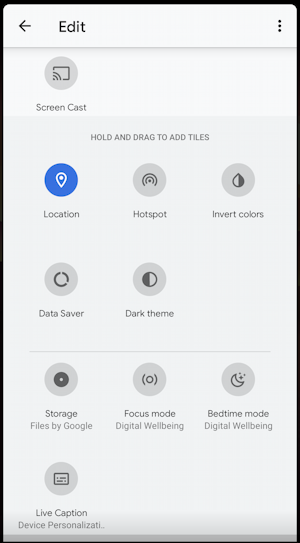 If you want to get rid of an existing shortcut entirely, just tap, hold and then drag it down to the "ADD TILES" area. To add a new shortcut, tap, hold and drag it up to where you'd like it to appear. Keep in mind that the first six you have in the main display are the ones that will also show up on the mini quick settings area too.
When I finished up customizing my own Quick Settings, here's what I ended up with on screen one: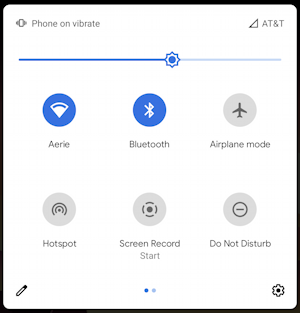 Did you notice that I removed enough that I now only have two quick settings shortcut windows (as denoted by the two, not three, blue dots on the bottom)? Here's my second window:
Much more the features I need to access, and with the rearrangement of the first six, this means that my mini quick settings has changed too, which is terrific:
Much better: Wi-Fi, Bluetooth, Airplane mode, Hotspot, Screen Recording and Do Not Disturb.
Now it's time for you to grab your Android phone or tablet and fix it all up as you desire too!
Pro Tip: I've been writing about Android since the beginning of the operating system. Please do check out my extensive Android help area while you're visiting, for lots more useful tutorials and guides! Thanks.