I am not a fan of Photos and definitely don't want to learn Photoshop for such a simple task: How can I shrink down my photos and crop them as desired on my MacOS system?
One of the great software tools included with MacOS X on your Mac system is an app you've used many times, never realizing it has edit capabilities. I'm talking about Preview, a program that most people associate with letting you read PDF documents. But it turns out that the program offers so much more, from supporting you filling in PDF forms to adding a password to keep your PDF docs secure, editing, cropping, even adjusting colors on a photo or any other graphical file on your system. Who knew, right?
To be fair, Preview doesn't support dozens of file formats so if you're getting your images in a relatively obscure format from a friend with a PC or similar, you might hit a snag. But images from your iPhone, for example, or screen captures that you grab yourself are both going to work just fine. Apple says supported formats do include JPEG, PNG, PSD, and TIFF, however, so that's a pretty good range!
To demonstrate the basics, I'm going to use a photo of a 2020 Toyota Corolla Hybrid that I need to edit anyway. My first task will be to crop it, then I'll shrink it down to a size that's more appropriate for sharing online (for example, in this blog post!)
Opening up the rather huge image directly off my phone in Preview, here's what I see:
You can see that I've also popped up the General Info window (access it from View > Show Inspector) where you can see this is a JPEG format image with a size of 4032 x 3024 pixels. It's big, taking up 8.3MB of space on my computer. That's way bigger than I need for any online purposes, so it's an excellent candidate for our reduction process!
Remembering that the heritage of Preview is PDF documents, go to View and choose Show Markup Toolbar. That brings up this, with all the image editing options included:
There's a lot of power on that markup toolbar for image editing! Left to right, the icons let you access selection type, "instant alpha" (color correction), sketch, draw, add geometric object, add text, add a signature (if you have that set up already, more useful on PDF documents than photos), adjust color, resize (the tiny box with the arrows on the top left and bottom right), change line width for sketch and draw tools, change frame size, color, and font adjustments for the add text feature. Like I said, a lot of features!
The two we need for our task are the selection type (leftmost) and the resize (just under the "hy" of the filename, the box with the tiny arrows). For a crop you'll probably want a rectangular selection, but here are the options:
To make a crop selection, simply click and drag across the image surface. A selection box will show up with "handles" that you can then further click and drag to fine tune your crop box: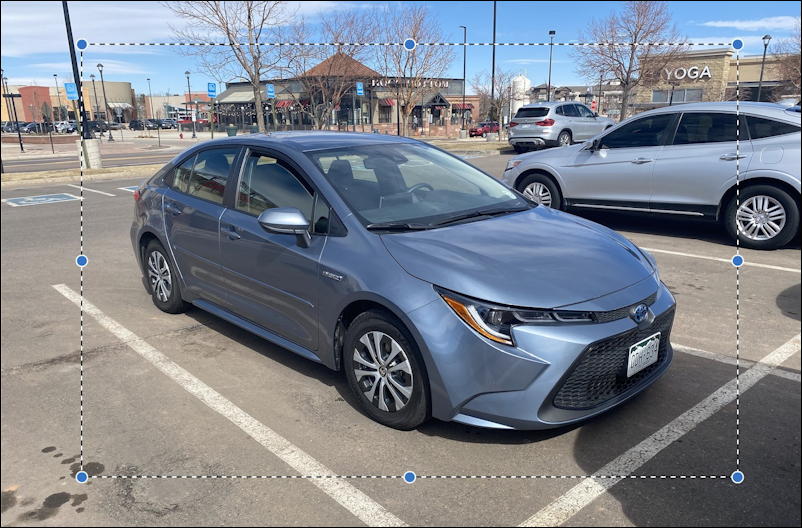 I tend to crop pretty tightly to avoid background distractions and ensure that the main subject is front and center, as you can see.
Once you create a selection box, a "crop" button will show up on the right side of the Markup Toolbar. Like your selection? Click on "Crop" to make it happen. Changed your mind? Edit > Undo Crop lets you try again!
That's a better composition in my eyes. Now let's resize it since it's still way too big to share online without unnecessary upload slowdowns, extra bandwidth required, etc. If you're blogging or adding it to a Web page, it's really important that you always resize large images to the optimal size for display too; that'll speed up your site which gets you better visibility on Google!
A click on the resize box (remember, the box with the two tiny arrows) and the default resize is shown:
56 x 42? Whaaa? Notice that's in inches, so basically it's suggesting this is a billboard. Why? Because the original image is shot at a 12MP density at the 4032 x 3024 size. Divide those dimension by 72 dots per inch and it's HUGE! If you print the image, however, 600-1000 dpi is much more common, which would take that same image and reduce it down to around 6.7″ x 5.0″. For online use it's a lot easier to work with pixels for just this reason, and 1000 pixels as the larger dimension is plenty big enough for Pinterest, Twitter or Facebook!
A change to inches and I have it ready to resize:
As you can see, it keeps things proportional, so 1000 pixels (a reduction of 4x) converts that 3024 height to an even 660 pixels. Just as importantly, notice that Preview estimates that shrinking this down from its original size will save a significant amount of file size too, from 2.3MB to 0.26MB or 268KB. Make it so by clicking "OK".
Suddenly looks tiny, but you can zoom in or out with the keyboard shortcuts "Command" and "+" and "Command" and "-". Want to shrink the image file even further? Hold down the Option key and choose File. The Save As… feature magically shows up (why it's hidden I cannot explain) and you can actually adjust the compression ratio of the JPEG image format to reduce the file size even further, as desired:
Don't go too low on quality because it will eventually start to make the image look poor, with what's known as artifacting showing up on the edges between colors. Looks blurry! But if you rename this new shrunk version, you can compare them and decide if you were too zealous or did just right. Want to change image format? Here's where you can choose PNG or TIFF instead of JPEG, for example, and change image or photo format with a click!
That's it. We've cropped the image and resized it to a max of 1000 pixels of width. The result in all its size:
Nice car, eh? And the photo still looks crisp, tight, colorful and without even a hint of artifacting anywhere!
Pro Tip: I've been writing about how to get things done on a Mac system for years. Please check out my Mac help area for lots more tutorials!