I'm always asking my friends about favorite books, favorite Marvel movies, even about their favorite pizza topping. Is there some way I can send out a weekly survey and organize things a bit better using Google Forms?
Since it's inevitable that at least some of your friends think the same way you do and have similar tastes (a solid basis for friendship) it only makes sense to be asking your friends about their favorite bands, movies, pizza toppings, etc. It can be a bit overwhelming if you keep sending out these questions every few days, however, and it's really hard for you to tally up responses if you have more than a half-dozen people in your social circle too.
Enter Google Forms. Part of the terrific Google Docs office suite, Forms lets you easily create surveys, questionnaires, and other structured documents where you seek to collect information from others, whether your friends, colleagues, or customers. Google Forms has also been around for quite a while so it's no surprise that it's gotten more flexible and has quite a bit of power buried in its typically Google confusing interface. Let's have a look…
HOW TO BUILD A SIMPLE SURVEY WITH GOOGLE FORMS
To start out, you'll want to be logged in to your Google account, which you can do by going to Gmail or Google Docs. Now go to forms.google.com, a handy shortcut that shows you any forms you have created or have had shared with you from others:
I have one I've created — Dave's Demo Form – and one that's shared with me – Quests & Cannons Play Testing. You can't differentiate them from this view but clicking to learn more will reveal the difference. We want to create a new form, however, so that's done by clicking on the "+" icon on the lower right.
Immediately you'll have a new blank form appear:
There's lots to do here but start by noticing on the top that there are two tabs: Questions, and Responses. For now, responses is empty but once the form is live, that's where you'll want to go to see what answers have been submitted.
Let's start by entering a name for this form, a brief description and a specific survey question:
Notice the box labeled "Multiple choice". Turns out that there are quite a few different types of questions you can include in your form, as revealed by clicking on that menu:
Of all these options, Multiple Choice is the best for our simple film question, so let's stick with that. Just remember all these other options are available if you want to build something more sophisticated. It's also a bit confusing that multiple choice really means "pick one choice from multiple"; if you want to really let the user choose more than one option, that's "checkboxes".
Now click on the tiny picture icon (highlighted above) to add an image to the question box in the nascent form. It'll prompt for the image to be identified and then upload it, ready to go. Easy, and you'll see the results momentarily.
Before we see the image, however, click on "Add option" so you have a few fields to fill out, then enter the possible answers for the first question. In this instance, it looks like this:
You can always remove a question with the "X" and fine-tune the question overall with the "•••" button on the lower right. Beware that if you change the question type while entering data everything vanishes, however. Pick the question type, then enter your data!
Change the background color and typeface by choosing the paint palette icon "Customize Theme" from the top of the screen:
That brings up a narrow little box with a few changes:
Not really much to update, but a few tweaks are possible. I'll switch from lavender to light blue for the background. Now here's the survey, ready to share, courtesy of the eyeball "preview" icon on the top of the screen:
Looks good. Now which is my favorite Harry Potter film?
HOW TO SHARE A GOOGLE FORMS SURVEY
Now that it's done, I bet you're wondering how you share it! That's easily done by clicking on the "Send" button on the top right. Why it has that label when lots of people want to share the link, not email someone, is puzzling but a click on "Send" produces this window: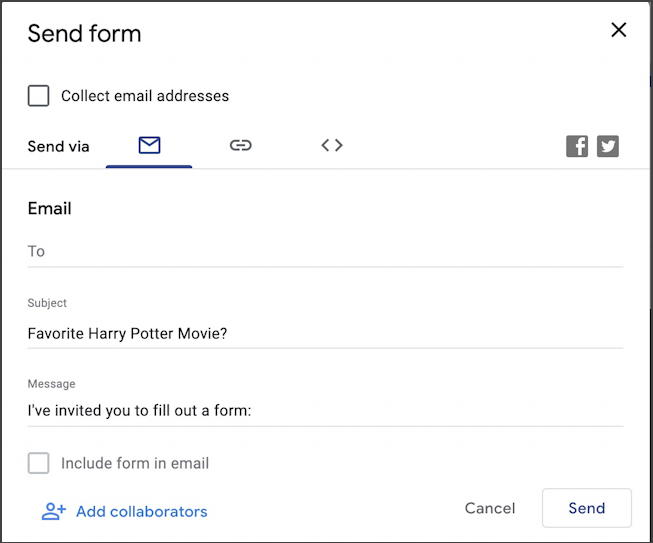 If you do want to email it to one or more people. you can see exactly how to do so. Notice the "include form in email" checkbox, which can be very helpful if you don't want to rely on people clicking on the link to get to the survey.
Or if you just want a link, click on the tiny link icon along the top. (and notice you can share it on Facebook or LinkedIn directly with those two icons in the window too). It'll show you a long, fairly gnarly URL:
But in this instance, you can also opt to check "Shorten URL" and have it shrink down somewhat:
And that's it. Now you know how to create and share simple surveys and questionnaires on Google Forms. I'll share how to read, analyze, and export results in another post once I get some responses to my own survey. 😁
Pro Tip: I've been writing about Google's office suite and tools since the very beginning. Please check out my extensive Google Help Library for lots of useful tutorials while you're here. Thanks!