My daughter is heading to China for a few months so we've been testing out WeChat so we can stay in touch. Seems simple and easy to work with. She told me there's a "snapcode" for WeChat too and now I want to find it! Can you show me how to find the scan code for my WeChat account?
Anyone with friends or relatives overseas has learned that while the regular cellular network might be great for local, it's not so good – and can be scary expensive – crossing national borders or major oceans. Skype, Facebook Messenger, iCloud Messages all work, but that's just the tip of the iceberg in terms of Internet communications tools. By far one of the most popular is actually WhatsApp (now owned by Facebook, as it happens), but WeChat is dominant in Asia and TikTok is zooming along with its own huge base of active chatters. WhatsApp has 1.5 billion active users, while WeChat has 1.14 billion. That's a lot of users, no way around it!
Here are a few more interesting stats about WeChat, since we're talking about the service:  902 million daily active WeChat users, sending 38 billion messages/day. Voice message? 6.1 billion/daily. Of that 1.1 billion users, only 70 million of them are outside China, by the way, though Tencent (the owner of WeChat) is trying to get more visibility in the United States. WeChat also has a payment system called WeChat Pay, which is available in 40 countries and works with 13 currencies. Impressive.
Now, back to your request! Log in to your WeChat app on your smartphone, tap on "Me" on the lower right, and you'll be looking at this screen: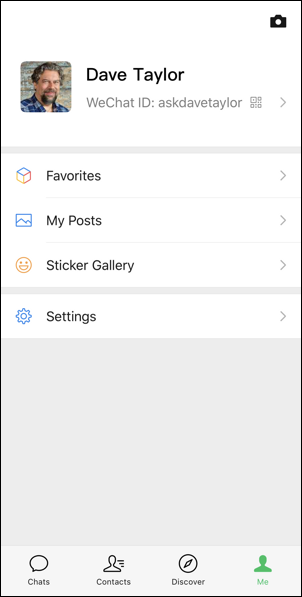 From here you want to go to "Settings" to proceed.
That reveals quite a few settings and preferences you can adjust, including your ID, name and profile photo: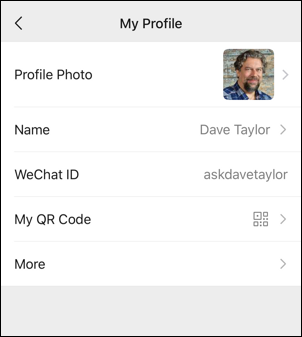 What we want to explore, however, is "My QR Code", fourth option down. Tap on that and you'll find that quick scan "QR" (quick response) code: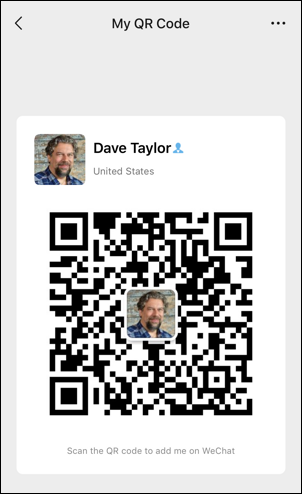 Yes, if you scan the above, you can connect with me on WeChat 🙂
That's what you seek. What I recommend is that you take a screenshot of this screen, then crop it down so you just have the QR code itself. Easy enough on the iPhone or an Android phone, for that matter.
Now, one more thing before you're done: You need to ensure that you have your WeChat set up so that people who scan your WeChat QR can actually request to connect. That's done within the same Settings area of the App:
This time you want to go into "Privacy" for the specific option.
Tap on "Privacy" and…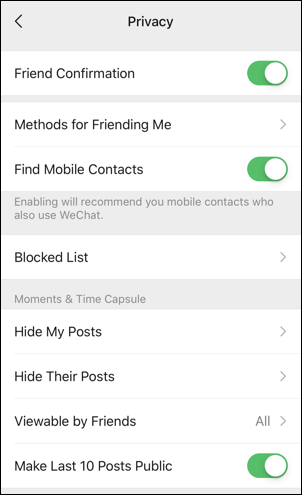 These are all pretty important settings so take the time to ensure you think through how you want to guard your privacy on this busy chat network. Notice most importantly the Blocked List. If you do get someone who is pestering you, that's an easy way to shut 'em down and never worry about their communication ever again.
Tap on "Methods for Friending Me" and you'll see what you need to enable:
Make sure that you're accessible via "My QR Code" and you're good to go. Now, good luck with WeChat and may all your conversations be beneficial and harmonious.
Pro Tip: I've been writing about social media and social networks forever. Please check out my computer basics and help for lots more tutorials while you're here!