I notice that people on LinkedIn are starting to post polls and surveys. Nice. I would like to be able to do the same. How can I post a poll on LinkedIn?
As long as we've had social media, we've had people eager to post surveys and polls. Whether it's about pizza toppings, ice cream flavors, reaction to news events or favorite 80's band, there's something about aggregating information from peers and customers that's inherently appealing. Everyone gets that except the social media sites, unfortunately, who generally seem to want open ended questions answered with comments rather than a single click on a button.
So it's after years and years of LinkedIn eschewing polls that the company finally relented and is now rolling out polls as one of the many types of posts you can create for your connections and followers. However, though it's coming for everyone, that doesn't mean you actually have it enabled for your account. I noticed that it was about a week after I started reading about it that the button suddenly appeared for me (and I'm a LinkedIn founder, one of the first 10,000 to sign up).
It's easy to tell. Go to post something…

When you click on "Start a post" it opens up and offers more features and options: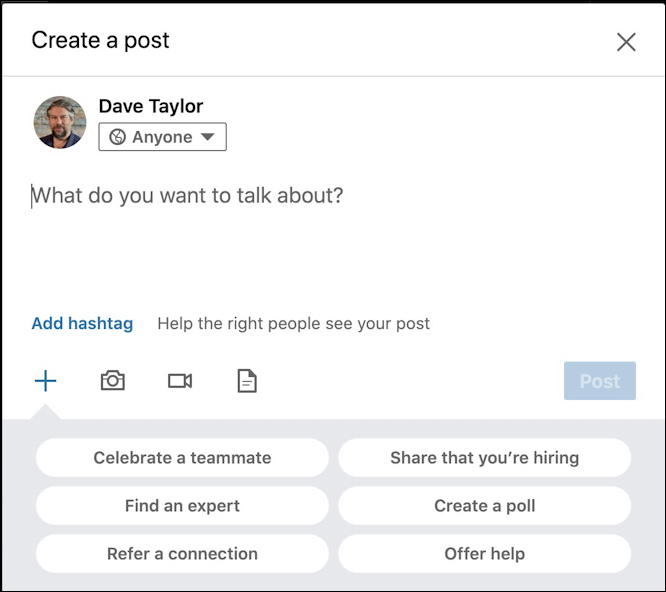 If you have "Create a poll" then, congrats, you can create a poll too. If not, give it a few days and try again.
I'll create a sample poll so you can see the process, however. A click on "Create a poll" opens up this window: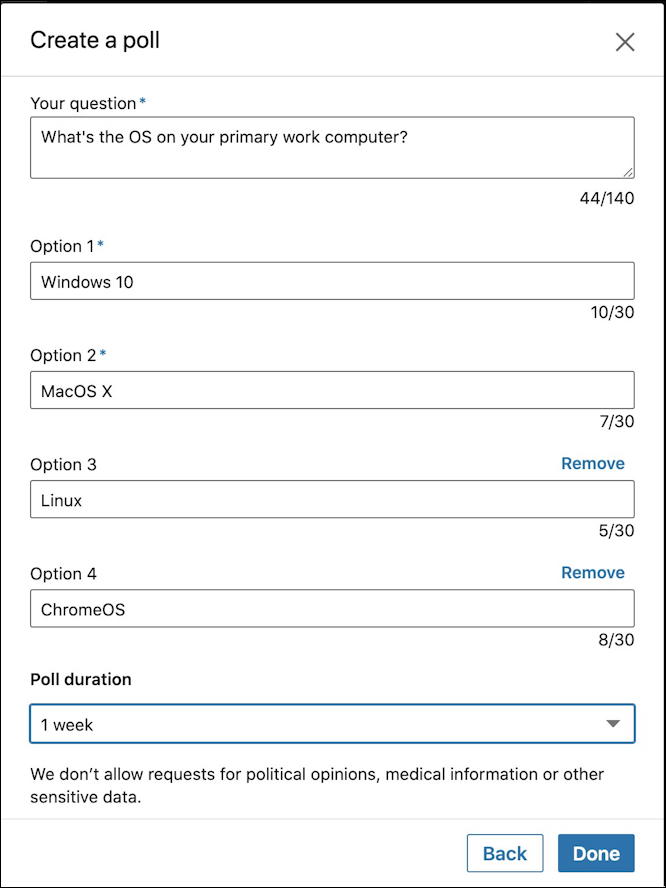 As you can see, there are lots of constraints around polls here on LinkedIn. Facebook is a lot more flexible with its polls – and users can even add their own answers as the poll proceeds – but Facebook has a max of four options, 30 characters per, and you can't touch political, medical or other "sensitive" data, so be careful about your poll subject. LinkedIn has an FAQ about polls, if you're curious.
My poll is pretty straightforward and fortunately there aren't that many choices for modern computer operating system; three would cover it for 99% of users, right? Well, we'll see with the poll responses!
Once everything's specified properly, a click on "Done" produces…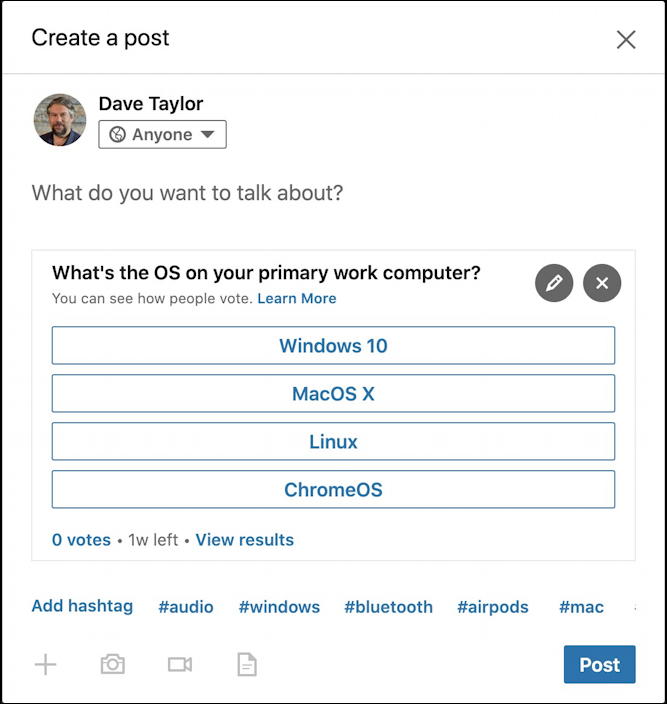 This is a somewhat confusing intermediate step but you now have the opportunity to add an intro or explanation of why you've posted the poll. Think of the poll as similar to a photo you might post;  some commentary is typically more effective than the image by itself.
I add something, click "Post" and my LinkedIn poll is live!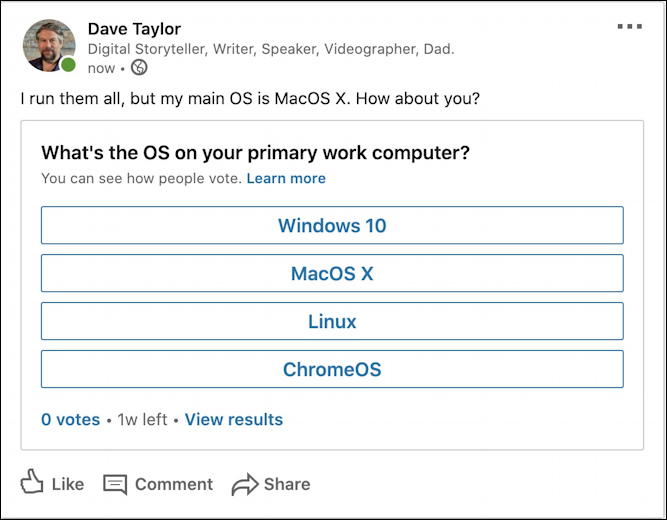 It would be nice if maybe the poll options had slightly different background colors or something to make it pop a little bit, but that's not really the user experience on LinkedIn. Otherwise, it's up, it's easy to read and understand, and a single click or tap records someone's vote.
A few days later, here's where the poll stands: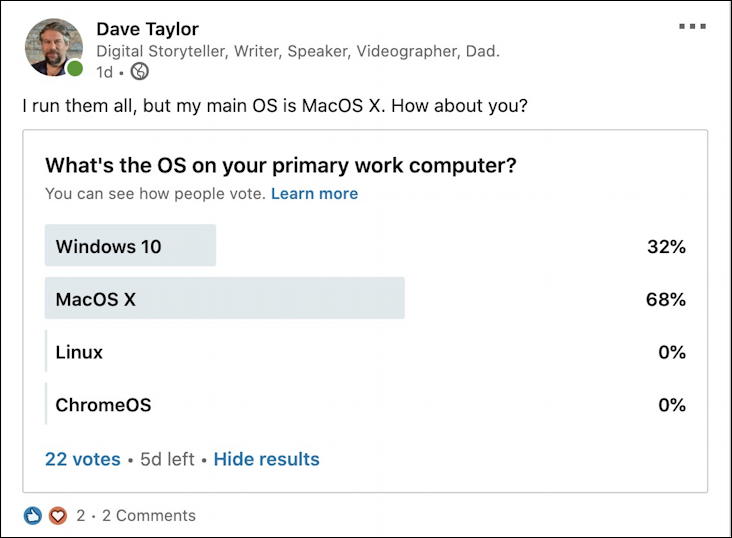 Surprisingly, Mac is ahead of Windows in the votes. No votes at all for Linux or ChromeOS as of yet, however. This is entirely dependent on who follows you on LinkedIn, of course, but I apparently attract Mac users!
Anyway, that's how it's done. Polls on LinkedIn. Now go and start surveying your followers and connections on the platform and good luck!
Pro Tip: I've been writing about LinkedIn almost from the first day. Please check out my extensive LinkedIn help library while you're visiting to find lots more helpful content!