I have lots of photos from my travels and would like to turn some of them into the right dimensions for smartphone wallpaper. How can I do that in Windows 10 without buying any additional software?
If you have lots of great photos – or even just one gem – then it's surprisingly easy to crop it and resize it to be perfect as a wallpaper for your mobile device. You'll want the original photo to be big – at least 2500px wide and approx the same height – you'll want to know the native resolution of your target smartphone or mobile device, and you'll want to have a bit of patience because there's some trial and error involved in the task.
I remain a big fan of the Paint program on Windows 10 too, so I'm going to show you how to use it to accomplish this task (yes, it's still free and still included with your Win10 system install). For the test phone, let's choose the Samsung Galaxy S8. To find its native resolution, you can do a Google search for something like "galaxy s8 screen resolution" which reveals that its max resolution is an impressive 2960 x 1440. You need but glance at your phone for a second to realize that it's much taller than it is wide and that's the orientation of the wallpaper we'll create.
For the photo I have a picture I took of one of the fun Humpty Dumpty sculptures that dot the walls in downtown Colorado Springs, Colorado. Opening it up in Paint and shrinking it down so I can see the whole thing, here's the original photo: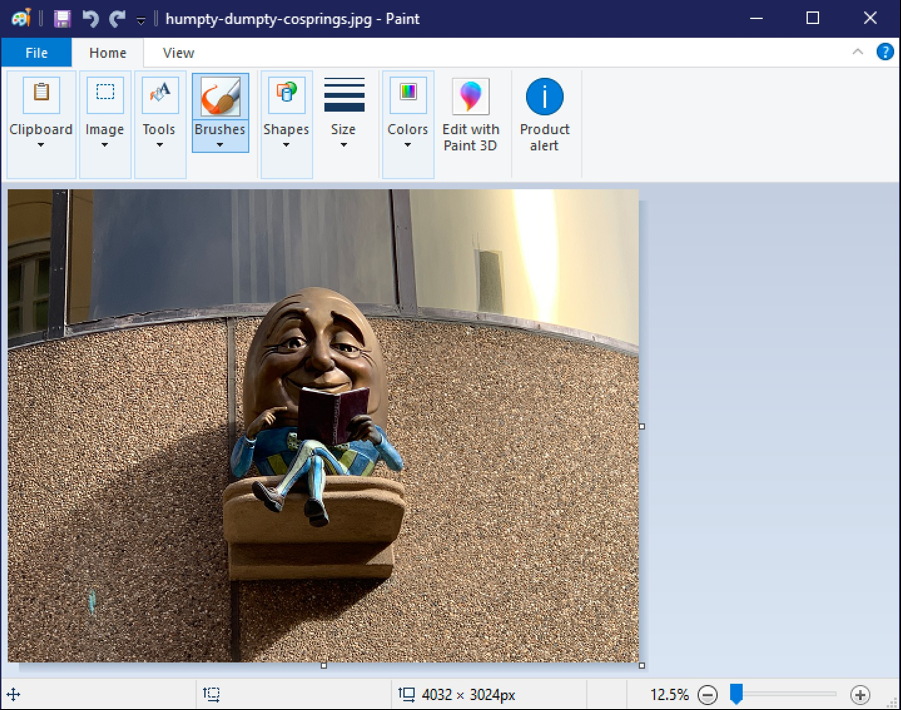 As you can see, the original image is horizontally oriented: it's wider than it is tall. In fact, look closely at the bottom status bar and you can see the resolution of this photograph: 4032 x 3024. To turn this into a wallpaper by just forcing a resize is going to yield really weird results, so let's crop it instead.
That's done by clicking on the Crop tool on the toolbar: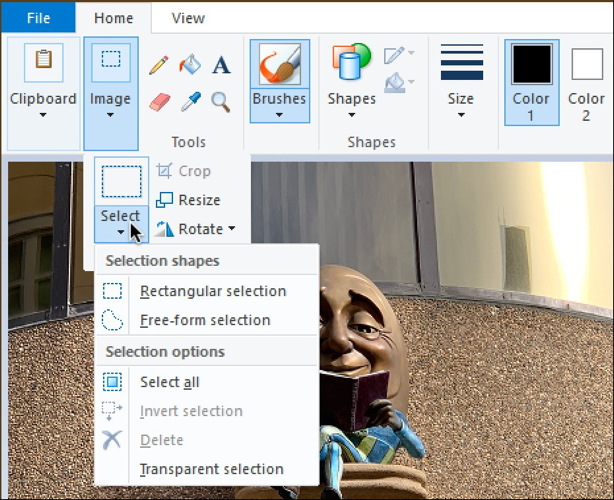 I'd suggest you choose a "rectangular selection" and then try to click and drag the box so that it's tall and narrow, the ultimate dimensions of the final wallpaper (remember the wallpaper is more than 2x as tall as it is wide). My shot at a narrow crop looks like this:
Looks like a good guess at the dimensions. Choose "Crop" from the toolbar and the portion of the image that isn't selected will vanish, leaving you with your chopped image:
Notice along the bottom the dimensions of this newly cropped subset of the original image: 1777 x 2993. Probably still a bit too wide, but let's now force it into the exact dimensions of the Galaxy S8 screen.
You can resize an image by choosing "Resize" from the toolbar. It pops up a window with a number of options:
You can see that I've entered 1440 x 2960. If you're trying to do that and it keeps changing one of the numbers as you enter the other, make sure you uncheck the box adjacent to "Maintain aspect ratio". Then you can specify whatever you want.
Since the image ratio I'm specifying isn't the same as the original cropped image, there's going to be some distortion that occurs when it's resized. In fact, it ends up looking rather weirdly narrow: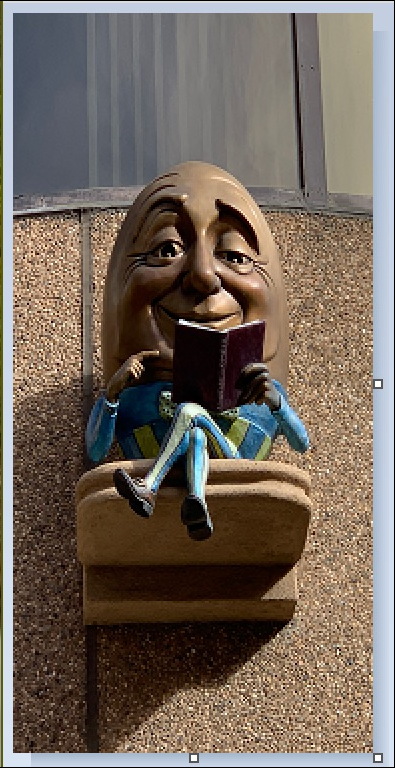 Pretty sure that's not the vision of the sculptor, so let's try to get closer to the original rounded shape. Press Control-Z to undo the "resize" (handy, that undo feature!) and this time crop the image even tighter to make it narrower before the resize:
You can see in this instance that the portion of the image that's going to be cropped out is all irrelevant, and this time it looks like it's going to be a lot closer to the phone wallpaper dimensions. Choose "Crop", the "resize" to the specified dimensions. MUCH better results:
The image is now set to the optimal dimensions of 2960 x 1440 and it's ready to transfer to the phone and use as my latest wallpaper image. Want to grab a copy of the final image for your use too? Enjoy: Humpty Dumpty sculpture, Colorado Springs, phone wallpaper.
As you can see, it's surprisingly easy to take a photo from your phone, crop and resize it in Paint on your Windows 10 computer, then use it as a really clean, crisp, beautiful wallpaper. Now go be creative and create some of your own!
Pro Tip: I've been writing about Windows for eons and have a ton of Windows help here on the site. Please check it all out!