My grandkids are always sending me cartoon pictures of themselves with a thumbs-up gesture, a frowny face, etc. Very fun. How can I do the same on my own iPhone and surprise them with my own me-moji?
You've all heard the old adage that the device in your hand is more powerful than the lunar lander computer on the Apollo 11. It's true. But what it doesn't capture is that modern technology is a lot more fun than those old computers-in-a-warehouse devices that were used for military and commercial projects. The rise of emoji is a great example; who would have thought that a few decades ago people starting to type in sequences like colon-dash-paren would turn into cute little doodles and then spawn an entire universe of thousands of ubiquitous little images? Heck, you can even get emoji on your car license plate nowadays.
But as much as you can now choose an appropriate skin tone for many of those emoji, the little tiny pics still don't look much like you and me anyway. They're not really supposed to, of course, but still, representation, right?! That's why Apple introduced what they call memoji, emoji that are patterned after a cartoony version of your own face and facial characteristics. That's what your kids are using, and that's what you can now use too!
HOW TO CREATE YOUR PERSONALIZED MEMOJI
To start, you need to be in the Messages app, poised to send a text message. If you want, enter your own phone number so you can send a message to yourself (yes, it works, and it's a good way to practice). It'll look like this: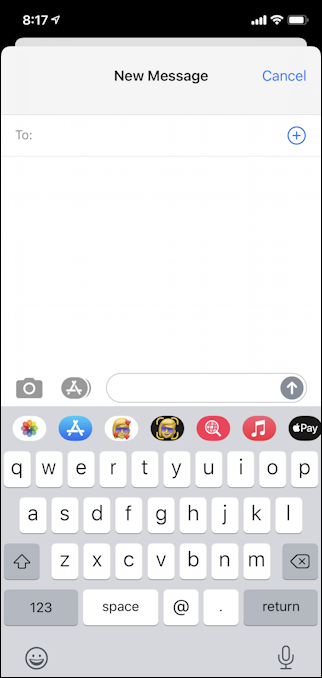 What you need to focus on is the strip of images just above the keyboard. That's how you get to all the additional apps and features in Messages and there are quite a few of them nowadays! Here's a close-up:

The leftmost lets you grab an image out of your photo library (very helpful!), the second jumps you to the app store for Messages apps, the third, the blond woman with the blue sunglasses and the white background, is the memoji area. The same image with the black background are animoji but we'll get back to that in a bit. Then I have animated GIF library, my music library (if I want to share a tune) and Apple Pay. You can customize which show up and in what order so your row might be slightly different. Still, you'll have memoji so tap on that!
You'll have the default set of animals from which to choose: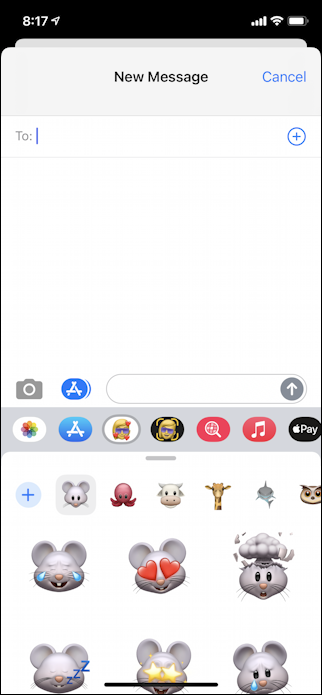 Apple considers these "stickers", by the way, so you'll see that not only do all the cartoon creatures have the same general expressions, but your customized face will too. Part of the fun, right?
To start configuring your own personalized memoji, tap on the light blue "+" to the left of the mouse image. That brings up the memoji customization tool and be prepared, you'll probably spend 15-20 minutes playing with this. No kidding…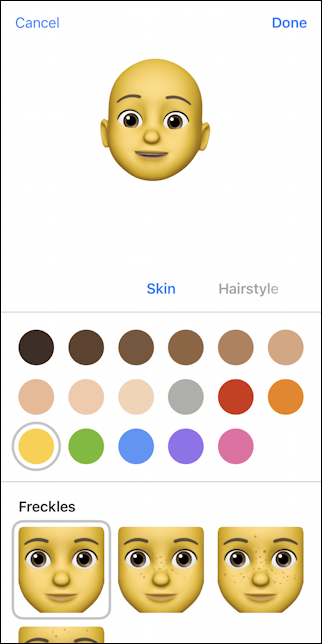 Make a face at your phone. It tracks that and the animated emoji on the screen tracks your expressions. Pretty slick, eh? That's the basis of animoji, but, again, let's get this basic caricature pretty close first. To do that, start by either picking the skin tone closest to your own, or if you want to be a bit more outlandish, the skin tone you wish you had. Then be sure to swipe upward so you can see a few other facial features from which you might want to choose.
Ready to proceed? You can always bounce back and forth, so it's not the final step. Tap on "Hairstyle" and you'll be able to choose a hairstyle for your memoji from dozens and dozens of male, female and unisex styles. This isn't my hairstyle, but it's pretty cool anyway: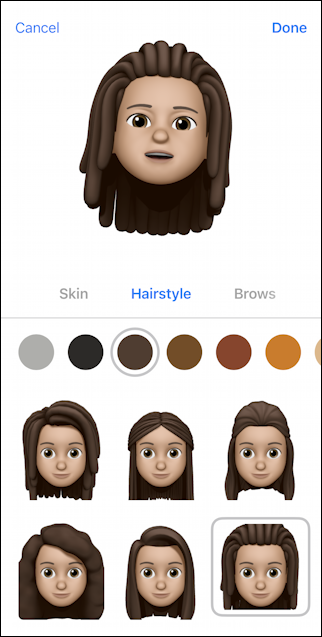 Notice you can also change the color of your hair here too, so if you've got a light blue tint to your 'do, you can have your memoji match if you want! I'm going to choose a hairstyle a bit closer to my own, which brings me to another stage of memoji creation:
Nose shape (not too many choices here) and even the ability to have a matching nose piercing! Note the change in my hairstyle too. Still not quite right but my experience is that you go back and forth fine tuning things for quite a while before it's "kinda close"…
One that makes a surprising amount of difference is your facial shape, and that's one of the last things you can tweak. I've clearly spent more time and finally realize that I can even have a face mask on to be entirely 2020 appropriate!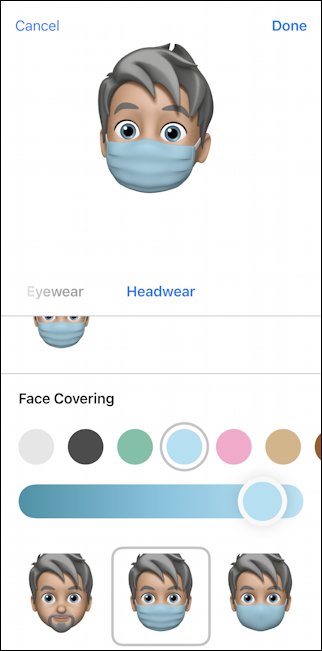 Looks a lot more like me too, which is a good thing and sure to increase the impact of my friends and family getting my memoji stickers in their own text messages!
When you are done fiddling and playing, tap "Done" on the top right and you're ready to go! Now when you're in Messages and want to send a memoji (remember, the blond woman with the blue sunglasses and the white background), you have a sheet of stickers with your face!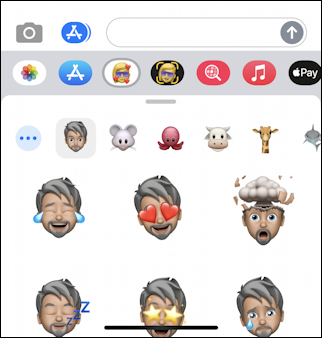 Darn fun, really. Tap to add one and it's ready to be sent as a text message: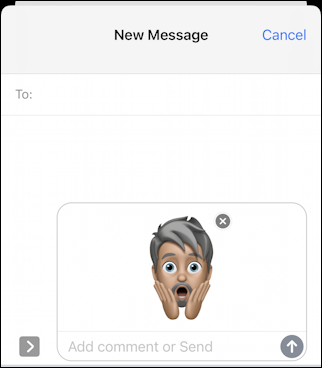 Done. Nice!
WAIT! WHAT ABOUT ANIMOJI?
There's one more area to explore now that you have your memoji set up, and that's animoji. For those, go to the icon with the blond girl w a black background. Yes, a subtle difference. This time, however, you can record yourself saying something or making a funny face! It'll be recorded and then that animation can be sent to your friends or family as just another text message element. Or, as I do, you can make different facial expressions and just send those:
Experiment with animoji by send them to yourself and remember that you tap and hold the red button to record. So much fun!
Pro Tip: I've been writing about the Apple iPhone and iOS tips and tricks since the iPhone 1. Please do check out my quite extensive iPhone help area for lots and lots of useful – and fun! – tutorials and guides to help you get the most out of your phone or iPad. Thanks!