I'd like to create a new group on Facebook for my friends who are into homebrew beer. What's the best and easiest way to do that?
It's surprisingly easy to create a new group on Facebook, but before you do I would encourage you to look at all the ones that are already available. There are hundreds of millions of groups on Facebook and if you search for something like "homebrew" you will find thousands of possibilities. On the other hand, if you wanted to have something that's a little more private or something smaller then it totally makes sense to just create your own group and invite your friends to join up.
I recently created a new group on Facebook too, one focused on all the free museum, artist, and educational video chats available. I gave it the ingenious name of Interesting Virtual Workshops, Lectures and Discussions and took a few screen captures as I went along so I could document the process. It's really quite self-explanatory and the greatest challenge, as with any group, is to create and sustain a conversation so it's useful and interesting.
To start out, the easiest path is to click on "More Groups…" off the left navigation on your Facebook home page. It brings you to this page that will show groups you manage (if any), suggested groups you might want to join and a lot more:
As you can see, the majority of this screen is focused on helping you find more groups to join. I also have to admit, the groups are really where it's at on Facebook and I generally find them much more engaging and interesting than my friend newsfeed. But maybe that's just a testament to the quality of my friends 🙂
Anyway, the key step here is the blue button on the lower left: "+ Create Group". Click on it and you'll be on your way: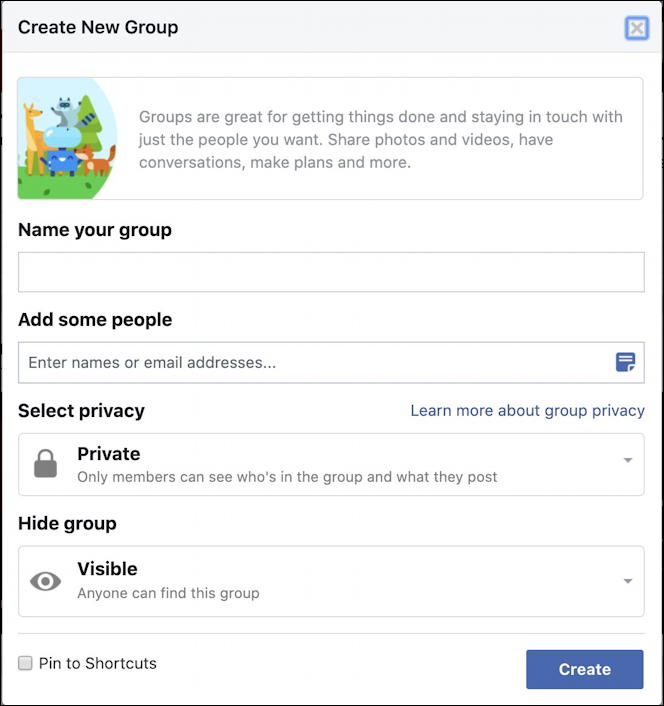 Notice as per their commentary, you can also use groups to plan an event too. Handy if that family reunion is coming up, for example!
Give your group a good and explanatory name, and if you want other people to join by stumbling across it, make sure you have a few keywords (like the word "homebrew"). I generally don't add people when I create a group because there's a point later in the process where you can send invitations and your group will look a bit more polished and ready to join.
The two real key attributes here are Privacy and Hiding. Each has two values and affect whether the group will show up on search results and whether people who aren't in the group can see what's been posted. Facebook details it thusly:
You can go either way, but if your group is going to have people talking about their personal lives, private might be more appropriate. (later in the process there's a setting you can enable that requires every potential member to be screened and vetted before joining the group too, which is a big help for true information privacy).
And what about hiding?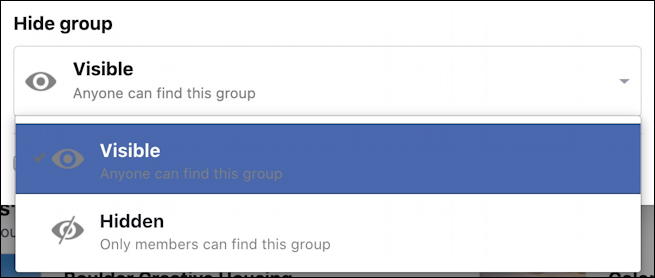 If you're thinking that there might well be existing groups on Facebook about homebrew that you can't find by searching for them, you're correct. It's this setting that lets your group also be in "stealth mode" or publically findable.
With those basics set up, click on the blue "Create" button and… you've just created a new Facebook group.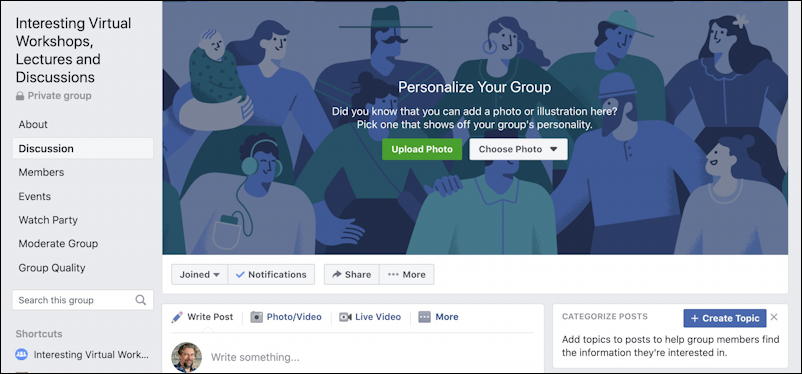 Now the fun part! Start by setting a photo as the top banner. You can use any image, just make sure that it's big and ideally evocative of the theme or purpose of the group. In your case, perhaps a photo of your brewing setup. For me, a screen capture of a lecture on art history with participants on the side works great.
I also suggest that you create a new post that explains the purpose of the group and any guidelines you'd like people to follow. For example "don't sell stuff" or "be kind" or "no politics" or, conversely, "no liberals" or similar. It's your group, tell people your expectations. Then go into the settings for that particular post (the "•••" on the top right of that individual post) and mark it as an Announcement to keep it prominent.
I've done both and you can see my group is starting to come together:
There are a couple of additional things I like to do here before inviting people to join and these are in the Group Settings which is attainable by clicking on the "••• More" button just below the image.
Don't be overwhelmed once you get to settings. There are a lot of things you can tweak and tune for your new group!
Start by confirming that your group name is correct and doesn't have spelling errors. Then add a description that reiterates the purpose and basic rules of the group:
Definitely have a peek at Group Type. If one of the custom group types matches your new group, it's a smart idea to select it because it'll then offer you specific functionality to make things easier to set up and manage. Here are the basic set of choices:
A fun thing to do that many group creators miss is to set a specific icon for your new group too. By default, as you can see in the earlier screenshot, the image is a tiny image of white silhouettes against a light blue background. It's immediately adjacent to your group name. But it's a menu! Yes, click on it and you'll have a range of possible icons from which to select:
The next setting is more for mobile users than desktop, because color scheme only affects how a group is displayed on mobile devices, but still, why not pick your favorite color? The default is "Facebook blue":

But there are a decent number of alternatives if you want to spiff things up:
Definitely not the most important setting, but that's okay.
What is more important are the set of options that give you lots of control over membership. You can set up questions people have to answer on their group membership request, you can require you or another group admin to approve them before joining, and lots more: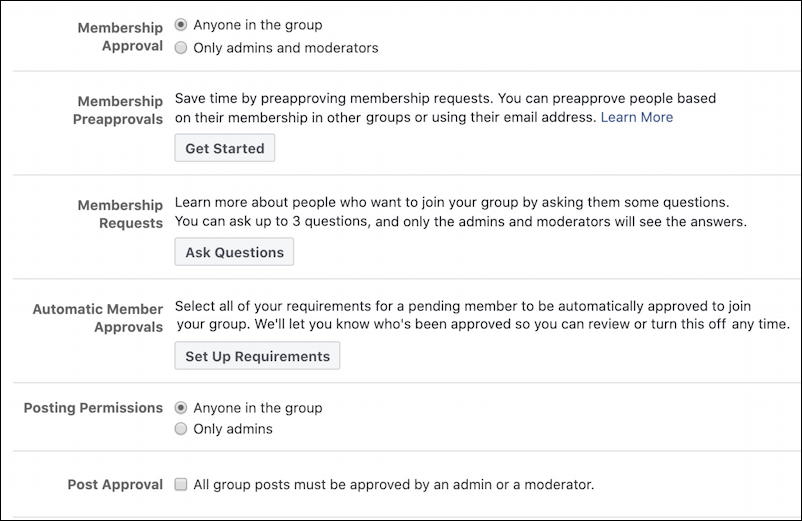 These are particularly beneficial if you want to be able to limit membership to, say, people who are in your local paid-membership homebrew club or perhaps limit the group to people who attend a church or graduated a particular school.  Finally, you can also moderate your group by requiring that each and every post be approved by a group admin. This can be a bit frustrating for members when they feel like they're not able to speak freely, but critical for keeping a group on track and operating within your guidelines.
So that's basically all the key settings. Now that it's all set up, go and start inviting people to join by going down your list of friends. You'll also have a reasonably short URL for your group – mine is https://www.facebook.com/groups/838887433298203/ – so you can email that, text it, even add it to your club newsletter's next issue to encourage people to join up. Good luck!
Pro Tip: I've been writing about Facebook since it first showed up on the scene. Please check out my quite extensive Facebook help pages for lots more tutorials and guides while you're here and don't forget to follow AskDaveTaylor on Facebook too!