I really need to organize the photos on my Mac system, they're all in a single library. How do I create new libraries so that subsequent imports aren't in the same file?
I've been using Aperture since it first came on the scene, which means that I too have a lot of photos in the system. Tens of thousands – or even more – spread across two computers and at least a half-dozen libraries. One thing I have found that's useful is to create a new Aperture library on the first of January each year, so that photos are all organized by the year they were taken. For me, that's sufficient but if you have a gazillion photos splitting it every twelve months might well be insufficient.
Different photographers have other strategies and you have libraries, events and projects to choose from in a rather confusing hierarchy too. The thing is, it's the number of photos in the overall library that defines the ultimate size of the storage file you're working with, not the number of events or projects. So for some camera nuts, libraries end up akin to events, where "Bali 2013" might be an entire library, representing multiple publishing projects and the compilation of dozens of events.
However you do it, the task of creating a new library in Aperture is easy, albeit the feature isn't not where you think it is…
The logical place for a new library is on the "New" menu under "File":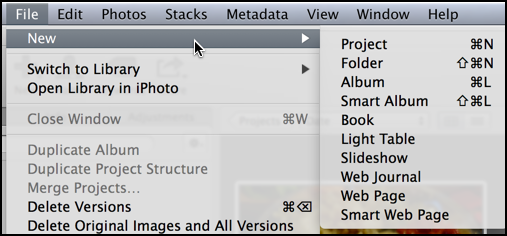 So many choices, from projects to folder, albums, smart albums, books, light tables, etc. But no way to create a new library.
Instead, choose "Switch to Library":

Ah, there we are! "Other/New…" (and as a side note this is the only place in the entire Mac interface experience across dozens of apps that I've seen a '/' as part of a menu choice)
Choose "Other/New…" and it'll show you all the libraries it's aware of: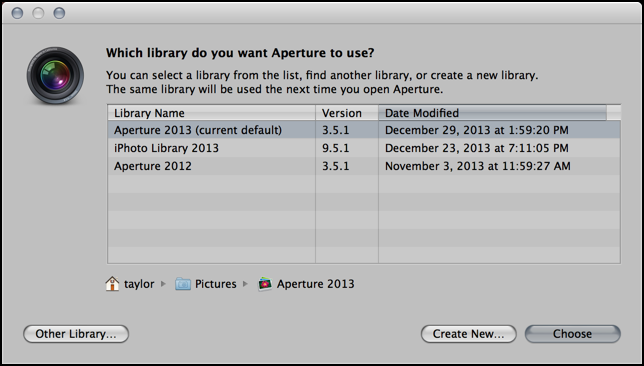 Look along the bottom for the "Create New…" button. That's the ticket!
Click on "Create New…"

Give it a good name and decide where you want to keep it. In my case, I keep the libraries, both Aperture and iPhoto, in my Pictures folder. Neat and organized is a win.
Ready? Click on "Create" and you'll have the new library created and then be your default for all future work with Aperture until you change it. Which can be distressing because suddenly there are no photos, no events, and no projects. Tabula rasa, as they say.
To switch back to a known library, go back to the "Switch Library" menu option and look at the list of recently open libraries:
I'll switch back to "Aperture 2013" because I still have a day left before it's 2014… 🙂