I have a lot of music in my iTunes library on my iPhone and I'm wondering if it's easy to create a playlist for my favorites? I don't want any complex instructions, so please keep it simple for me! Thanks.
iTunes was renamed "Music" a while ago in the iOS world as part of splitting the features into separate apps, but I know what you're asking. I also still think of the music app on my iPhone as "iTunes" even if it's the wrong name. We can chalk it up to being old-timers in the iPhone world, or, in my case, the Apple and Mac world too. In case you didn't notice, it's not called iTunes on your Mac anymore either, though its library is still ~/iTunes Music, but that's another story.
Luckily it turns out that creating playlists on your iPhone is pretty darn easy. The basic idea is that you create the playlist by choosing the first song you want to add, rename it, then simply tap to add all subsequent music to the same named playlist. Whether you want to have "big band drum solos", "Sinatra favorites" or "my industrial grind", the process is similar. Let's have a look!
HOW TO CREATE AN IPHONE MUSIC PLAYLIST
I'm going to create a playlist based on my favorite tracks from various Christopher Nolan movies. You've heard of the movies, I'm sure, from Inception to Interstellar to The Dark Knight. He's an excellent director and hires great composers to add moody and evocative music to his films. Since I have the soundtrack to his latest film, Tenet, we can start there: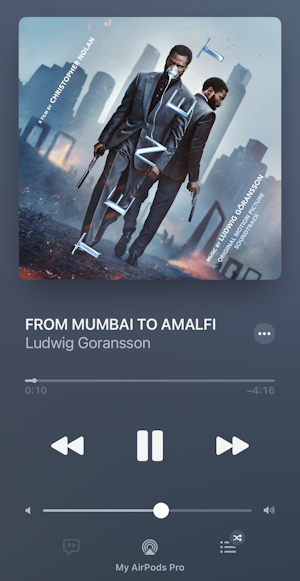 This particular track is called "From Mumbai to Amalfi", by soundtrack composer Ludwig Goransson. To create a new playlist with this as the first track, simply tap on the "•••" to the right of the track title. A menu appears: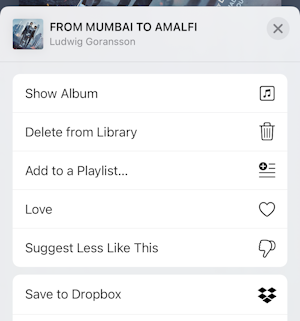 It's the third option that we want: "Add to a Playlist…". Don't worry that we don't yet have a playlist, it can build one as we proceed. A tap and it will show existing playlists on the device: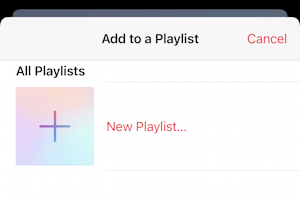 No big surprise here, tap on "New Playlist…" and it'll automatically create the list based on the current track and album name: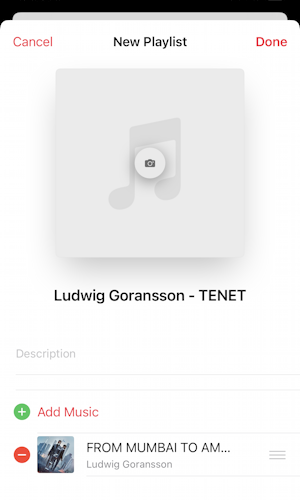 What isn't obvious is that you can tap on the playlist name – "Ludwig Goransson – TENET" – and rename it. Delete the current name and type in something that's a better descriptor. I'll use "Nolan Movies". Don't worry about the weird grey image, it'll fix that as we proceed.
That's it. Playlist created. Easy, right?
HOW TO ADD SONGS TO AN EXISTING IPHONE PLAYLIST
Once you have the new playlist, it's super easy to add additional tracks. Just use that same "•••" button and again choose "Add to Playlist…". This time it'll be listed and when you choose it, well, it'll confirm the addition: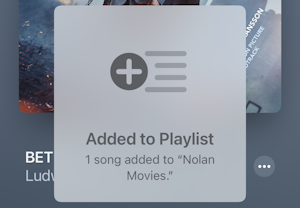 You can do this as many times as you'd like, then when you tap on the "Library" button on the lower left corner, it'll show you playlists, along with artists, albums, and similar. Like this:
Well, no. This is not showing Playlists. Why? Because you can edit and change what categories you want to be shown in your Library view. If you don't see "Playlists", tap on "Edit" and choose it by tapping the empty circle adjacent: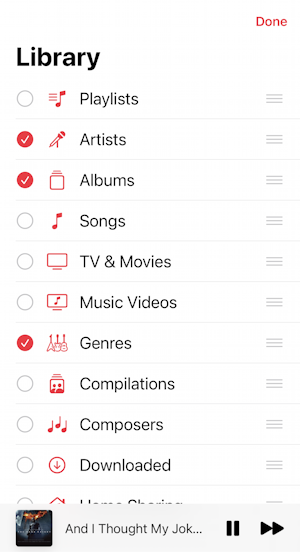 Now we can see Playlists as an option in Library view!
Look closely and you'll see the "Nolan Movies" playlist under "Recently Added", but tap on "Playlists" instead and you'll see a list of all your playlists, not just whatever's in the recently added area:
Tap on your new playlist and you'll see that the iTunes, ummm, Music app has automatically created a montage of album covers from the songs added. A nice choice for artwork, and no effort required:
That's it. New playlist ready to go. You can add songs at any time and, when you're in the playlist view, you can tap and hold on a track name to delete it if you prefer. Now, have at it!
Pro Tip: I've been writing about the iPhone since the very first unit was released. Please check out my extensive iPhone help area for lots and lots of useful tutorials while you're here. Thanks!