I really love sci-fi themed desktop wallpapers on my computer and while I know there's a lot out there, the wallpaper sites seem to be pretty riddled with malware. Can I just use AI to create fun new wallpapers instead?
While ChatGPT might be getting the lion's share of visibility in the media right now, it turns out that AI researchers have also been working on a number of other aspects of human creativity. One of the most interesting is the creation of art and there are a number of fascinating tools that can produce remarkable results with well-crafted prompts. Midjourney is one of the most popular, but to use it you have to delve into the world of Discord, which is a bit of a hassle for many people. My favorite is DALL-E instead (get it, "Dali"?) and it's super easy to use.
The biggest limitation is that it is completely reliant on how well you can describe what you want to have it create and that its output is fixed at 1024 x 1024, which is a bit small for a background wallpaper. Then again, with even the most basic of graphics editors, you can also stretch and resize an image, so I'll show you how I did just that to produce a cool sci-fi wallpaper.
HOW TO WORK WITH DALL-E
Start out by going to labs.openai.com where you'll find a simple, clean user interface that prompts you to describe the artwork you'd like it to create on your behalf: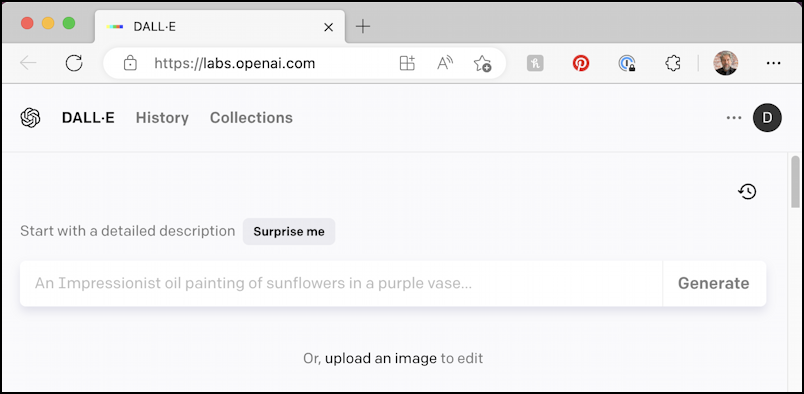 Before you proceed, scroll down a bit and you'll find that it shows some of the more interesting art that people have asked it to create, which is pretty darn interesting:

What's important here isn't to marvel at the range of output (though it's pretty darn impressive) but to move your cursor over one of the images, because it'll display the prompt that someone used to produce that image. For example that cute Finding Nemo-esque fish in a bowl? If I move my cursor over that image I'll find what prompt was used:

As you can see, some entered "3D render of a cute tropical fish in an aquarium on a dark blue background, digital art". You can even feed that very prompt into DALL-E to see what will happen by clicking on "Click to try".
But we're on a mission!
CRAFTING A GOOD DALL-E STARTING PROMPT
One thing to keep in mind is that you can ask DALL-E to regenerate an image and create variations with the click of a button, so you don't have to get it perfect at the beginning. But there are some basic things that people have learned, notably including be very specific with what you seek. A prompt like "a bunny" is going to produce a wide variety of possibilities compared to "a white rabbit in a meadow, in the style of Picasso". Specifying a style of art is beneficial too, so "oil painting" or "pastel" or "pencil sketch", or you can specify an artist to emulate, like Picasso, Dali, or even Monet.
Using descriptive words as if you're a pro writer is helpful too. "A happy bunny" or "angry bunny in a shaft of sunlight from an otherwise dark, stormy sky" are going to produce very different images. You can also specify "steampunk" or "impressionist" or similar too. It's quite fun, actually!
To start, I'm going to use this prompt: "sunrise in the mountains with a pine forest, two moons in the sky, and a squadron of ufos, digital art". A click on "Generate" and it offers four image options:
Notice the tiny images on the right where I was refining my prompt. The lowest color row was simply "sunset over mountains", which was rather boring!
Those images are good, but not great, and I notice that it ignored the "two moons" prompt, so I'm going to remove it, making my prompt a bit shorter: "sunrise in the mountains with a pine forest and a squadron of ufos, digital art". This time they're pretty darn sweet:
In particular, I really like the leftmost image, so I'm going to click on it to see a larger version:
Remember that it's only 1024 x 1024 in size, but that's okay because I'm going to then open up a graphics editor on my Mac system – Graphic Converter – and stretch it out to 2048 x 1200, a much better size for desktop wallpaper. Turns out that there are ways you can use DALL-E to expand an image, notably what Open AI calls "outpainting", but in the interest of keeping this tutorial easy, I simply stretched it out with a different tool. Worth noticing is that Mac, Windows, and Linux can all stretch images to fit your desktop too, if you specify that option.
The result is pretty dang attractive if I say so myself!
I've linked that image so if you click, you can grab the 2048 x 1200 version if you'd like. All told it took me maybe five minutes to create that great image that's undeniably new and unique. As a bonus, it didn't require me visiting any of those frustratingly sketch and malware-filled wallpaper archive sites. Now it's your turn: labs.openai.com 
Pro tip: I've been writing about computer and Internet basics for many years. Please check out my computer and Internet basics help area for lots more useful tutorials on AI and much, much more!