I have been forced to use Microsoft PowerPoint on my Mac due to work requirements that we run MS Office. Okay, whatever. But how can I add some fun transitions between slides?
Did you know that PowerPoint was a separate program from a different company until Microsoft purchased it and integrated it into Microsoft Office the software suite? It's okay if you didn't, that acquisition happened way back in 1987. Yes, PowerPoint is 32 years old! In fact, the story's quite fascinating, particularly given that you're on a Mac:
"Microsoft PowerPoint is a presentation program created by Robert Gaskins and Dennis Austin at a software company named Forethought. It was released on April 20, 1987, initially for Macintosh computers only. Microsoft acquired PowerPoint for $14 million three months after it appeared. This was Microsoft's first significant acquisition…"
Suffice to say, it's bounced on and off the Mac for many years and the current version for the MacOS X system – version 2019 – is an excellent suite of software including a powerful presentation program called, you guessed it, PowerPoint.
So history lesson over, let's get to your question. As with everything in the modern Microsoft suite, transitions in PowerPoint are controlled by bringing up the correct toolbar (or "ribbon" as Microsoft folk like to call it). To start, here's a rudimentary two-slide PowerPoint deck: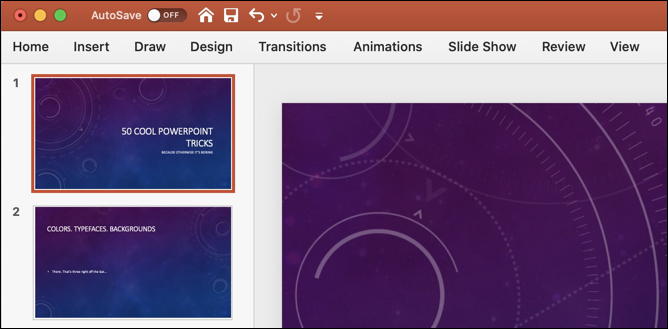 What you want to do is choose the slide you want to apply a transition, then click on "Transitions" on the default toolbar. Not seeing the default set of options as above? A click on the home icon will restore it.
Once you click on that, you'll get the Transitions ribbon, err, bar:

There are a small number of transitions shown, None, Morph, Fade and Push, but there's quite a set of options, far more than that. Easiest way to reveal them is to move the cursor to the center bottom of the window with the subset of transitions, then click on the tiny down arrow that appears. A big window will suddenly be revealed: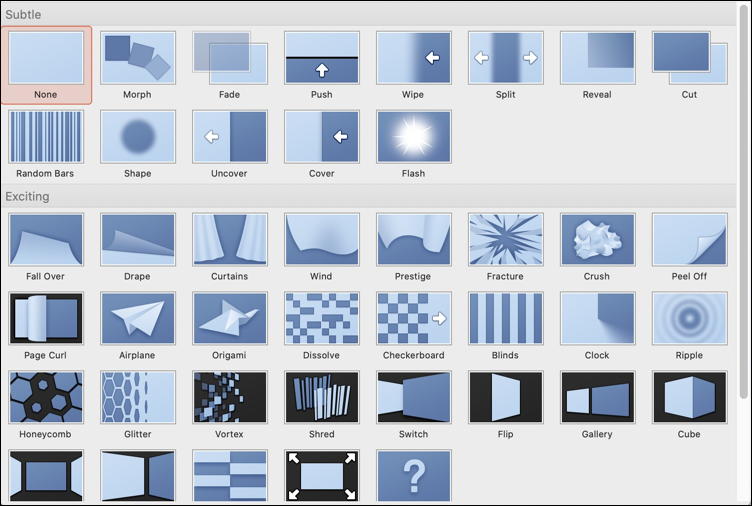 Subtle? Nahhh, let's do something Exciting!
I'm going to use "Fracture" for my demo, it's a pretty fun effect. Transitions don't have audio effects, however, but heck, you can add that if you want by clicking on the correct menu: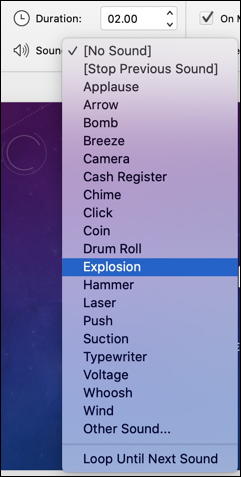 Fracture + Explosion? A genius level transition, right? Notice you can also slow down or speed up the transition if you decide it doesn't work quite as you'd like. There are some other tweaks you can make and some transitions even have specific options: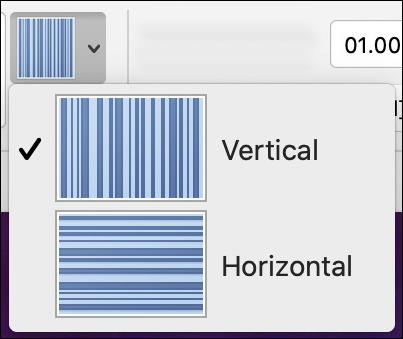 Lots to play with. But how does it work? Here's a short video capture so you can see and hear:
Pretty fun. But… as an experienced speaker, I will warn you that if your transitions are too exciting, people will be ignoring what you say because they're waiting for the next crazy slide transition. Also notice in the demo that I actually did it wrong: I applied the transition to the first slide, but that means the transition occurs before the presentation begins. So it's really important to keep in mind that the transitions in PowerPoint are to transition "into" the slide, not off the slide. In fact, I should have applied Fracture to the second slide to have it affect the way that PowerPoint switches between the two.
Otherwise, that's it. Between the transitions, the audio effects and the timing, you can go completely bonkers with stuff now. Or rein in it just a bit and add a modest amount of pizzaz to your next presentation or lecture.
Pro Tip: I've been writing about Mac and Microsoft for many years. Please check out my Mac help library while you're here, and if you're a Windows user, I have a massive Windows help library worth exploring too!