Dave, I have an old digital camera from about ten years ago and am wondering how I can get the photos onto my Mac system. Can you help me out?
You're not the only person who used a digital camera back in the proverbial day, though it's hard to remember in our modern era of excellent smartphone cameras. The digital cameras, not even the fancy digital SLRs, just compact cameras, were a big step in the journey to our modern situation. Helpful, but too many of them included special, custom cables so you could plug them into your computer, cables that you've probably lost in the interim.
I know I'm in that same situation with my great old Canon S120 compact digital camera. For its time, it did a great job with photos and was easy to tuck into my pocket when I wasn't taking photos. At the time, the iPhone in my other pocket definitely wasn't up for the job. But, as with so many cameras, it was quirky. Here's my old camera:
Pop open the side and there are plugs for cables, but what connections are they? Not USB-A, not MicroUSB:
I definitely don't have the proper cables to hook it up to my 2023 MacBook Pro, that's for sure. Fortunately, there's an SDCard tucked away next to the camera battery, and I bet your camera also has either an SDCard or a MicroSD Card for picture storage. Let's start there…
ACCESS YOUR CAMERA'S SDCARD ON A MAC
Some Mac models include an SDCard reader slot, but if not, there are very inexpensive (under $10) adapters you can acquire so you can access either an SDCard or a MicroSD Card on your Mac. Get things plugged in properly and the camera storage shows up on your Desktop like an external drive:
In this instance, it identifies as being from a Canon camera, but many cameras just show up with a fair random name. You can use "Get Info" in Finder, similar to any other file, folder, or external device, to learn more about the card: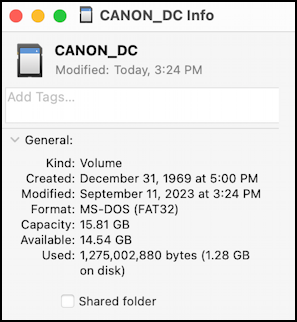 You can see that there are definitely photos on the card: It has a 16GB capacity of which 1.28GB is in use.
Click and open it in Finder and you'll see exactly one folder:
Open that up and it's even more mysterious:
Turns out that when the digital camera developers were designing their storage methods, they were trying to balance out folder contents, not make it at all humanly readable. If you look into one of these folders, you'll see photos, in fact, but it's essentially a completely random organization:
Notice that this one folder, 150__06, has 208 photos. If all 17 folders have a similar quantity of photos, that's quite an archive on that tiny card! But the Finder isn't a good tool for this task. MacOS has something much better…
HIDDEN MAC UTILITY: IMAGE CAPTURE
It's been in MacOS for eons, but it turns out that the very latest version of MacOS 13 still has something called Image Capture, which you can find in your Applications folder. It knows how to read DCIM folders! In fact, launch the program and it automatically organizes everything, hiding that confusing subfolder organization: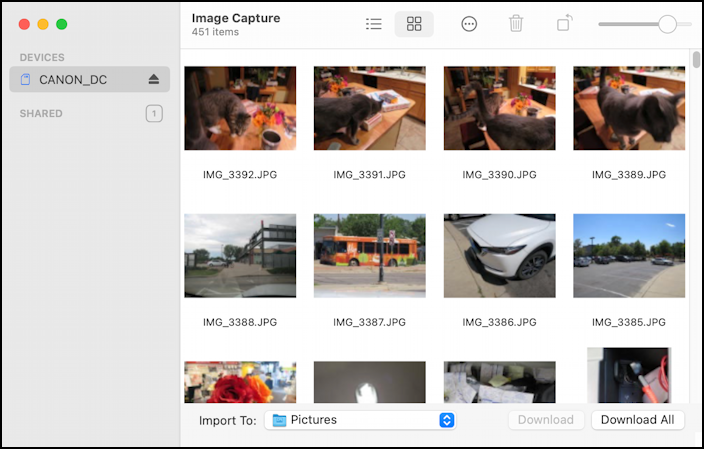 Notice at the top it indicates a total of 451 images are on this particular storage SDCard. Like a Finder window, you can also switch views so you get more information about each image. Click on the three-horizontal-lines icon and you'll get a view similar to this:
These particular images are from 2019. You cannot preview the images at a larger size, but there is a slider on the top right that gives you some control over the thumbnail sizes. At this point, you can click and choose which images you want, use the "Import To" pop-up at the bottom to create a new folder for the photos, then click "Download" for just the images you've selected or "Download All" to just grab everything and sort it out directly on your Mac.
Photos can also read DCIM folders and SDCards if you want to import directly into the popular app. Still have Aperture? That can import this sort of imagery too, as can PhotoShop if you're a Creative Cloud user. Good luck!
Pro Tip: I've been writing tutorials for both the Apple iPhone and Mac since they was first released. Please check out my extensive Mac help area and iPhone help area for lots and lots of useful content.