I listen to lots of audiobooks and like to manage them on my iMac and listen to them on my iPhone. I know how to work with audiobooks I purchase, but what about ones I get from friends and want to enjoy?
In the beginning was iTunes, and iTunes was the universal app for anything related to audio and video content. From watching movies rented from the Apple Store to the latest music, even CDs you ripped on your Mac, iTunes was da bomb and worked well. Except it gradually didn't work so well and ended up so overloaded that Apple finally decided to split its functionality into a number of different programs, including "Music" (which replaced iTunes for music), "TV" for video content, and "Books" for ebooks and audiobooks.
Unfortunately, of the three, Books has received the least attention. It remains clunky and is missing a variety of features, particularly for users who download audiobooks and ebooks rather than just buy them through the Apple eBooks store or Audiobooks store. Audible? That's its own world with its own app too, which is a bit inconvenient, and if you add audiobooks from your local library through Overdrive and Hoopla, well, there's more than a bit of chaos.
BUY AUDIOBOOKS FROM APPLE
If you buy audiobooks from Apple while on your iMac, they'll show up in the "Books" app on your Mac system. It'll look like this: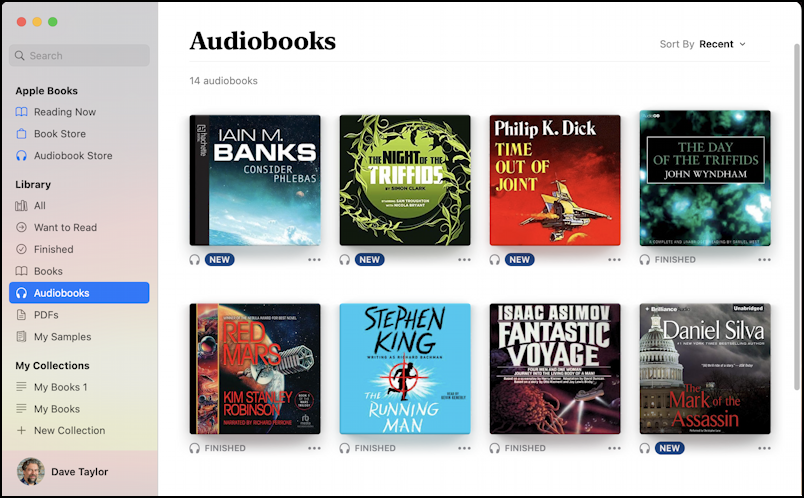 Looks good and you can see, I'm a big audiobook listener too. Notice also that they are noted as "FINISHED" or "NEW" depending on whether I've listened to them or not. But click on the "•••" link and while you'd hope for something like "Copy to iPhone", here's what you get:
Not exactly helpful. So how do you get your purchased audiobooks on your mobile device, either an iPhone or iPad? Well, we'll have to jump onto the device for that…
IOS SETTINGS TO AUTOMATICALLY DOWNLOAD AUDIOBOOKS
On your iPhone – or iPad – go into the Settings app and find "Books". A tap on that and you'll see a critical setting:
It's that middle control: Automatic Downloads. Click on the control to ensure you've enabled "Purchases from Other Devices" and when you make a purchase on your iMac it'll show up in the Books app on your iPhone or iPad. Easy enough.
While you're in Settings, scroll down a bit and you'll see there are some other audiobook playback settings you can tweak to ensure Books works as you prefer: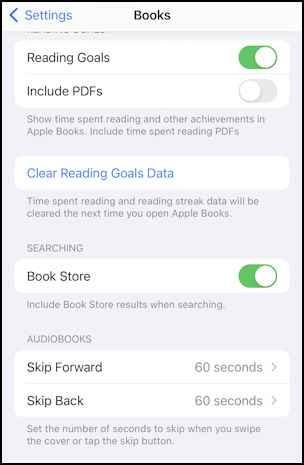 Helpful, and I do like "Reading Goals" too, though it's probably not that big a deal.
AUDIOBOOKS THAT ARE FROM OTHER SOURCES
If you get an audiobook from another source, perhaps a friend has emailed you an mp3 of their latest lecture or similar, then the process is a bit more complicated. If you need to fix the associated informational tags, including title, author, cover art, etc, then your best bet is to open up the file in "Music" and fix it (use File > Get Info) as needed. If not, your file's ready to go, and in both cases, simply drag and drop either the set of audio files that comprise the audiobook or the single file onto the "Books" app. It'll show up as a new audiobook, as shown above (most of those are not from the Apple Store).
If you fixed up the tracks in Music, make sure you right-click (Option-click) on one of the tracks in the Music app and choose "Show in Finder": that's the version to drag onto Books to ensure the fixes show up. The fact that you can't fix things once they're in Books is super frustrating but… it is what it is.
Once Books is all set up you'll need to use a rather surprising tool to copy those audiobooks onto your iPhone or iPad: Finder.
COPY AUDIOBOOKS TO YOUR IPHONE WITH FINDER
Back in the day, you'd plug your iPhone into your Mac and it would show up in iTunes. That's long gone, however, and instead, it just appears as another external device in the Finder. Click on it and you'll see plenty of interesting information:
You can see that my iPhone 14 Pro has 128GB, of which 35.59GB is available. You can also check for updates from here – assuming you've indicated on your phone that the Mac is a trusted connection – and tweak your backup strategy. Helpful.
But for our task, choose "Audiobooks" from the small list of content categories near the top. Now you'll see a list of all known audiobooks that matches what's in Books:
At this point select the audiobook or books you want to copy, then click "Sync". Done.
MEANWHILE ON THE IPHONE
Once the sync is completed – and it can take a while – you'll be able to open up "Books" to see your library:
When you're listening to an audiobook in "Books" it's a bright, easy to understand interface:
That's it. Now you know how to sync purchases and fix up, import into Books and copy your own audiobook content onto your iPhone or iPad too. Now, back to listening!
Pro Tip: I've been writing about the Apple iPhone since day one, when the iPhone 1 was released. Please check out my quite extensive iPhone help area for hundreds of useful tutorials and tips!