I have been trying out a dashcam and really like it, except the files are all saved as "AVI" and my Mac can't play them. Problem! Is there a free way to play AVI video on a MacOS system and convert them to MP4 too?
There are a ton of video converters available for the Mac system (and PCs too) but it turns out that there's a terrific open source program that offers much of the same functionality and it's free. Not only that, but it's more flexible and powerful than most of the commercial programs you can acquire, and who doesn't like "free" when it comes to useful applications? It is pretty frustrating how different systems have incompatible file formats too. If they were associated with a specific program, like, say, a DOCX from a Microsoft Word file, then it would make sense, but file formats like MP4 and AVI are more universal. So why don't default video players support them?
To convert the AVI file on your Mac system to an MP4, I'm going to use the wonderful program VLC. It's actually a video player that offers somewhat the same functionality as the playback portion of QuickTime Player, but supports just about every possible video format I've ever bumped into, even obscure Linux formats. You can download a copy for free from videolan.org and it's a very useful utility to have on every Mac and Windows computer you own.
A lot of devices like webcams and similar save video files in AVI format too, so this is a problem more and more people are encountering on both the Mac and PC side. All solved with VLC. Sweet.
HOW TO WATCH AVI VIDEO ON MAC
As a first step, I have been testing out a time-lapse camera and it's good fun, but it's also another gadget that produces AVI, not MP4. Here's how that ends up looking on my Mac desktop:
The dashcam I've been testing out at the same time produces MP4: that's the file on the right. But on the left? AVI. You can see the Mac doesn't really know what to do with it by the fact that there's no preview shown, just the VLC traffic cone icon. If you haven't yet installed VLC, it'll be a generic file icon, a further indicator that the system is clueless about that type of file.
Let's look just a tiny bit more closely at the file with File > Get Info in the Finder:
You can see the OS knows that it's an "AVI movie" but not much more than that.
Want to watch the video to ensure it's what you want? You can't do that in QuickTime Player, for sure:
Why Apple can't extend QuickTime Player to support more video formats is beyond me, but that's how it is. Open up the AVI file in VLC, however, and it works just fine:
You can see my son and I building a bike in the garage on a darn hot day: It's 95F in the garage!
The good news is that recorder worked and the video file is exactly as hoped. Now it's time for that conversion…
CONVERT AVI VIDEO FILES TO MP4 ON A MAC
You can close the playback window in VLC because it's a different function required for this video format conversation project. Instead, choose File > Convert/Stream…: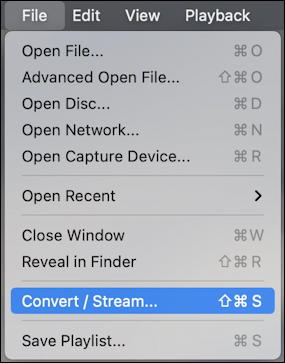 Now one of the most austere windows I've ever seen pops up. It's functional, but seems so barren:
If you don't have your AVI file shown, just drag it to the top portion of the window. You can choose a different profile from the pop-up menu (there are an astonishing number of choices) and you can customize exactly how you want the conversion to go, as shown. For this first conversion, however, I suggest just choosing Video – H.264 + MP3 (MP4) and leaving all the default settings.
You can now stream it if you want, but much more likely you'll want to save it as a file, chosen with the ingeniously named "Save as File".
Click on that, choose both the output file name and location (I suggest you omit a filename suffix and let VLC add that instead) and you'll be ready to go: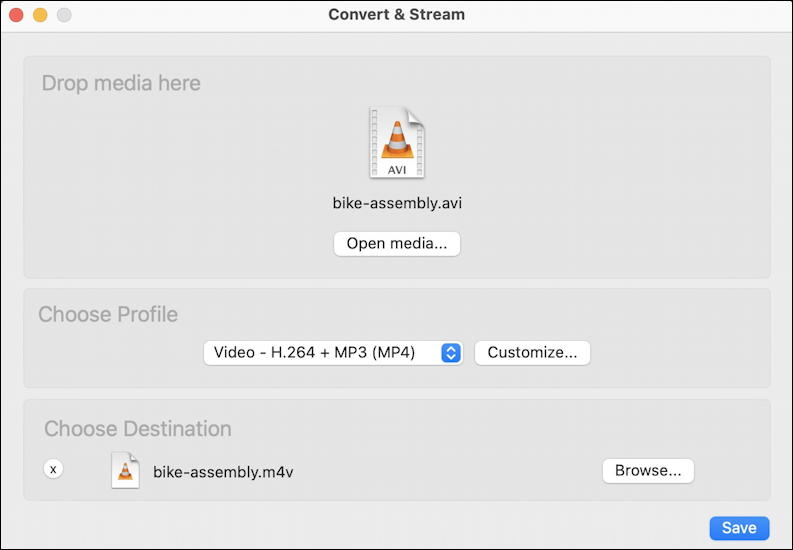 That looks ready to go. Notice that the output file format isn't going to be MP4 but instead M4V. That's really just Apple being Apple: It is in fact going to be an MP4 format file, will work just fine with QuickTime Player (as I'll show in a moment), and can even be played in the Apple TV app on your Mac if you prefer.
Ready? Click on "Save" and the newly converted file will be saved on your system. New icon, new filename, and, finally, a preview:
Looks much more like a Mac-friendly file format. Not only that, but with a double-click you can now open it up and watch it in QuickTime Player, no third party software required:
That's it. With the help of VLC, there's not much you can't convert in the video realm, or just watch. MKV, AVI, FLAC, FLV, OGG, WAV, MOV, MP4, it's all compatible with VLC, even if it isn't with your Mac itself. Now go forth and convert!
Pro Tip: I've been writing about the Mac system for years and have an enormous library of Mac help and tips for you to explore. Please do take the time to check it all out while you're here!