I constantly have to hunt for the AppleTV remote in my house. Is there any way to control my AppleTV unit directly from within MacOS X?
There are a surprising number of different ways you can control an AppleTV box, actually. One of the best is with your iPhone if you're an Apple iPhone owner. You don't even have to get an app because in the latest version of iOS it's included as one of the options on the Control Center! That's right, when you swipe inward from the top right of your screen, it's ready to go. Well, almost. There's still a bit of pairing involved, as Apple details in this tutorial.
Surprisingly, though, there's still no official Apple solution for controlling the AppleTV from within MacOS X. Perhaps that reflects the fact that Apple employees can't imagine a scenario where they wouldn't have their iPhone in their hand at all times 🙂
Fortunately there's a pretty darn slick third party application for your MacBook that can control the AppleTV, though I warn you that the experience isn't quite the same. It's called CiderTV and you can find it in the App Store. Here are the steps involved in getting it up and running…
To start, find it in the app store: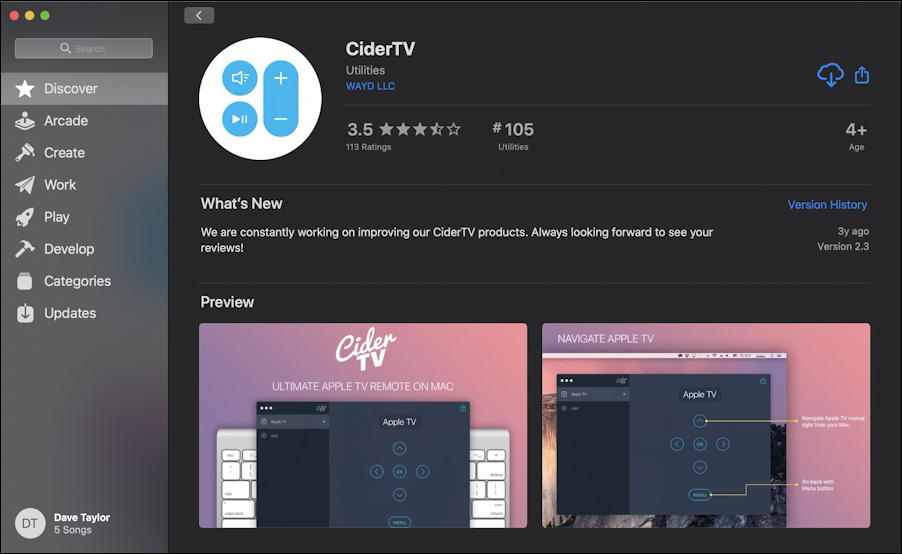 You can see from the cloud icon (top right) that I've installed it on other Mac systems. If you've never downloaded it before, you'll see a "GET" button instead. Click to install it.
On first launch you'll be prompted to add an AppleTV: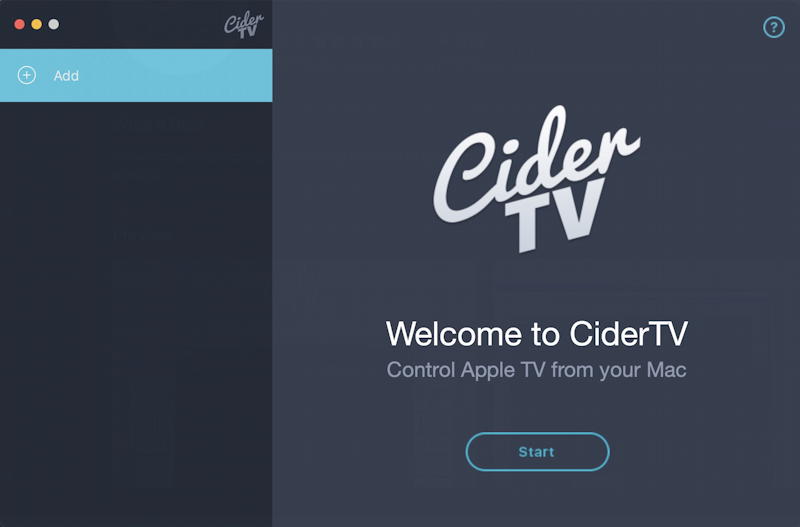 Click on "Start" and you'll need to know if you have an earlier AppleTV or the latest generation.
Hopefully you have the latest generation with its faster processor. I do, so I choose "Apple TV 4" and the instructions detail what I'll need to do on my television as shown: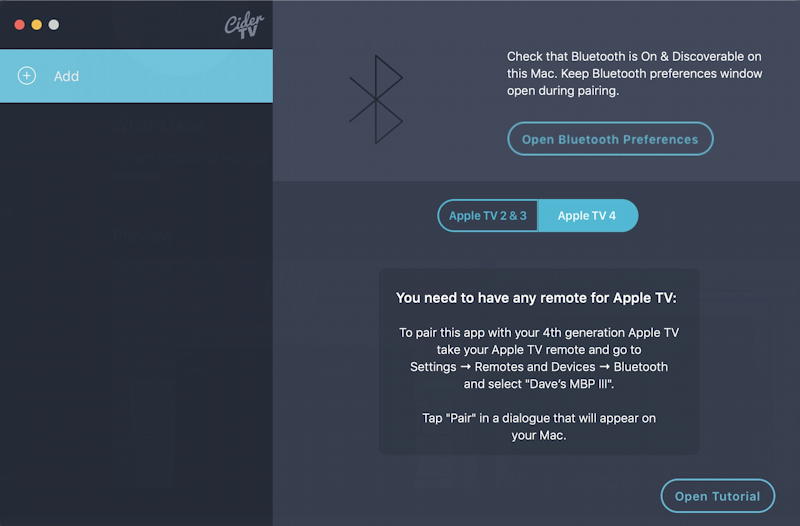 Basically, in AppleTV settings, we're going to choose a new bluetooth remote: CiderTV.
Before you switch your attention to your TV, however, you'll want to ensure that your MacBook Bluetooth is up and that your computer is "discoverable". Jump into Bluetooth settings and it's the information on the left side that you want to check: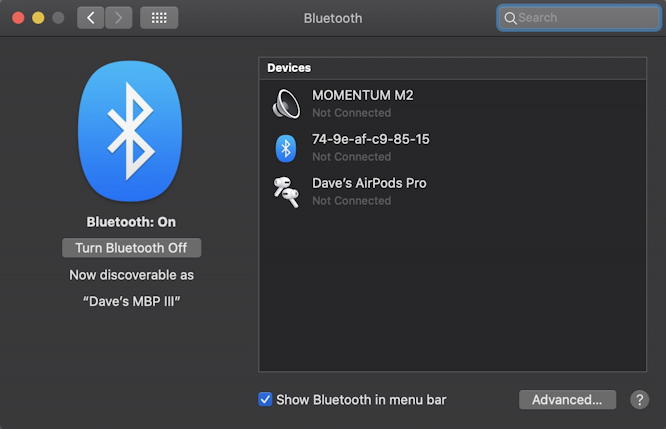 See the "Now discoverable as "Dave's MBP III"? That's the name we'll look for in the AppleTV settings.
In fact, now it's time to switch to the AppleTV itself. Fire it up, go into Settings > Remotes and Devices > Bluetooth. It might take a few seconds to recognize your MacBook, but eventually you should see it show up under "Other Devices":
Choose your Mac system with, yes, the existing AppleTV remote, and a pairing message will pop up on your computer:

Looks good! Click on "Connect" to proceed and moments later the AppleTV display should update: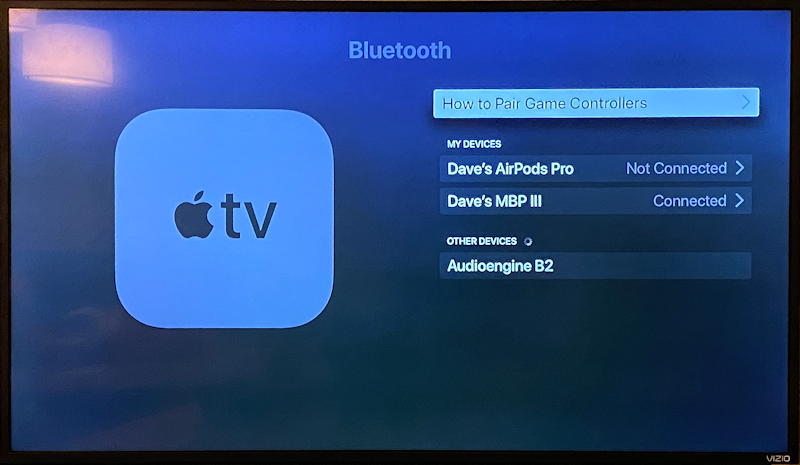 Done and connected, as you can see.
Which means now you can pop back into CiderTV and you're in control!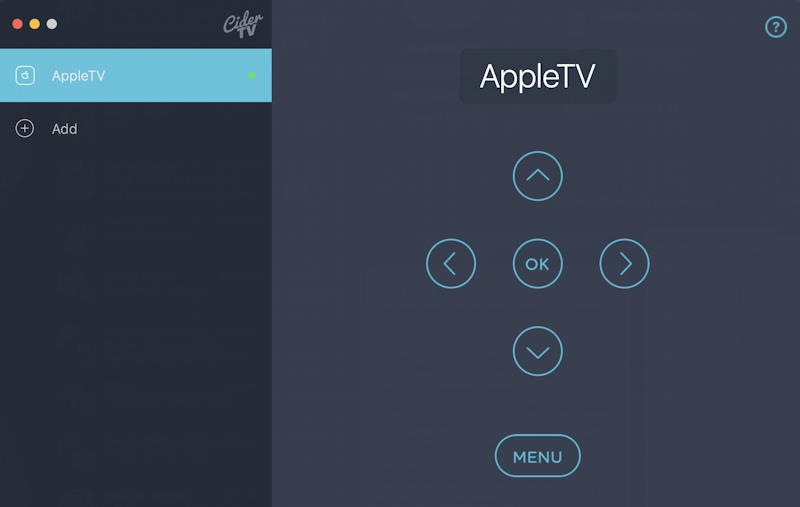 It's functional, but not as sophisticated as the interface you'll find on your iPhone (in particular, the "Details" link offers a great summary view of what you're watching, with progress bar). Still, it works and whether you're controlling Disney+, Apple TV+, Netflix, or content from your own Plex server, you're now good to go with your AppleTV and your Mac system. Neat, eh?
Pro Tip: I've been writing about Mac systems for eons. Please check out my extensive Mac Help Library while you're here. Thanks!