I typically use my Apple AirPods Pro paired to my iPhone but sometimes I want to use them with my MacBook Air too. How can I control ANC and similar features on the AirPods Pro when they're paired with my MacOS system?
Apple has done a good job ensuring that if you pair Apple AirPods or AirPods Pro with any Apple device, they also show up on all the devices you own. As long, that is, as you have them all logged in to the same Apple account. They'll even show up on your AppleTV as potential output devices, a great way for you to enjoy your favorite movies or TV content without bothering housemates or neighbors! Controlling all of those AirPods and AirPods Pro settings can be hard to find on some of these devices, however, and while you can figure out the tap sequences if you want, it's easier to learn how to access that info instead.
What makes the Mac system particularly confusing is that the AirPods and AirPods Pro show up in multiple places, and if you find them in one menu – for example, the Bluetooth menu – you might figure that's all the control you get. But in fact, there's another menu that you can enable that gives you a lot of control over the device (though not every feature, confusingly). Let's actually have a look, shall we?
CHECK BATTERY LEVEL ON YOUR AIRPODS PRO
On your Mac system, the same shortcut menu that lets you choose your AirPods Pro as your audio output device will also tell you the battery level of each earbud if you look closely: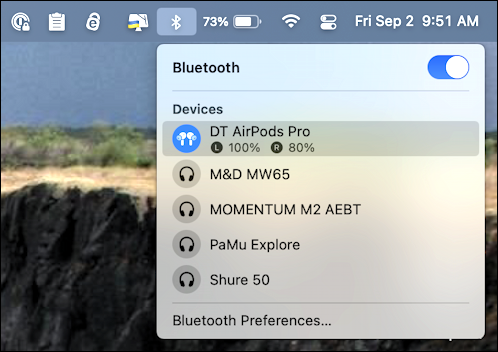 You can see that my left earbud is charged to 100% while the right earbud is only at 80%. Odd, but still good to know. What's the charge level of the AirPods case? There's no way to find out when it's hooked up to the Mac (though you can check it on your iPhone next time it's paired and in use).
But while Bluetooth gives you the charge level, that's about all it offers. Instead, click on the stacked switch icon to bring up the Control Center. This is an underutilized feature in the last few versions of MacOS, but it's really helpful:
A handy way to access brightness, and volume, and see some stats like what Wi-Fi network I'm on. I can even tweak keyboard brightness from this window or enable Focus if needed.
ADJUST AIRPOD PRO ANC SETTINGS FROM CONTROL CENTER
What we want is that tiny ">" icon on the Sound area. A click on that and you'll reveal more detailed information on the AirPods Pro you have paired with your MacBook Air:
That gives you the ability to adjust ANC and Spatial Audio if you desire, which is darn handy. I will note that it can take a few seconds for your AirPods Pro to actually reflect the change you request and that if you have other Bluetooth devices you use, they might not have that ">" link and more info area available.
But what you really want to click on is "Sound Preferences…" at the bottom of this window.
ANC & SOUND PREFERENCES IN MACOS 12
Sound Preferences is the only place I know that lets you adjust left/right balance: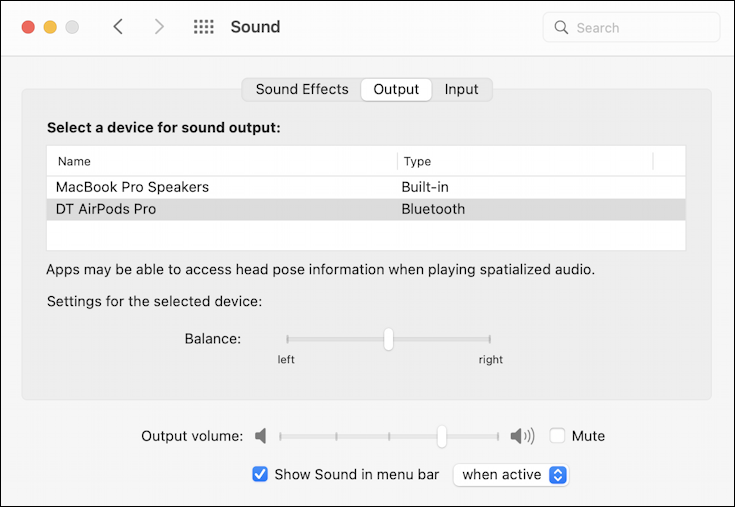 It doesn't show battery level nor does it let you access ANC controls. Or does it? Check "Show Sound in menu bar" at the very bottom (I recommend 'when active' to avoid it cluttering up the menubar if you aren't using an audio device) and check out what appears:
First off, the icon switches to tiny AirPods on the menubar so you can see it's paired and, while it doesn't show battery level (or balance) this menu does give you access both to the Active Noise Control settings and Spatialize Stereo, which you can set to Off / Fixed / Head Tracked. Why we can't get all of these many controls and features – including case battery level – in a single pop-up window is beyond me, but there's probably an app for that, right? 😁
Pro Tip: I've been writing about the Mac since the very first system was released. Back in the era of the "fishbowl" design! Heck, I started my computing career on an Apple II. Please check out my extensive Mac Help Library while you're visiting. Thanks!