Just upgraded to the latest preview release of Windows 10 and there's a weather icon on my Taskbar all of a sudden! Hurray! Now, how can I customize it for my preferences?
The latest Windows 10 Preview, known as 21H1, does indeed include a feature that people have been asking for since the dawn of Windows: A little weather widget on the Taskbar. How convenient to be able to look at the corner of your screen and see the temperature outside, along with a rough prediction of the day's weather. Better yet, move your cursor over the weather icon and a notification window pops up with the latest news, weather, stock positions, even sports scores. Why has it taken so long for Microsoft to add this to Windows?
Of course, the first thing you'll want to do once you get this widget on your own Taskbar is to customize it. You might be interested in technology news, but not stocks, or NFL scores but never NHL hockey. All of this can be customized, though it seems like the process might be simplified in a future release of the widget, as you'll see.
UPGRADE WINDOWS 10 TO PREVIEW 21H1
The first step is you'll need to update your PC to the correct Windows Preview – 21H1 – though eventually, you'll just have the right version as it goes into wider distribution. For now, check "optional upgrades" and see if it appears. This can be ascertained by going to "Check for Windows Update". If it's an option, you'll see something like this: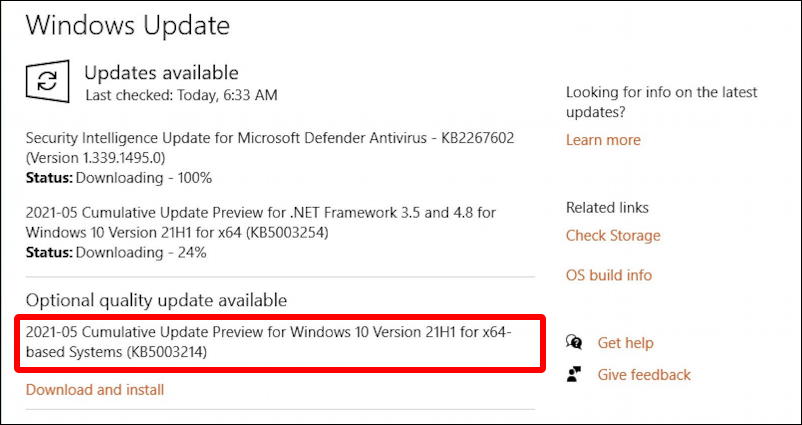 Notice the highlighted option: "2021-05 Cumulative Update Preview for Window 10 Version 21H1". Download and install that, along with any other updates applicable to your version of Win10. Reboot when it's done.
WEATHER WIDGET ON THE WINDOWS TASKBAR
Once you log in to your computer again there's a new entry on the Taskbar:

You can see that it consists of a weather graphic, current temperature, and a one or two word forecast. Right now it's lovely, a few scattered clouds and "mostly sunny", as denoted.
Move your cursor over it and the News notification window pops up: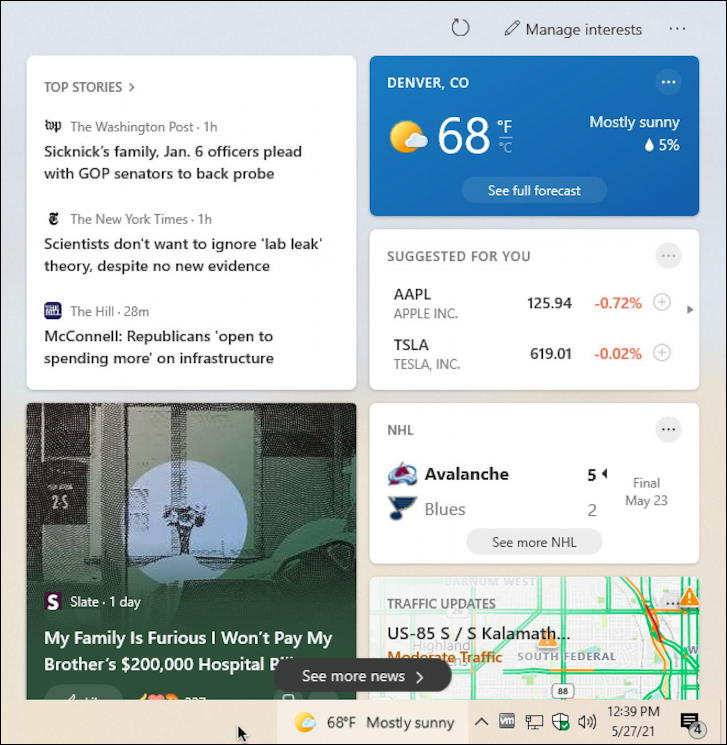 Confusingly, there are two different ways to customize this news window.
HOW TO CUSTOMIZE WIN10 NEWS & WEATHER WINDOW
The most obvious way is on the top right of the window itself:

Choose "Manage interests" and you'll get to a settings area in a Web browser, rather surprisingly. Before we go there, however, notice the circle arrow: Click on that and it'll update any information in the window with the very latest updates.
For this task, however, click or tap on "Manage interests" and pop up this Window: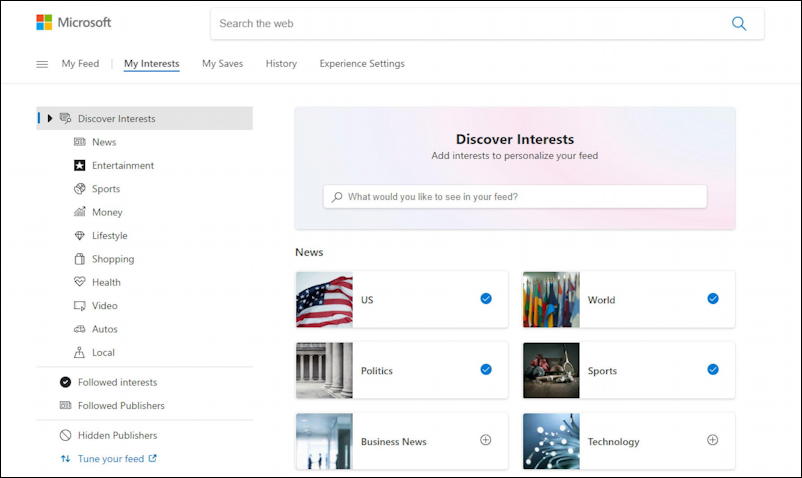 By default, I have US, World, Politics and Sports news. These can be deselected by clicking on the blue checkmark, and other categories can be added by clicking on the "+". Not only that, but click or tap on one of the subcategories on the left and lots of options appear. For example, within Sports: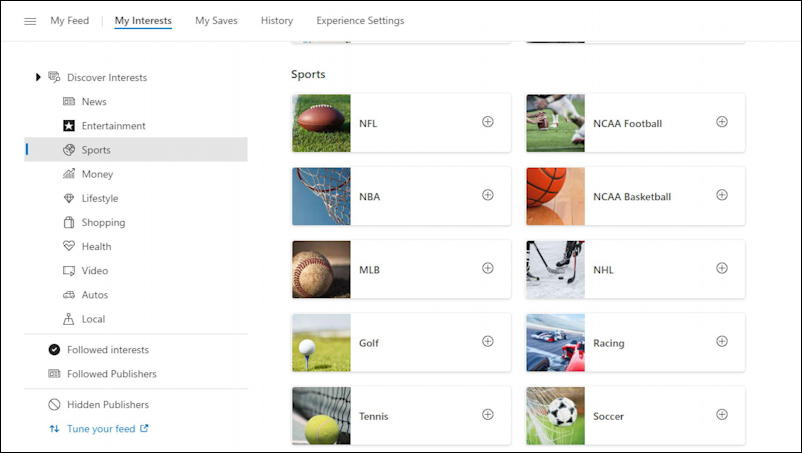 It would be a moment's change to choose NFL for football news and uncheck NHL if that was selected.
Turns out you can also right-click on the weather and news widget too, which brings up a few settings: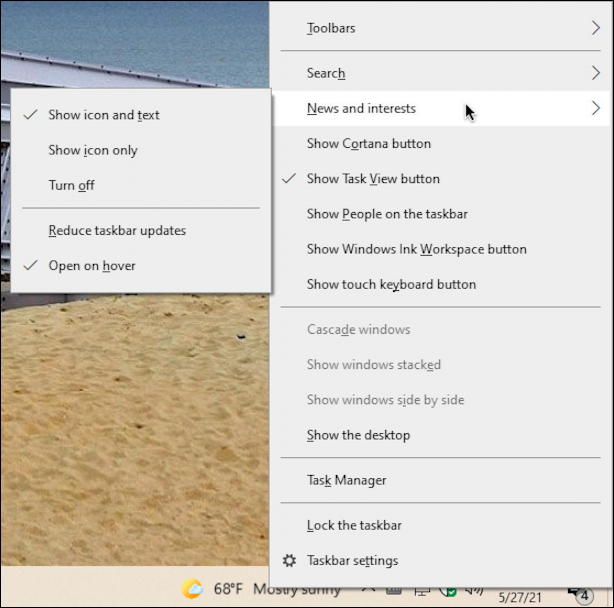 Notice the settings are under "News and interests" and especially the two lower choices: "Reduce taskbar updates" if you have a limited connection to the Internet and "Open on hover" if you'd rather have to click the weather info to get the news window instead.
Not only that, but each of the little boxes on the News screen gives you easy access to settings for that particular pane. Here's what I see if I click on the "•••" icon on the top right of the stocks and market info "card":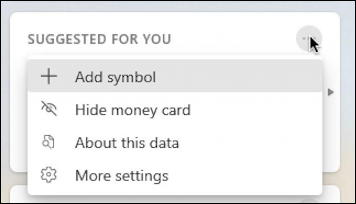 The stocks and market card is actually known as the "money card" if you're curious. You can add a symbol, access more settings or simply hide this info card pane to free up room for information you would prefer to see.
After all of my changes, here's what I have as my own News & interests card: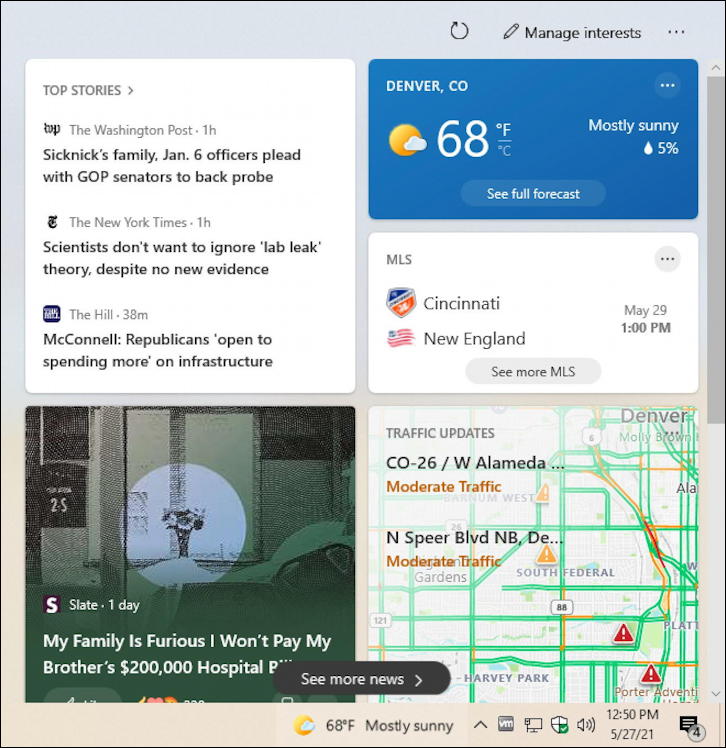 Notice that I've changed to Major League Soccer, remove the stock info and had it automatically replaced by traffic updates. Nice!
Now it's your turn. Update your Windows, then adjust the settings and preferences on your new News and interests pop-up to make it your own!
Pro Tip: I've been writing about Windows 10 for quite some time and earlier versions of Windows before that. While you're visiting, why not check out my Windows 10 & PC help area? Thanks!