Since I'm working from home, I was thinking about hooking up a second display to my PC and am wondering how to configure it so it doesn't just duplicate what's on my main screen?
If you're only used to having the screen on your laptop or tablet, it's quite empowering to suddenly have a second display where you can move reference content, have a Zoom call or other video chat, or even just have an instant message window so you can keep up with your friends! Pro computer users know this and designers, developers and gamers alike often have a second display or monitor plugged in. Some even have three screens!
Fortunately, Windows 10 makes it easy to manage multiple displays, even if the second screen is actually a video projector that's pushing out a big, bright image on your far wall. From the PC's perspective, they're all the same, whether it's your actual TV (most have work as a second computer screen), a computer monitor or a projector. In fact, the lattermost is the one where the settings make the most sense because it's labelled "project" on your system.
To start out, here's my current setup, with a second 'extension display panel' from DragonTouch that I'm reviewing and a Dell XPS13 computer: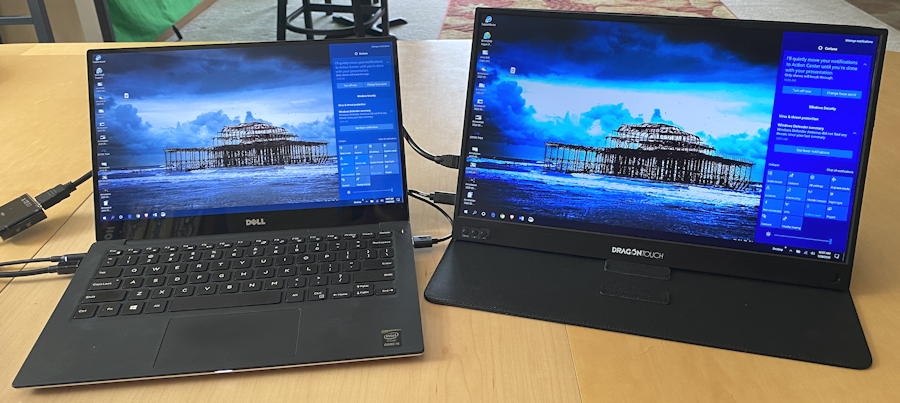 As you can see, the second display, on the right, is mirroring (duplicating) what's on the main display on the left. This is a useful configuration if you want to show someone what you're doing, a common occurrence if you're using a projector to teach how to use a program or app. But what if you'd rather have it as an extension of your desktop so you can have different programs shown on each?
To change the configuration, the easiest path is to bring up your Notifications slider from the right edge. This is most easily done by tapping on the tiny Notifications icon on the lower right corner of your Taskbar. Below any notifications, it'll display a grid of shortcut buttons, something similar to this (your icon layout might be different):
As I said earlier, it's the "Project" shortcut you want to use. Tap or click on it to bring up a set of four possible dual screen layout options: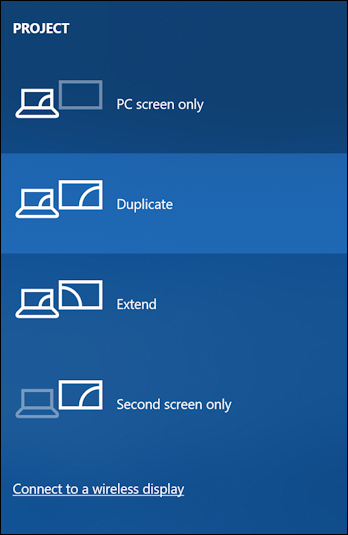 As shown in the photo, the default here is "Duplicate" but the more useful configuration when you have a second monitor or display hooked up is "Extend". Tap or click on that and things change rather dramatically! Now you can open up windows, apps, games, whatever and just drag them off your current screen to the right and onto the new extended display. When I do that with a browser window logging me into Netflix, it looks like this: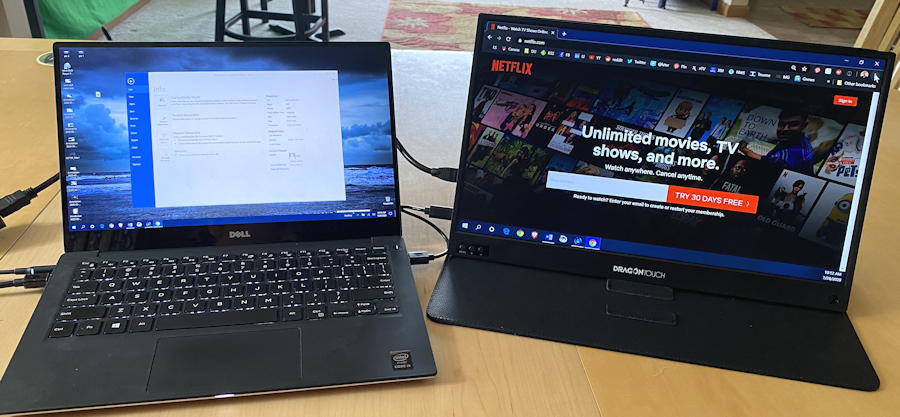 Um, no-one will know if I binge watch my favorite series while I'm working, right? Really super useful!
So that's it. Plug in the second display, whether it's a video projector, TV, monitor or other screen, and go to "Project" in Notifications shortcuts to configure it as you prefer. Done. Now, is it time to rewatch Stranger Things while I work…?
Pro Tip: I've been writing about Windows since the early days. While you're visiting, please do check out my extensive Windows 10 Help Library for tons more useful tutorials!