I know that I can see the charge level for each earbud and the case of my AirPods Pro with my iPhone, but I often just use it with my Mac system. Is there any way to check the charge level of the case from my Mac? I haven't figured one out!
Apple has some odd prioritization of its usability features across the ecosystem. On an iPhone it's easy to have a widget that shows charge level of your phone, earbuds, and case, even if it's actively working with your Mac, but on your Mac there's no way to do the opposite. No surprise, third-party app developers have picked up the slack and it's amazing how many matches there are to a search for "battery" in the Mac app store. Most, however, involve offering more details about the battery of your MacBook Air, Pro, etc, but a few let you see additional local device charge levels. The cost? Installing the third-party app on all your devices, something I'm not interested in doing.
The result is that it appears that there's no way to actually check your AirPods and AirPods Pro case charge level from your Mac. Or is there?
AIRPODS PRO AND MACOS CONNECTIVITY
It's clear that MacOS not only works seamlessly with the Apple AirPods (as you would expect) but that it knows they're more than just another pair of Bluetooth earbuds. Choose them and you'll even see a nifty new icon appear on your menubar. Click on it and you'll see it's the Sound menu with a different icon to denote the AirPods have been recognized: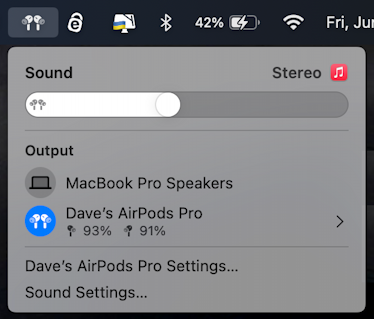 Here you can see that my left earbud is at 93% battery and the right earbud is at 91% charge level. Not sure why they're not identical, but that's okay. Where, however, is the charge level of the case? In the Battery menu?
Nope, that shows information about my MacBook Pro's battery, including that it's plugged in and charging. But no case.
Then again, there is a ">" icon next to the earbud charge level info on the Sound menu. Click on it and lots more info and settings appear:
Really nice to be able to change the Active Noise Control settings and to enable or disable "spatialized" stereo, but still, where's that darn case charge level?
PUT THE BUDS IN THE CASE…
The undocumented trick is to put the earbuds in the case without closing the Sound menu. Leave it open while you put the 'buds in their case and check out what appears in the menu:
There it is! 76% and it even has a cute little icon of its own. I can't answer the obvious question of why this isn't shown all the time while you're using AirPods, but now you know. Close the menu and click on the Sound icon on the menubar again, however, and notice that the AirPods are completely gone:
Now you know the trick we can only hope that someday Apple will simply include this information in the regular menu so that you don't have to carefully time your earbud charging with the AirPods and AirPods Pro, but at least you didn't have to install any third-party software or turn to your iPhone to get the charge level!
Pro Tip: I've been writing about the Mac since the very first system was released. Back in the era of the "fishbowl" design! Heck, I started my computing career on an Apple II. Please check out my extensive Mac Help Library while you're visiting. Thanks!