I learned that my teenage son knows the password to my Windows account and can log in to my computer whenever he wants. How can I change my password? I'm on Windows 10.
Ah, those teenagers, always so curious about our accounts, email, and other communication. I know, I have teenagers of my own. Fortunately you can pick new passwords and make them complicated so that they're secure, opt not to share them with anyone in your family, and opt not to write them down on a post-it that's stuck to the computer screen. You aren't doing that, are you? 🙂
The trick with a good password is to make it easy to remember but hard to guess. Or, better, use a password manager so you can skip the memorization step and make it even more complicated and unguessable. Either way, I strongly recommend using upper and lower case letters, a few digits, and a punctuation symbol or two. As a mnemonic that can be tricky but complex = hard to guess and simple = easy to guess.
One trick is to take a phrase you like and tweak it a bit. For example, maybe you're retired and still resonate to the phrase "hard to kill" as an ex-US Marine. That's a good one to start with: "to" becomes "2", capitalize the first letter of each word, and append a punctuation mark. That simple transformation gets you to Hard2Kill! which is much better. How about prefacing it with a symmetric "!" symbol and replacing the "a" with an "@" to get another symbol? Now you have a decent password that you can remember too: !H@rd2Kill!  See how that works? Not too bad…
In terms of the Windows side of things, let's start by going to the standard Cortana search, since that's always the fastest way to get to the right spot in the System Settings:
A search for "password" gets the right option: "Change your password".
Great. Choose that and you'll get a somewhat confusing window show up:
Turns out there are a lot of different sign-in options in Windows 10, ranging from face recognition (on compatible devices) to a PIN, to identifying a favorite picture, to, yes, entering a password. So complicated!
You want to change your Windows password so click on the button "Change" just below "Change your account password".
Now you'll see a series of blue windows show up, starting with:
You'll need to know your current password to change it. This is for your protection to ensure someone doesn't just wander by while your computer's logged in and change your password to something you don't know. That would be bad.
Enter your current password, click "Next" and…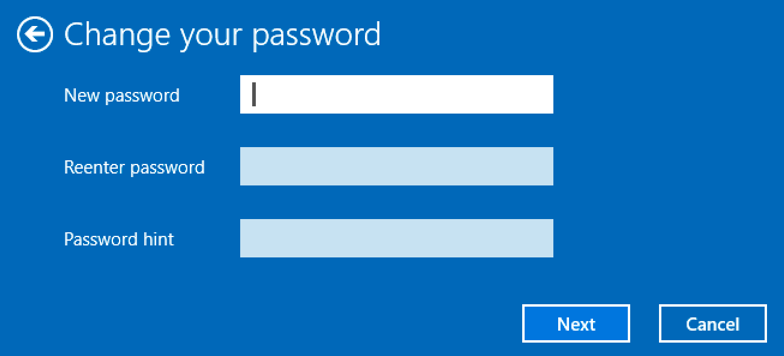 We already talked about choosing a good password, so this is where you'd enter !H@rd2Kill! twice in a row, then perhaps offer up a hint to remind you if you completely space out. In this case "hard to kill" might be a safe hint because there are so many transformations. Do NOT put your actual password in the hint box, however, because someone who has no idea what your password actually is can still get the hint to show up.
Another click on "Next" to proceed and you're done:
That's all there is to it. Not too bad. The real work is coming up with a good, reasonably memorable and yet impossible to guess password that will help keep your account secure from your teenage son and anyone else trying to hack in! Good luck.
Pro Tip: We have lots of Windows help here on the site. Please take the time to check it all out.