I've been using Yahoo Mail for a long time and don't want to quit. But I heard on Facebook that you can't change your password any more, which makes me anxious. How can I change my Yahoo Mail password?
Funny that you mention this incorrect information being shared on Facebook: I saw it too a few days ago and was scratching my head about it. The person who posted claimed that there was now no way to change your Yahoo Mail account password and that therefore everyone should switch to a different email service like Gmail. "Say what?" I thought to myself as I went over to my Yahoo Mail account and confirmed that you can indeed change your password exactly as you could at any time in the past.
Yahoo Mail is part of the greater Yahoo suite of Web sites and services and they all work with a central account management system, exactly as Outlook.com uses your Microsoft Live account and Gmail uses your Google account for verification and security purposes. So one way you can change your Yahoo Mail password is to simply change your Yahoo account credentials. Easy, really.
In fact, let me just show you how to go from the main page where you would check for new email on Yahoo Mail and change your actual password!

Ironically, my most recent emails in my inbox are about signing in and changing my password eight months ago. Oh, and some goofy Walmart ad that matches a criteria I couldn't even identify!
See that gear icon on the right? Click on it and you'll have lots of options for changing the appearance and behavior of Yahoo Mail: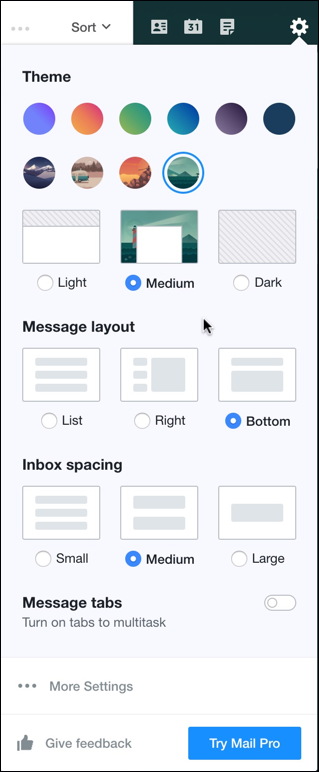 Lots of cool stuff to bring a bit of life to your inbox. None of these, however, get you to your actual account settings and that's probably why people got confused and panicky about updating their password.
Instead, to get to your Yahoo account information you need to click on the tiny profile pic at the very top. It reveals a small but important menu: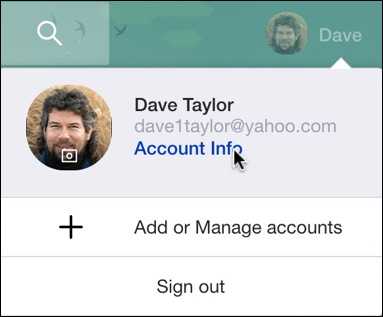 As the cursor highlights, you want to click on "Account Info" to proceed.
Tip: When you're done checking your Yahoo Mail, don't forget to choose "Sign out" if you're on a shared or public terminal!
Account Info takes you to a section with four major categories of settings. Choose "Account Security":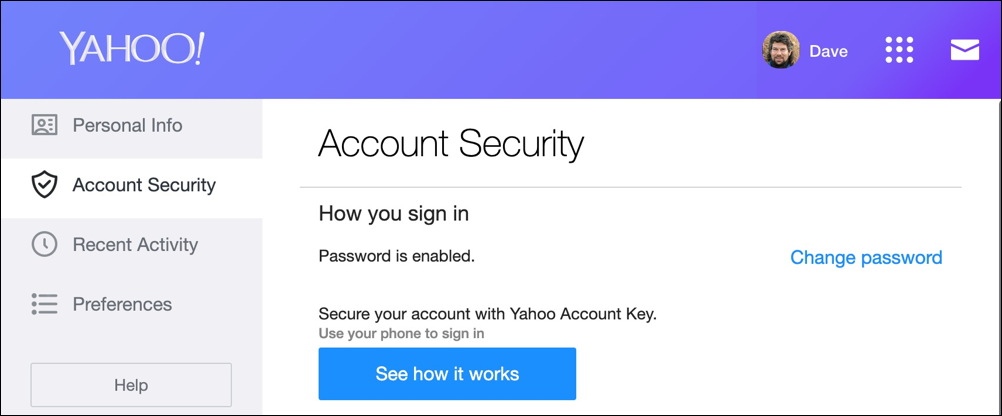 You can opt for the Yahoo Account Key if you want (it'll require you always have your phone with you every time you log in and it's a lot safer) but let's stay focused on that Change Yahoo Mail Password task by clicking on the blue "Change password" link.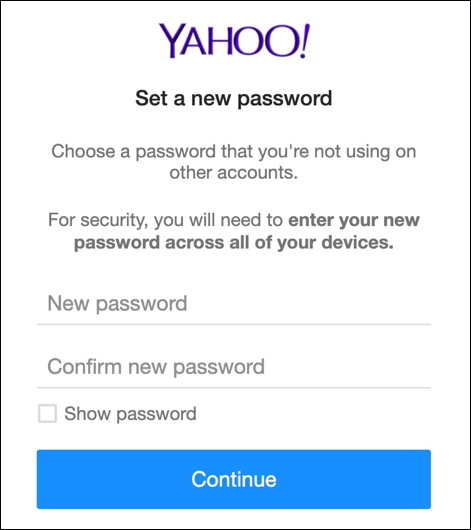 You can take it from here. Just remember to choose a sufficiently complex password with upper and lowercase, a symbol or two and ideally a digit or two. Your dog's name is still a bad password choice 🙂
Finally, scroll down a bit on the Account Security area and do consider enabling two-factor (2-step) authentication:

Enable this and even if someone has your password they won't be able to log in to your Yahoo account. The signup is a bit tedious but the end result is well worth it: You subsequently log in with your account & password, then if those are entered correctly, Yahoo texts a random sequence of 6-8 digits that is also required for a successful login. If the bad guy / hacker has your credentials but not your phone, they're still locked out.
Pro Tip: I've written a lot about Yahoo services and tricks on the site. Please check out my Yahoo help pages while you're here!