I really don't like the color scheme on my PC, and don't know how to change it without changing everything about my theme. The wallpaper's fine, I just don't want yellow title bars. While I'm at it, is there a way to change my Taskbar color too, like I could do in Windows 10?
There's a fair amount of flexibility in color schemes in Windows, but there are a few colors that can't be changed, interestingly enough. The fixed color that's most surprising is the text highlight color. It's light blue and there's really no easy way to change it short of opening up the registry and tweaking the innards of your operating system, something I discourage any non-technical person from attempting.
So you can't change that ubiquitous blue but what about the other colors? It turns out that there are color palettes that can be assigned that are often paired with your wallpaper as part of a theme, but that can be tweaked and adjusted individually too. There are a few quirks involved in getting the Taskbar to change, but at least changing the window title bar color is easy! In fact, let's start there…
CHANGE WINDOW TITLE COLORS ON THE PC
Windows tries to match colors with the primary color scheme of the wallpaper, but that certainly doesn't mean it gets it right all the time. I don't know about you, but I'm definitely not a fan of this orange window title: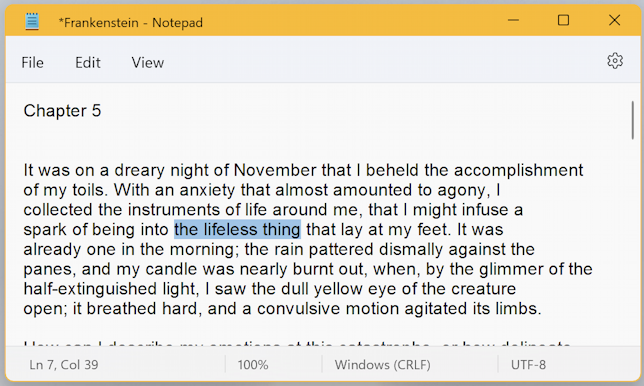 You can see the blue of the text highlight – best to just accept that's the highlight color on your PC – but not only is the window title that weird yellowy orange, but there's a thin line of that color around the entire window. Changeable? Yes.
Go into Settings > Personalization > Colors and here's what you see: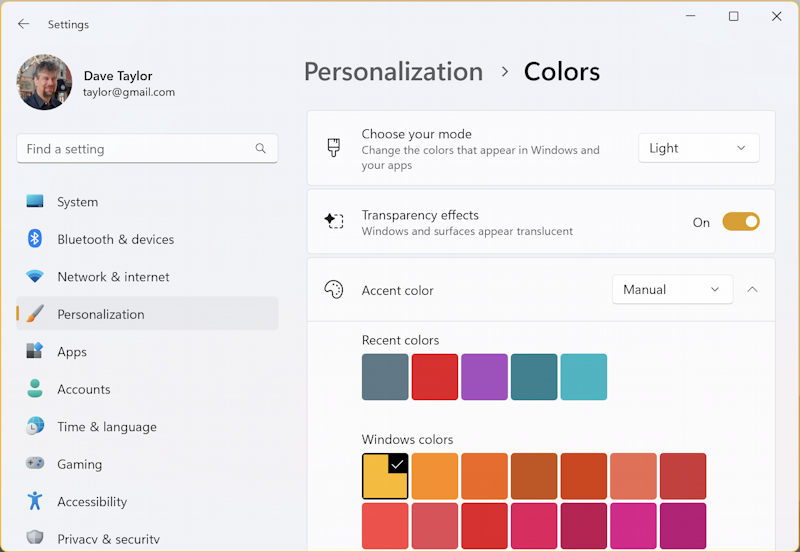 Don't see all these bright color samples? Click on the "v" on the "Accent color" entry. But there's a confusing relationship between the light/dark mode and whether you can specify colors of your own. For the accent color, choose "Manual", but we'll have to go back and change the overall mode from "Light" to "Dark" in a bit.
By default, the color you choose will change the control buttons: Notice above the slider widget is orange, matching the color of the window title and border. To have the color apply to the title and window border, scroll down a bit. I've already chosen a darker green, as you can already see in the slider:

Enable "Show accent color on title bars and windows borders" and that Notes window changes in a most attractive way:
Much better. Now, how about that Taskbar at the bottom of your screen?
HOW TO CHANGE TASKBAR COLOR ON A PC
To change the Taskbar color you need to change the "mode" of the color setting from Light to Dark. if you don't, the option you seek is greyed out, as you can see above: "Show accent color on Start and Taskbar." Change mode to Custom (as shown below) and it still won't let you change your Taskbar:

But switch it to "Dark" and, finally, you can update that Taskbar color to match your Window title color:
No surprise, choose "Show accent color on Start and taskbar". The result is immediately displayed:

Now you can have some fun with your colors. Just don't try to change your text highlight color. For now, at least, it just isn't so easy to accomplish…
Power Tip: I've been writing about Windows for many years and have an extensive Windows 11 help area. Please check it out to find lots of additional tutorials and guides while you're here. Thanks!