My kids have guessed my security PIN on my Android phone, which is really annoying. How can I change it to something new before they change it and lock me out?!
There are two primary approaches to security when it comes to smartphones; either you want to secure it from everyone, or you are just worried about strangers if you lose the phone or it's stolen. They suggest different approaches to your login security and verification. My kids all know my phone's PIN, just as I know theirs. I don't know I've ever used their PIN to get onto their phones, but sometimes it's a chance to reconsider your approach to device privacy. Then again, if you have young 'uns who don't quite understand that "BUY NOW" is a commitment to purchase something or who are mischievous and will lock you out of your own device, then it's entirely reasonable to lock that device down!
Fortunately, the Android system has more options for device security than just about any other device on the market. You can choose all sorts of things, from how you drag your fingers across a grid to biometrics [if your device supports it] to a simple sequence of digits you can use as a Personal Identification Number (or "PIN"). One benefit of the PIN is that it's easy and something we all use to access our debit cards and bank ATM, plus we humans tend to be pretty good at remembering numerical sequences. A good PIN can be as short as four digits, but a phone number can be a great PIN, and that seven digits adds millions of additional possible combinations that make it far more difficult to guess.
CHANGE SECURITY SETTINGS ON AN ANDROID PHONE
To start the process, go into "Settings" and search for "screen lock":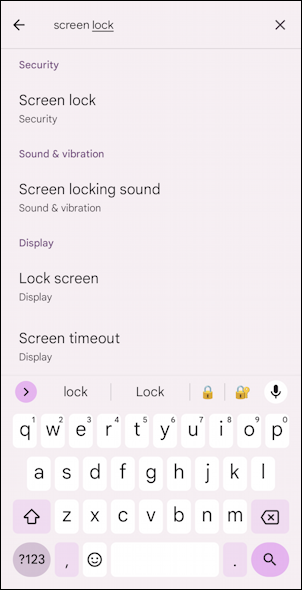 Surprisingly, you can't search for "PIN" to find your current security setting, but perhaps that'll just show up in an update without any fanfare. From this point, tap on "Screen lock" and it will take you to the Security screen: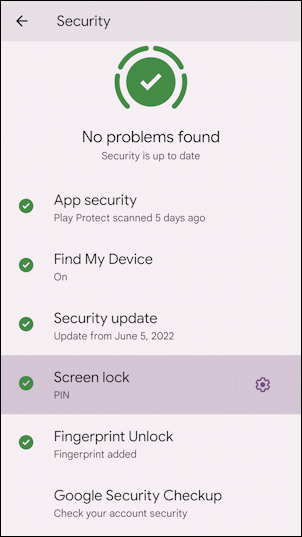 Lots to notice here and if you have any that don't have a corresponding green checkmark, it's a good time to sidetrack and figure out what's going on and how you can improve your account and device security. Under "Screen lock" notice that mine shows "PIN". That's my current setting, but, of course, I can change it…
UPDATE YOUR SECURITY PIN ON ANDROID
A tap on "Screen lock" from this point and you'll be able to see all the security options (after you've entered your PIN one more time to verify your identity). Here they are: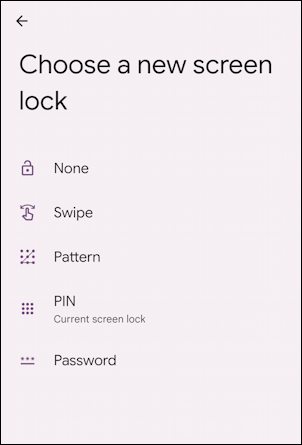 You can sidestep lock screen security entirely with "None", but I have to say that's a pretty awful idea, even if it's just a tester or demo device. "Swipe" doesn't offer any meaningful additional security, so the choices on this particular device here are "Pattern", "PIN", or "Password". Remember that your Password could also be just digits too, with a full keyboard shown at the prompt to stymie your kids! Still, let's stick with PIN…
Wondering what happened to biometrics like a fingerprint? They're a different option on the previous screen: "Fingerprint Unlock". You can have both fingerprint unlock and a PIN or Password set for redundant security.
Tap on "PIN" and you'll be prompted to enter a new Personal Identification Number: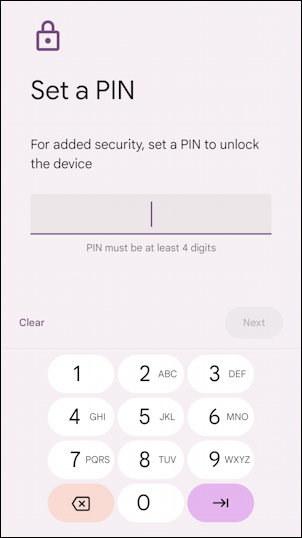 Notice the small print in the middle of the screen: "PIN must be at least 4 digits". "1234" is not a good PIN. But 5153351, which might be your direct line at work, could be a great security PIN, easy to remember and long enough to stump anyone who is trying to guess their way into your device.
Enter the number you chose a second time and you'll be dropped back onto the "Security" screen:
That's it. Done. Mission accomplished. Now push once on the power button of your smartphone and it'll lock. Then tap on the screen to wake it up and it'll prompt you to enter your new PIN. Just remember: little people have sharp eyes so don't let them watch you enter the code and you should be safe for at least a few weeks. 🙂
Pro Tip: I've been writing about Android since the beginning. Please check out my extensive Android help area while you're visiting for lots more useful tutorials and guides! Thanks.