When I get driving directions in Apple Maps, somehow it never takes me on highways. Making it basically useless for long drives. How do I adjust the route preferences for directions on my iPhone?
I was driving from Topeka to Kansas City just yesterday and it wasn't until I was on a relatively rural road that I realized the phone had routed me to avoid the tollway between those two cities. Given my destination in KC it was actually barely a detour at all, but I was then curious why it made that decision and where the preferences are stored in Apple Maps. In Google Maps it's easy to adjust your route preferences when you get a route, but Apple Maps hides the preferences far, far away from the Maps app itself.
The secret is that because of the way iOS apps have their settings and preferences organized, everything is pushed into the Settings app, rather than within the specific app itself. Pretty awful, from a user experience perspective, but that's how it goes for now…
And so, first off, here's a typical set of route options for directions within Apple Maps: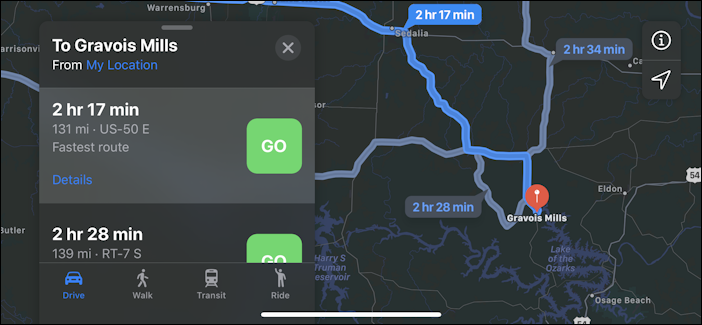 You've seen that before, no question. But how does it decide what to avoid? That's in the Settings app. Go to Settings…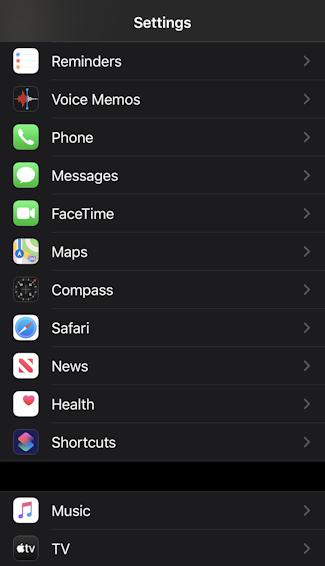 Swipe down until you can find "Maps" on the list. It's between FaceTime and Compass (as you can see above). Tap on "Maps" and you'll find that there are quite a few different setting options, starting with permissions you've granted the app: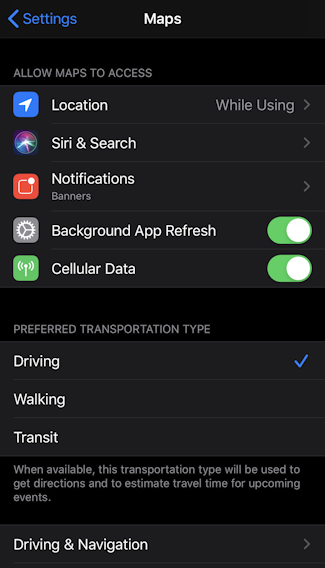 To proceed, you want to tap on "Driving & Navigation" (you might have to swipe down to find it).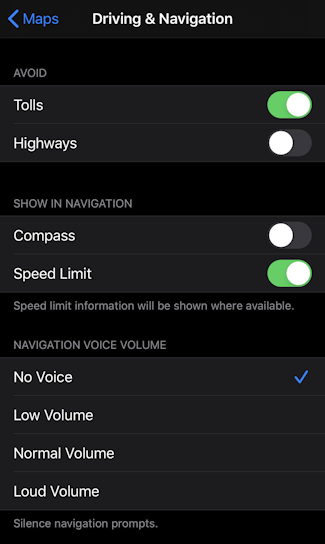 and here, finally, are the preferences you want to tweak for your driving directions. Not a lot of options, but you can avoid tollways and highways entirely if you so desire, and you can have the speed limit shown on known routes too, which can help you avoid speeding tickets, right? 🙂
Perhaps more importantly, if you love using Apple Maps for navigation but don't like the voice part, here's where you can lower the voice volume or disable it entirely, as I have done. What a blessing!
While you're on this screen, swipe down as there are some additional interesting settings you can tweak too: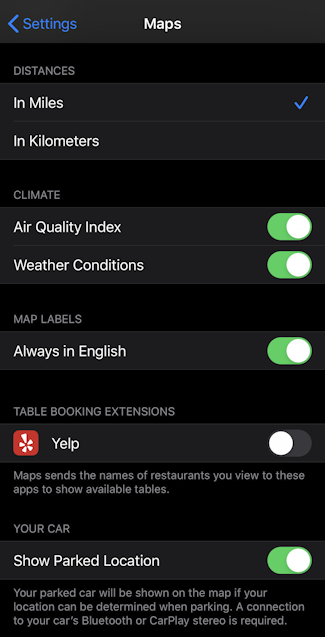 Most useful of these in my opinion is "Show Parked Location". If you want to ensure that you never lose your car in the big city, well, this is a no-brainer. I could tell you a story of one of the first times I went to downtown Denver and couldn't remember which parking lot I'd left my car, but that's an entirely different story! Anyway, that should get you fixed right up!
Pro Tip: I've been writing about the Apple iPhone since it first came out. Please check out my extensive iPhone Help Library for lots more useful tutorials!