I have to use Outlook.com for work mail and am bored by the dull corporate blue color scheme. Is there a way to apply a different theme or appearance so it's a bit more lively on screen? Thanks!
Microsoft has done a splendid job turning its mainstay application Outlook into a Web-based application that works in just about any browser and operating system. It's a great example of how your modern browser really can be your operating system. Perhaps some day we'll all be running Microsoft Edge 10 instead of Windows 10 too. Meanwhile, there are definitely changes you can apply to your Outlook.com settings but they're dependent on what your corporate IT department allows. Because it's designed for enterprise use, different installations of Outlook.com might have different features and capabilities.
I'm faculty at the University of Denver and we use Outlook.com extensively for internal communication. That's what I will use as the basis of this tutorial, but, of course, your setup may be different. Hopefully not – in fact, who knows, maybe you have more flexibility than I do! That's the challenge of enterprise software, knowing where on that continuum of totally locked down to totally open and ready for users to customize your installation actually lands. With all of that explained, let's proceed!
First off, while the school colors are crimson and gold, I prefer blue and green – the entire opposite side of the spectrum – so here's my default color scheme and setup: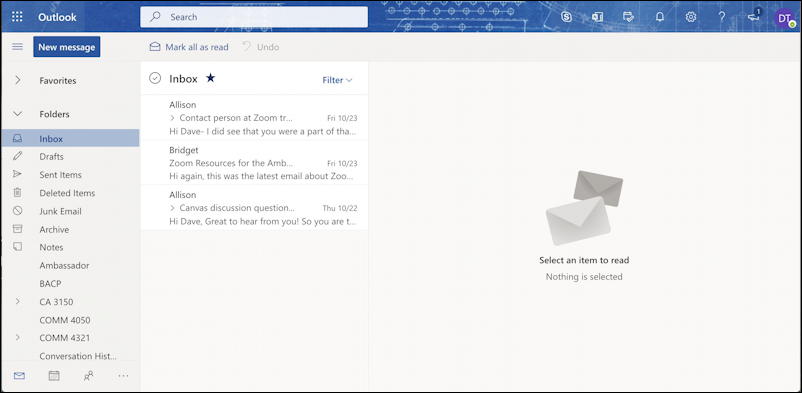 As you can see, I've already picked out a basic blue pattern. To my eyes, a pleasant and functional theme. To change it to something else, click on the gear icon on the top right of the navigational bar and a menu pops up!
For an instant change that'll blow your socks off, choose "Dark mode" from this Outlook.com settings menu!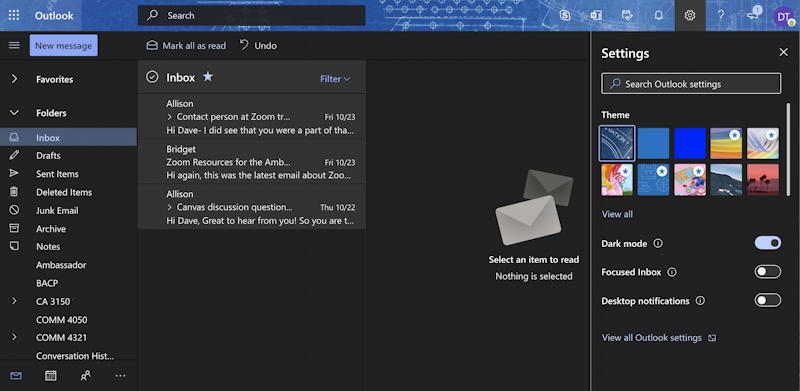 Quite the change. In fact "dark mode" has become all the rage in the last year or two and you can find this "inverse" design on quite a few different Web sites. For some people it makes the text more legible, but mostly I think it's to lower eye fatigue when it's dark in your workspace: all the white of "light mode" can be tiring for your eyeballs.
Too much? Okay, click on "Dark mode" again and choose a different theme sample…

Definitely festive. Notice that this is primarily all that changes: The top bar and the highlight color. Some themes have the top graphic run edge to edge too, while others – like the above – have a clear delineation between the graphic that's behind the search box and the button areas on the left and right.
In the Settings pop-up menu, there's a link "View All". Click on that, scroll up and you'll see that there are a lot more themes from which you can choose: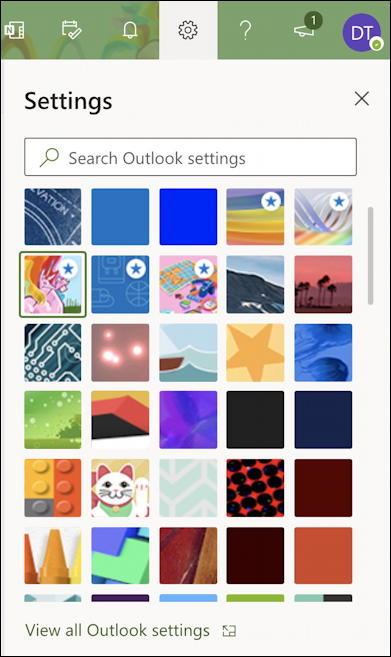 That's a lot of choices and some are definitely fun. Is the LEGO design a nod to Google's Gmail and its LEGO-based logo color scheme? We may never know. But the lucky cat? That's straight outta Japan, no question.
And so, another option, this time from the red side of the spectrum:

Or maybe this if you'd prefer a solid color?
While you're looking at themes, click on the "View all Outlook settings" link at the very bottom of that themes pop-up menu. You'll move into the main settings area and there are a lot of settings (again, possibly dependent on what your company's IT department allows you to change):

Certainly an easier way to see all of the available themes. I do kind of wonder if there are custom themes for corporations too, and would like to see a DU theme, of course, as an option!
More importantly, while you have access to all of this, also make sure to check out Mail > Layout, where you can find quite a few settings about the density and layout of messages themselves on your Outlook screen: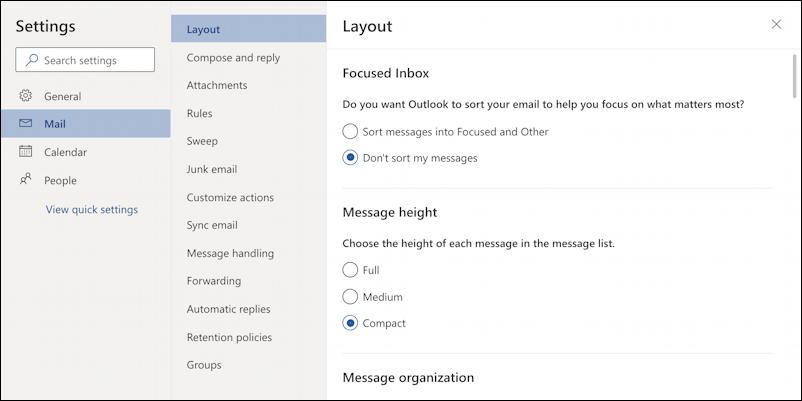 In particular, I'm a fan of the Compact layout for the height of each message so I can see more emails on screen at a time. Helps me be more efficient in dealing with lots of email messages showing up. Also scroll down on this settings and preferences pane in Outlook.com: there are quite a lot of different options.
And that's it. Now you know how to change the theme in Outlook.com and tweak a variety of other settings to personalize your email experience. Good luck!
Pro Tip: I've been writing about Internet-based apps and programs for quite a long time. Please check out my Internet help area to see all of my tutorials while you're visiting. Thanks!