A new friend on Facebook asked me if I volunteered at the Humane Society as my only job, which was confusing. Until I noticed that's what Facebook listed as my primary job. How can I fix what Facebook shows to be accurate?
In its zeal to be smart, Facebook often ends up doing dumb things that frustrate us users. This is another of those situations. I also have to admit, it took me a bit of poking around to understand what you were talking about with this question, actually. What's worth keeping in mind as we proceed is that Facebook is a big company so I think the coders and user interface specialists there assume that we're all like them, working for a big company and moving from one company to the next. At any given time, we'd only have one current position, right?
That's why Facebook's logic with your job is to simply show the most current entry under Career on your profile. Do multiple jobs, have a side gig or volunteer at one or more places? You've got a problem because what Facebook doesn't let you do is specify which of your current positions you want it to use as the one you want shown to others.
But let's roll back further. How do you know what Facebook shows to other people? One super easy way is to do a quick search for your most recent post. Just type in a few words and the search result will show what you seek, as it does mine:
See that "Film critic at ScienceFiction.com" line? It's true, but it's not really the one data point I'd want people to see when they find me on Facebook. To change it is going to involve some fiddling…
Start by going to your own profile on Facebook. This is most easily done by clicking on your name just about anywhere on Facebook. On the left side of your profile will be an Intro and a list of jobs you've added to the system: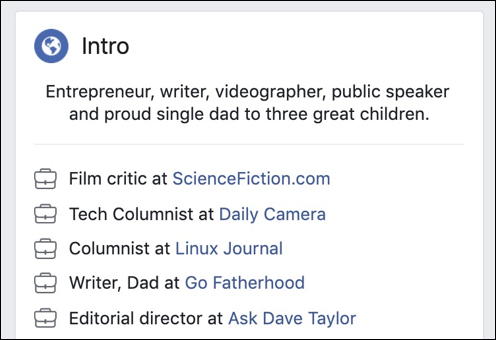 All of the above are current, but it's presented in temporal order. In other words, my role as film critic is the newest entry, while I've been editorial director of my site for almost 20 years now. Sheesh, twenty years!!
Let's edit these to fix the problem. That's done by finding and clicking on the "Edit Profile" button at the top of your Facebook profile:

A click and you can now jump to an editable listing of all your jobs and positions:
Wouldn't it be nice to be able to drag and reorder these? Nope, sorry, that you can't do.
Click on any of the pencil icons, however, and you can see a more detailed list of positions. In this instance, notice that here you can see how the newest is at the top (and yes, my newest change in position was in 2011):
Did you like that pencil icon? Sorry, it's not part of this area! Just click on an entry and it'll expand:
Again, wouldn't it be nice if there was a checkbox that said "list as primary" or similar? There isn't. 🙁
So to have my affiliation with this site – AskDaveTaylor – be the primary, I can either change the date to make it newer than anything else or I can create a new entry for that express purpose. Neither is great, but I'm going to choose the latter by clicking "Cancel" and then "Add a workplace" on the previous screen.
In this instance I'm also going to specify a position with the ultimate Facebook information display in mind, not my actual title or what's on my business card. This time, instead of editorial director, I'm "Tech Expert". I think that's reasonable, don't you?
Once I save all these changes and updates, Facebook decides it's a New Life Event, of all things. In fact, it offers me the chance to share it with all my friends and followers:
Probably a bit confusing after all this time that I just started a job at Ask Dave Taylor but why not broadcast it? That's what Facebook is for, after all. So I click "Share" here. You can also just click "Dismiss" if you'd rather skip the broadcast, of course.
The good news, though, is now when I do that same search for a post, any post, on Facebook, it shows me having a much more logical position in the summary: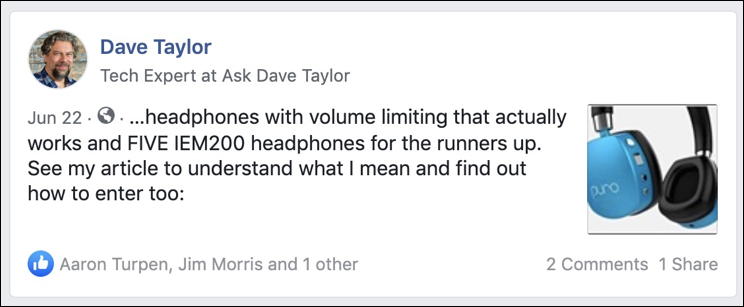 And that's how you update that snippet of information to match what you'd prefer on your Facebook profile and postings. Clunky? Yes. But now you know how to do it, at least. 🙂
Pro Tip: I've been writing about Facebook since it first opened to non-college users. Please check out my extensive Facebook help area, and while you're at it, why not follow AskDaveTaylor on Facebook too? I post lots of fun and unique content there…