Just got an Amazon Echo and really like it, but why does the voice have to be female? Can I change it to a male voice? Thanks.
It's easy to understand why some people get offended that our voice-activated devices somehow have all ended up with female voices. Siri, Cortana, Alexa, Google Voice Assistant, somehow they're all female and they're all subservient, doing our bidding with a simple request. Great devices, but do we really need an Internet of Things that seems to reinforce gender roles that are already problematic?
Some people will scoff at this concern, which is fine; the default voices for all of these systems remain untouched, so they're good. But if you do want to change it, is there an option to switch from a female voice to a male voice? Yes, finally, there is. And the last to the party has been Amazon that only now – mid 2021 – has introduced the ability for you to switch from Alexa to, um, Alexa. (sadly your male voice will still have "Alexa" as the default wake word).
It's pretty easy to switch it; you can even change it by simply asking your Alexa device "Alexa, change your voice" and it'll switch, bouncing between male and female voices. Try it!
The problem is that from experimentation the device doesn't always seem to remember its changed voice if you just do it through a voice prompt, so let's make the change through the Amazon Alexa app instead…
CHANGE ALEXA VOICE WITH AMAZON ALEXA APP
While your Amazon Echo might seem like a fairly straightforward device, there are a significant number of options and settings you can utilize to fine-tune its behavior, defaults, and much more. All of which is managed through the Amazon Alexa app [iPhone version or Android version]. I've got an iPhone – and a lot of Amazon devices! – so when I launch the app, here's what I see: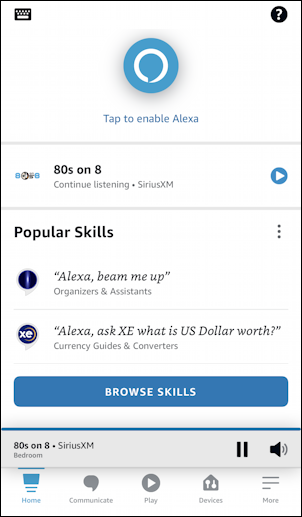 Your main navigation in this latest version of the Alexa app is the bar along the bottom. Let's have a closer look:

"Communicate" is helpful: You can type and interact with Alexa without having to use your voice at all. From anywhere. Even a thousand miles away. I use it sometimes to turn on lights as I head into an otherwise dark house, or to interact with my home security system. Very useful.
Of course, you can also just tap on the big "Tap to enable Alexa" near the top if you just want to issue Alexa commands to your phone. Remember you can direct commands too, so a tap followed by "play def leopard on bedroom" works just fine. 🙂
To change Alexa's voice on a specific device, tap on "Devices".
Generally speaking, I find that the user interface in the Alexa app is pretty lacking in color or any style, with the one exception of the Devices page. It's colorful and actually looks modern.
Now you need to find the device you want to change, which is done by tapping on "Echo & Alexa" on the top left. Notice that your bulbs, plugs, switches and other devices show up in other categories, to avoid overwhelming you once you have that full smart home all set up.
I'm going to change the voice on my bedroom Amazon Echo Spot (the little circular clock, it's a great Alexa device) so I'll tap on its name on the list. You might just have your single device here, which makes it even easier.
Here's what's happening on my Bedroom Alexa:
I have no alarms set, it's not in sleep mode, and I'm listening to 80's on 8 from Sirius XM, which I can quite easily pause if I prefer. Heck, I can even change the volume from right here in the app too. Handy.
But what I need to access is the gear icon on the top right. Yeah, it just pops up without any fanfare and is definitely easy to miss. But a tap on the gear and there are a lot of settings you can now access…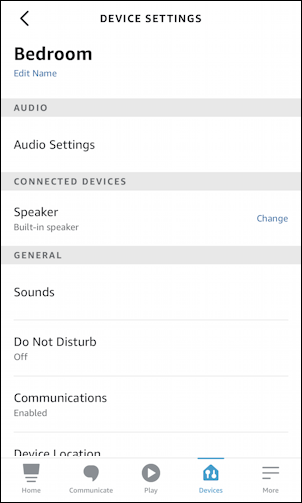 One of the most important things you can change from this screen is the name of the device itself. Since you can reference that name in your voice commands, I like to have memorable and location-based names like "office", "studio" and, as you can see, "bedroom". You can use multi-word names too, so my daughter's Echo is "Kiana's room". Easy to change if you want to try something else.
Swipe down and you'll see even more settings, including what we seek: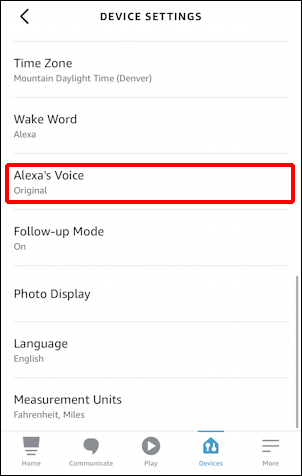 This is where you can change the device to Celcius and Kilometers if you prefer your weather and driving time estimates in the European standard format ("Measurement Units"), enable or disable "Follow-up Mode" which lets Alexa ask you questions about commands you've invoked, and, of course, "Alexa's Voice".
Tap on "Alexa's Voice".
I've switched to "New" which is the male voice. Apparently, the company opted not to say "Male" and "Female". Then again, Apple lists "Voice 1" and "Voice 2" for Siri to sidestep this same issue. Either way, tap on either "Original" or "New" and you can hear a voice sample.
HOW TO CHANGE YOUR AMAZON ALEXA WAKE WORD
While we're here in the settings, once you have settled on a preferred voice for Alexa, tap on the "<" on the top left of the screen, then choose "Wake Word" and you can see the options for your device wake word: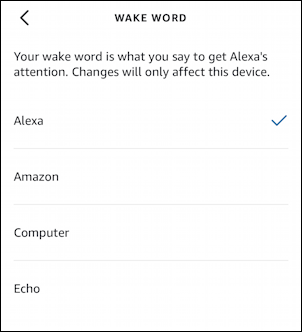 Note that this change is on a per device basis, so if you have more than one device, you can actually change them so that "Echo" is in the kitchen, while "Alexa" is in your bedroom, or vice-versa. You can stop an individual unit from listening at all by tapping on the (physical) mute button on the device itself too, of course.
Hope that helps you get your Echo all set up perfectly. I really like them and listen to music through them every day!
Pro Tip: I've been writing about Amazon products, from Kindle to Echo, for quite a while now. Please check out my extensive Amazon Echo help area for lots more tutorials. Thanks!