I'm up and running in Windows 11 but not a fan of Microsoft Edge. Is it possible to change Web browsers? I downloaded Chrome but when I requested it be the default, I was dropped into Settings??
I find it really interesting when people want to change from Microsoft Edge to Google Chrome because it turns out that they're basically the same browser inside: Chromium. As part of migrating away from Internet Explorer, Microsoft decided not to build a new browser from scratch but instead built one on top of the open-source subset of Google's Chrome browser. You guessed it, Chromium.
Still, the two do have a very different feel to them and there's no question that Chrome is more tightly integrated into the Google world (Docs, Calendar, Gmail, etc), while Edge is more integrated into the Microsoft world (Outlook, Bing, etc). So if you want to run Windows 11 and have Google Chrome as your default browser, so be it!
Except…
Except that Microsoft's really embedded Edge into Windows 11 in a more complicated way than Internet Explorer was ever tied into earlier versions of Windows. So you can change it, sort of, but not every single program will honor that change. I'll show you what I mean and you can decide if you want to live with the mishmash or just default to Edge until Microsoft is inevitably forced by market pressures to make switching easier.
CHANGE WINDOWS 11 DEFAULT WEB BROWSER
Start by downloading a fresh version of Google Chrome from www.google.com/chrome/. Fire it up and it'll prompt you to choose it as your new default browser. You can also just go to ••• > Settings > Default browser, as shown below: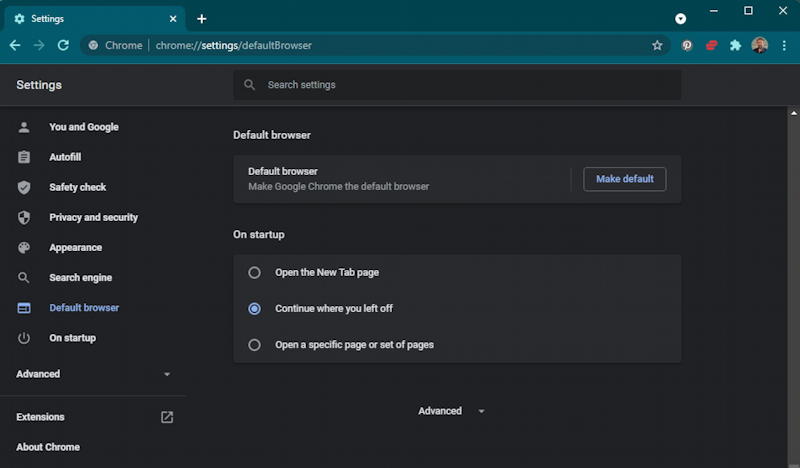 I mean, it's offering "Make default", so it seems reasonable that it should know how to do that, right? Windows 11, however, makes it all quite a bit more complicated, so much so that Chrome simply pops open the "Choose defaults" window within Windows 11 itself.
Here's what you'll see:
Web browsers are such an essential part of a modern operating system that it's not as simple as "Default browser = " or anything like that. Instead, defaults are woven around filetypes and filename suffixes. Choose Google Chrome, as shown above, and click to find all the many, many filetypes you can switch to using Chrome:
Why it differentiates .htm from .html I cannot explain, but as you can see, the default for everything – even in the Google Chrome default apps settings area – is Microsoft Edge.
ARE YOU SURE YOU WANT TO SWITCH DEFAULT BROWSER?
Change .htm, .html, and .shtml to Google Chrome. Which you can't do without some warnings pop up:
Choose "Switch anyway" and you can choose which program you want (again, within the Google Chrome settings, which seems unnecessarily obfuscated when it could have that as the default switch):
Click on "Google Chrome" (or another browser if you're switching to Brave, Firefox, Opera, or similar) and "OK".
Scroll down and change all the Web-related filetypes. Eventually it should look like this:
Done. Or are you?
NEW DEFAULT WIN11 BROWSER. SORT OF.
Open up an email message in Outlook (aka Microsoft Mail now) and will it open in the new browser? No. It'll pop up a menu as shown:
Remember, this is after I've switched default browsers and restarted the email program. It still wants Edge to win!
Choose Google Chrome here and subsequent links should work without prompting.
Do a URL search within Windows 11 – even after a restart – and notice what browser icon pops up:
Yup, it still wants to hand that URL to Microsoft Edge.
If you make the mistake of actually launching Edge at this point, it has rather a complex window explaining why you really should just change back (and its switch is much easier than Google's!)…
So there you have it. I expect in a month or three this will have changed as people complain to Microsoft how difficult the process of switching browsers has become, but who knows. Maybe Microsoft will just say "use Edge, stop complaining" and that'll be that. We shall see! Meanwhile, good luck.
Insider Tip: I've been writing about Windows for many years and have an extensive Windows 10 & Windows 11 help area. Please check it out to find lots of additional tutorials and guides while you're here. Thanks!