I've noticed when I open up new tabs in Microsoft Edge on my Windows PC that it shows weather in another city, not my hometown. How can I fix that so it shows my local weather in Edge?
A curious thing has happened in the last few years that has privacy implications but isn't discussed much: Our devices have learned to figure out where we are located. Search for "pizza near me" and it'll know to show you restaurants within a few miles of your current location, not those 3000 miles away. Check the weather and it'll be your local weather. Except for when it isn't. People might not be paying attention, but our operating systems do now offer the ability to block location information being shared with programs, apps, and utilities. It's disconcerting when this happens, needless to say, and a search for showtimes for a new movie offers up theaters a few hundred miles away, not the cineplex down the road.
Microsoft Edge is no different and operates on the assumption that you'll be logged in to your Microsoft account. That account information includes, you guessed it, your location, so when Edge queries for location information prior to displaying the weather, that's where it gets the data. Oftentimes, therefore, the problem is simply that you aren't logged in to your account in Edge, which is easy to remedy. Sometimes, though, it can be that a location has been specified as the only weather address. Let's look at both cases…
FIX DEFAULT WEATHER LOCATION IN MICROSOFT EDGE
First off, you'll want to ensure you have the latest version of Microsoft Edge on your computer. As with all debugging, it's easier if you aren't running a buggy release of the program in question. Open up a new tab and you'll see the default empty page information, including a weather forecast: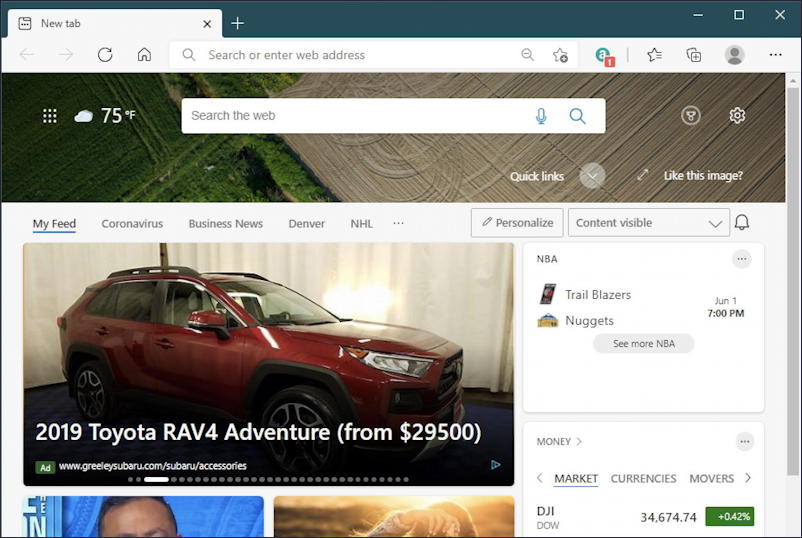 Can you see the weather forecast on the top left? 75F. Very nice. Except for me, it's colder and a big cloudy outside, not 75F at all. Also notice on the top right the generic profile silhouette: We're not logged in. That's a potential problem, but we can fix this aspect without changing that yet.
Updating the default weather location is super easy, actually: Move your cursor over the weather forecast itself and a tiny pencil icon will appear:

Click on the pencil icon and a window pops up with location and unit options:
You can see the problem on my PC: It's specified Washington, DC as the location for the weather forecast and therefore isn't trying to figure out my location at all. A switch to "Always detect my location" and the problem's fixed.
FIX WEATHER LOCATION IN EDGE BY LOGGING IN
Another way you can address the problem is to simply log in to your Microsoft account. That's done by clicking on the generic account silhouette on the top right, which pops up a menu: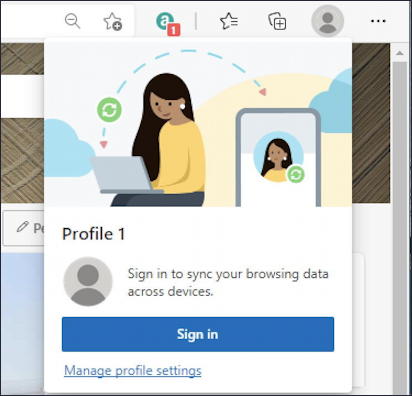 One benefit of being logged in is that it syncs with your existing profile which most likely has a location specified. I did that and within moments the weather forecast updated in the empty tab:

Go back to the very first screenshot and look closely to the right. Where it shows Sports scores (NHL, in this case) it can instead display a big weather forecast, something that's very helpful. It uses the same location information, but if you don't have that information card displayed, how do you get it to show up?
ADD WEATHER TO MICROSOFT EDGE EMPTY TAB DISPLAY
Surprisingly, the information card configuration is not accessible from the gear icon, or Settings within Microsoft Edge itself. Instead, find one of the other information cards on your display and click on the "•••" button, as shown:

Choose "More settings" and navigate to "Information Cards" on the left side. Then you'll find "Weather":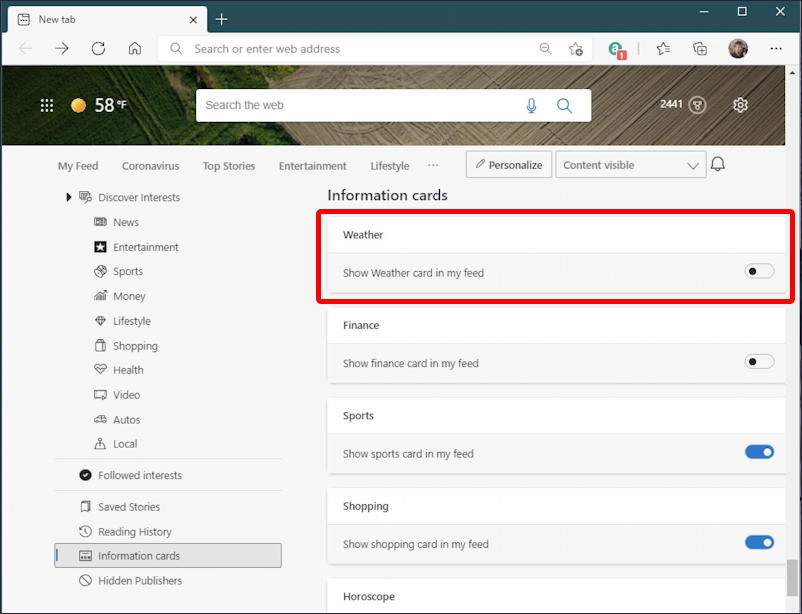 As highlighted, click on the button adjacent to "Show Weather card in my feed" so it displays blue. While you're here, feel free to turn on or off other information cards to customize your display.
Restart Microsoft Edge and, voila!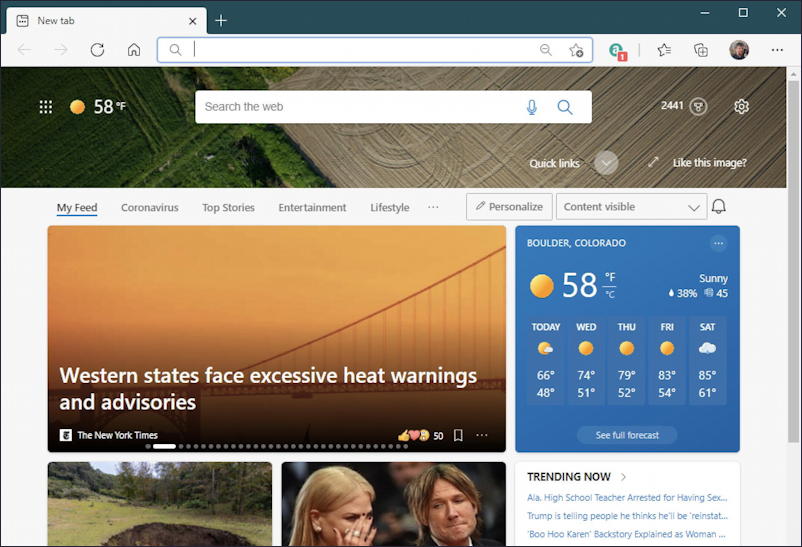 That's a nice forecast. It may be 58F outside currently, but by Friday we'll be enjoying the mid-80's!
Pro Tip: I've been writing about Windows 10 for quite some time and earlier versions of Windows before that. While you're visiting, why not check out my Windows 10 & PC help area? Thanks!