I've switched to Microsoft Edge and it's working great on my Windows 10 laptop. Except I can never find my downloads. Is there a way to change downloads to just show up on the Desktop in Edge?
By default all of your downloads from Windows programs should end up in your Downloads folder, which you can get to by opening up a File Manager window. In fact, that's a good folder to check for abandoned files occasionally; if you don't have any pending downloads, it should be empty, but some programs are sloppy at removing install files and can gobble up valuable disk space. Like many modern Web browsers, Microsoft Edge also has a Downloads view where you can see everything you've downloaded and easily access individual files too, as we'll see in just a moment or two. You can check right now if you're reading this in Edge: Just type Control-J.
There are also some tutorials online that talk about how to change the location of all downloads from every program you might use as a way to solve this problem, which is a bit odd since Microsoft Edge lets you easily change it just for the browser itself. To be relatively agnostic, I'm going to show you how to change both of these locations so you can fine tune your Win10 experience!
Let's start with changing the download location just within Microsoft Edge itself. To do that, click on the "•••" link on the top right of any browser window. A menu appears with this set of options:
As you can see in the "Downloads" option highlighted, there's a keyboard shortcut for Ctrl-J if you prefer. Either way, you'll end up here: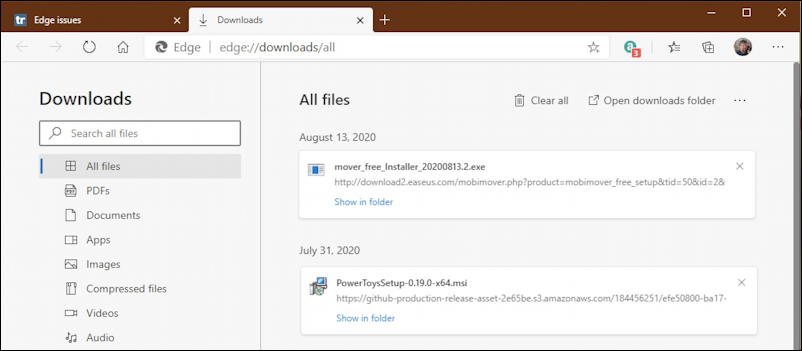 Notice that Edge makes it really easy for you to browse your downloads listing by categorizing downloads on the left side. Just want to see PDFs or Audio files? That's a tap or click away. Easy. But there's another "•••" link here too, just to the right of "Open downloads folder" (a useful link if you want to find and potentially clean up your Downloads folder!). Click on "•••" and a single option appears:

No surprise, choose "Downloads settings" and you'll find it's pretty darn easy to see where your downloads are being saved:
One option you could choose is to have Edge ask you where to save each file before a download begins (just slide the control to the right). It also shows the current location – mine is \\vmware-host\Shared-Folders\Downloads – and lets you change that location to Desktop or similar with a click or tap on the "Change" button…
Easy enough. You can choose Desktop, for example, by clicking on it on the left side of the window then choosing "Select Folder" on the bottom. Done.
CHANGE DEFAULT DOWNLOADS FOLDER LOCATION FOR WINDOWS 10
But let's say that you'd rather just change the Downloads location for every single program on your Windows PC. No worries, we can do that too!
Start by right-clicking on the Start Menu icon on your TaskBar. Instead of the usual start menu, it'll bring up a list of settings:
From this point, choose "File Explorer" and we'll basically have the same view we had two images ago, just in icon view instead of list view:
At this point we're going into some classic Windows settings trickery. Right-click on the Downloads folder…
Choose "Properties" and you'll get a little window that looks the same as it did way back in Windows 95:
Notice I've clicked on the "Location" tab in this window (and trimmed it down to make it fit better here in the article). Again you can see the location of the Downloads folder on this particular PC. To change it, click on "Move…" and choose a different folder! If I were to opt to have all downloads show up on my Desktop, it'd look like this after the change:
To have this change recorded, click "Apply". Windows will prompt you to confirm:
And that's it. Now you can either just change the Downloads folder location for Microsoft Edge or change it for every program on your Windows computer. Your choice.
Pro Tip: I've been writing about Windows since the early days. Please do check out my quite extensive Windows help library for hundreds of useful articles and tutorials while you're visiting. Thanks!