I really prefer the European date format of date mon, year as in 25 Dec, 2021, but here in the USA, the default seems to be mon date, year, as in Dec 25, 2021. Can I change it on my Mac so that it's updated through all apps and display? In particular, the clock shown on my menu bar.
Like all major operating systems, MacOS has supported a wide variety of international data formats since its inception. Currency, time, date, even the lowly decimal point can change depending on locale. Changing region solves the problem, but adds other complexity; it's just generally not a great idea to tell your computer you're in, say, Spain when you're actually in Hawaii. However, MacOS 11 has a lot of different settings you can tweak and adjust for your preferences, though I'll warn you up front that not every single program – or even feature of MacOS itself – supports the change!
It's also worth pointing out that your locale is independent of your language too, so you don't have to switch to UK English or Italian to use an EU date format. Let's have a look…
CHANGE YOUR MACOS DATE FORMAT
Before we go any further, here's the date format I have on my menu bar clock for the USA locale:
As you can see, the format is Day Mon Date Hour Minute AM/PM. Pretty basic. You can make some changes in the System Preferences for Dock & Menu Bar, but not the actual format itself:
While you have System Preferences open, however, find Language & Region:

This is the main window where you'd change default language or region, logically enough, as you can immediately see:
Some of the changes are easy to try, like switching to a 24 hour clock or using Celsius rather than Fahrenheit. To change date or time formats, however, you need to click on "Advanced…" on the lower right. Click and you'll get to a fairly complicated window with three tabs along the top: General, Dates and Times. Click on "Dates":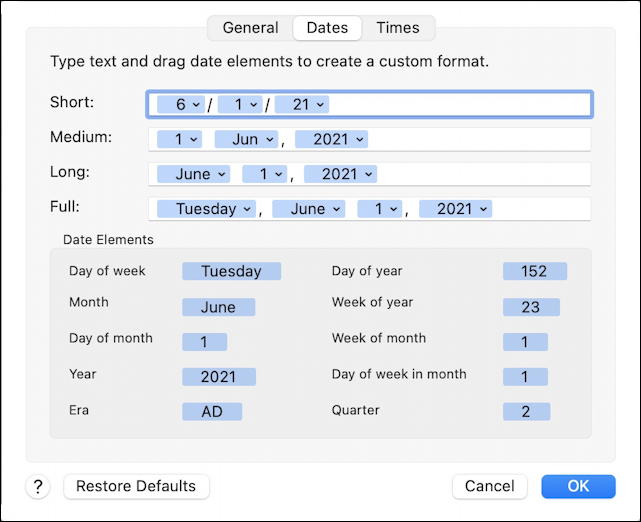 You can see in this instance that I have already switched the date and month entries in the Medium box, easily accomplished by clicking and dragging individual elements to move them around or reorder them. If you prefer, you can remove commas, add additional spaces, or similar.
Once you've made the change it should be immediately reflected in programs and OS features that honor that value. For example, in the Finder, short dates associated with individual files and folders will be updated:
Calendar also has the update format, as you can see if you look closely at this entry:
But the date on the menu bar clock? As far as I can tell, that is one place where MacOS doesn't honor the region format changes. Curiously, you can change other things – I switched AM and PM to am and pm in the Time tab and it was reflected, but the date format? Not so flexible, as you can see:
I imagine this is a bug, actually, and at some point there'll be an OS update and it'll magically be all fixed up.
Pro Tip: I've been writing about Apple software since the day of the Apple II. It's been a while! Please do check out my MacOS help library for lots more useful tutorials while you're visiting. Thanks.