I've been using a point-and-click interface for so long that I constantly make awkward mistakes at the command line. The result is a lot of beeps. Which I don't like! How can I change them or disable them entirely in Ubuntu Linux?
System developers undoubtedly thought that it would be helpful for users to get a discrete little "beep" sound when they made a mistake. Tried to paste a graphic into a text area? Beep! Tried to copy a file onto a read-only external drive? Beep! Backspaced one character too many while using the command line? Beep! It can be… annoying. Worse, it also can let your colleagues hear that you are making lots of mistakes, something that's more of an issue in some cultures than others.
Fortunately, as all these beeps, chimes, frogs, and dog barks were being added as system alert sounds, these same developers also added mute options and even the ability to lower the volume for system alerts while the audio from every other source (YouTube, Spotify, your favorite Netflix show playing in Firefox) can remain at your preferred level. Heck, the Terminal program in Linux has its own mute feature too, so you can leave the point-and-click world untouched while disabling that feature at the command line.
WHAT'S YOUR CURRENT VOLUME LEVEL?
The first question to ask, particularly if you don't play videos or music, is whether your system volume is just set too high. The easiest way to ascertain that is to click on the top right of the menubar along the top of the Ubuntu home screen. A menu appears with some handy options: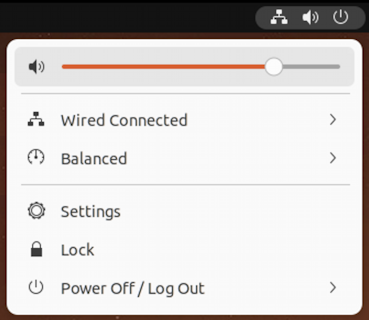 Many users don't notice that there's an audio volume slider along the top, being so busy scanning the menu options for what they seek. But there it is. And you can see my system volume is pretty dang high at about 80%. Easy to drag that down to lower the volume or even move it all the way to the left, turning off audio entirely. No audio, no beep.
But that's a rather inelegant solution, so instead choose "Settings" from that menu.
UBUNTU LINUX SETTINGS: SOUND
You want to find "Sound" on the left side, and click on it. Here's what you'll see:
You can easily see how to adjust the system volume – which is the same thing you'd do in the previous menu if you adjusted it – but notice below it the System Sounds volume too. Here's where you can really customize it for your own preferences. I like to have system volume at around 50% and system sounds around 10%. I can hear them if I'm really listening, but generally speaking, they're masked and I don't have to hear them. Remember that system sounds volume cannot override the system volume, so if you tried it with system sounds at 100% and system volume at 0%, well, it'd be quiet.
Scroll down in this settings area and you'll see there are more options, including the ability to change your system sound!
Tired of the default sound? Maybe having it be "Glass" or "Bark" would bring back a bit of fun to your experience! The Alert Sounds are easily tweaked and adjusted.
And since we're in Settings, one more thing to check out…
UBUNTU LINUX SETTINGS: ACCESSIBILITY
Turns out that there's one Accessibility feature that a lot of command line users prefer. Click on "Accessibility" on the left side of the Settings window and scroll down to find this:
You might find that experimenting with "Visual Alerts" offers another way for you to know when you've made a mistake, but in a way that no-one else can hear and comment upon. Back in the day, that was how most of us had our tty or terminal apps configured. Typically it flashes the screen for a fraction of a second. Try it, see what you think.
SOUND SETTINGS IN LINUX TERMINAL APP
Finally, the Terminal app itself in Ubuntu Linux has an audio setting too, though it's not immediately obvious. Open up the Terminal and rather than start typing, click on the icon on the top right with the three horizontal lines. A small menu appears:
Choose "Preferences" and then you'll get to an old school setting that you might well want to change: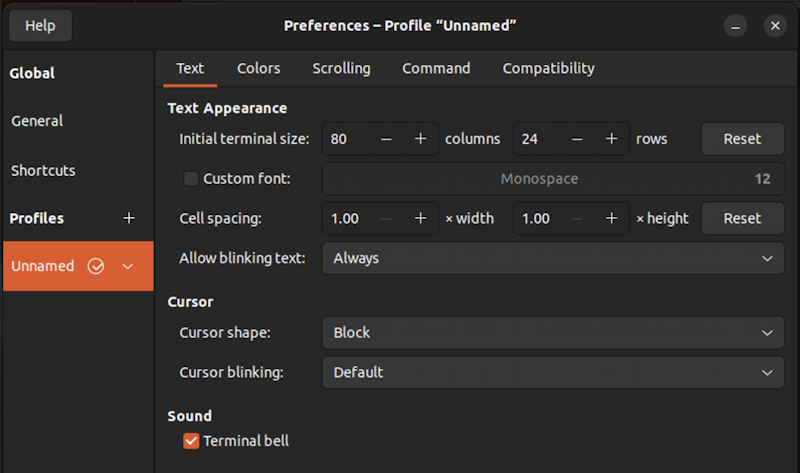 See it at the bottom? "Terminal bell". Of course, it hasn't been a physical bell since the dawn of Unix at AT&T Bell Labs, but it remains an easy way to turn off that particular audio feedback within Terminal without changing anything else on your system.
Between all of those options you should now be able to gain control of exactly how you want your Linux system to sound!
Pro Tip: I've been writing about Linux since the dawn of the operating system, and Unix before that. Please check out my extensive Linux help area for lots of additional tutorial content while you're visiting. Thanks!