I really like the Audacity audio editor, but am tired of the user interface. I use it every day! Is there any way to skin it or otherwise change its appearance on my MacBook Air?
Generally speaking, people change the user interface of a program to make it more functional for them, but I get the boredom factor too. There are programs I've used for years and years and while I'm quite familiar with the interface at this point, it's… dull. But the popular open-source audio editor Audacity – which can run on Mac, PC, and Linux – has some tricks up its sleeve with its implementation of themes that can also help you get your audio editing job done more quickly too.
Not only that but there's a way to change the color of each track so that you can more easily differentiate between the narrator and the background music, the horns and the rhythm section, whatever you need. As a first and necessary step, make sure you have the very latest version of Audacity on your Mac system. You can use the "Check for Updates…" option from the "Help" menu. Don't have Audacity yet? No worries, grab a copy from AudacityTeam.org
CHANGING THE AUDACITY VISUAL THEME
Launch the audio editor with a stereo track and it'll look similar to this: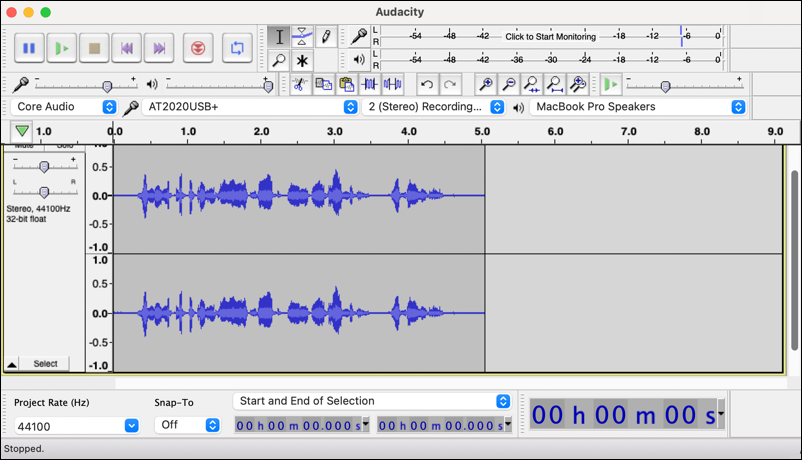 You've probably seen this window a thousand times!
To change the Theme, go into Preferences > Interface and choose one of the five possible themes: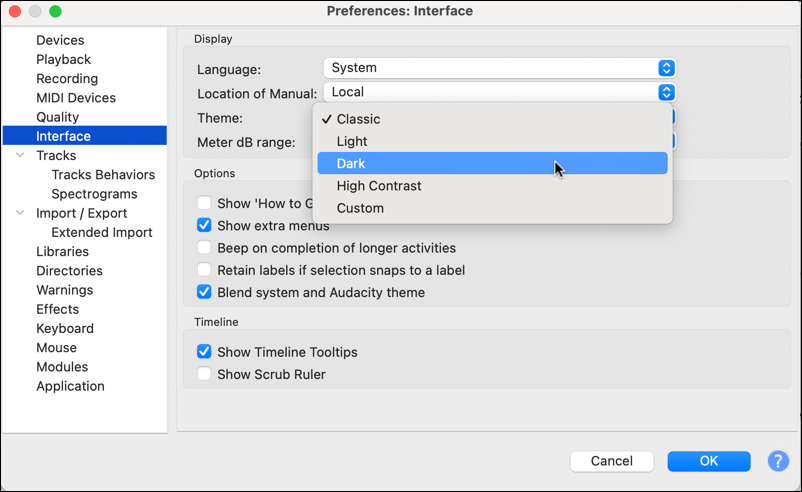 You can see that the last of the options is "Custom". It's a bit involved to create your own custom Audacity theme, but you can learn more about it here if you want: Create a Custom Audacity Theme. More likely, you'll just choose from the options shown. Try "Dark" for the most dramatic change: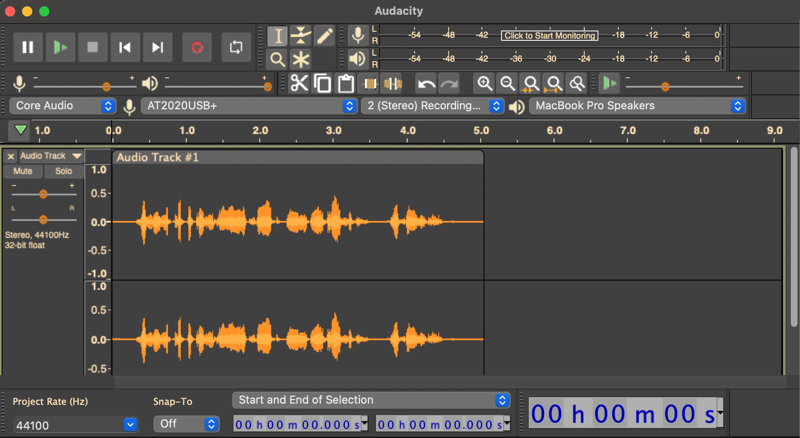 That's a pretty big change, isn't it? Now, there's one more thing you should know about using Audacity from a user interface perspective…
HOW TO CHANGE AUDACITY TRACK WAVEFORM COLORS
Yes, you can change the color of different track waveforms, to help when you're working with more than one track. That's done by clicking on the tiny link "Audio Track" with the downward triangle on the top left of the track. In fact, you can also name tracks which can also help you keep track of what's what. Check out the menu options: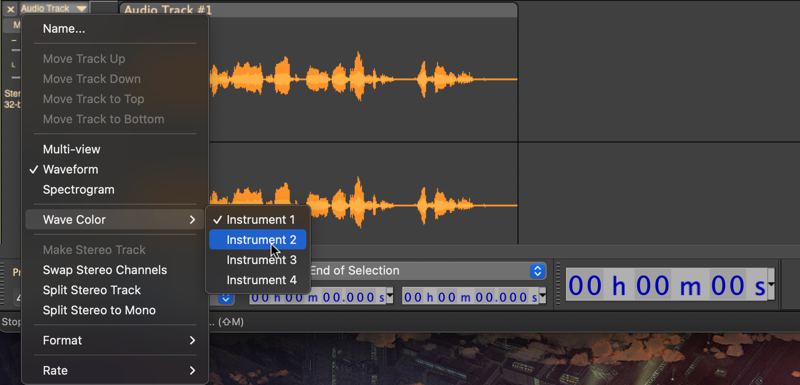 Here under Audio Track > Wave Color there are four colors, labeled "Instrument 1", "Instrument 2", "Instrument 3" and, yes, "Instrument 4". If I have a couple of tracks and use them to change colors, the result is pretty cheery: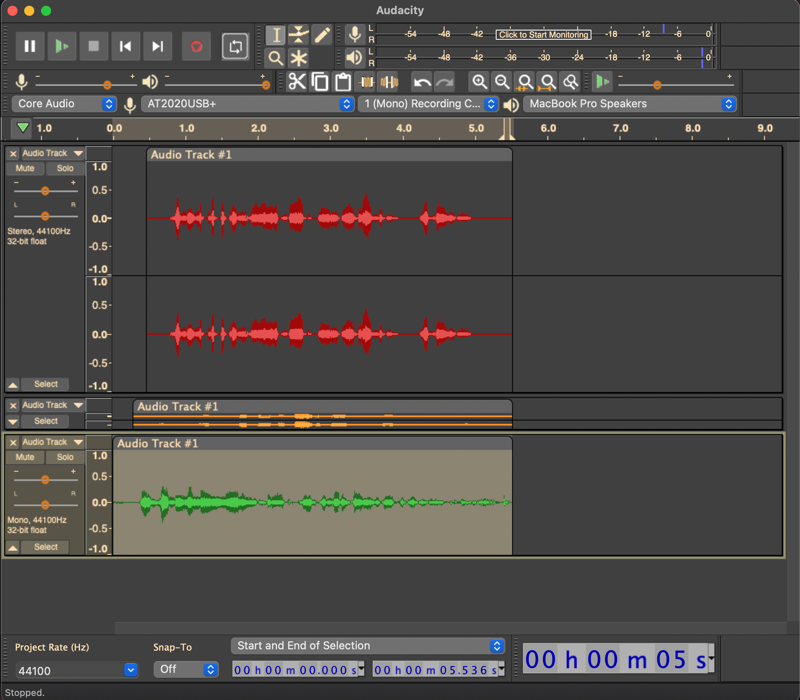 Not only that, but if I change Themes again, the new colors stick with the tracks, so even in the "Classic" color scheme, it looks pretty sick: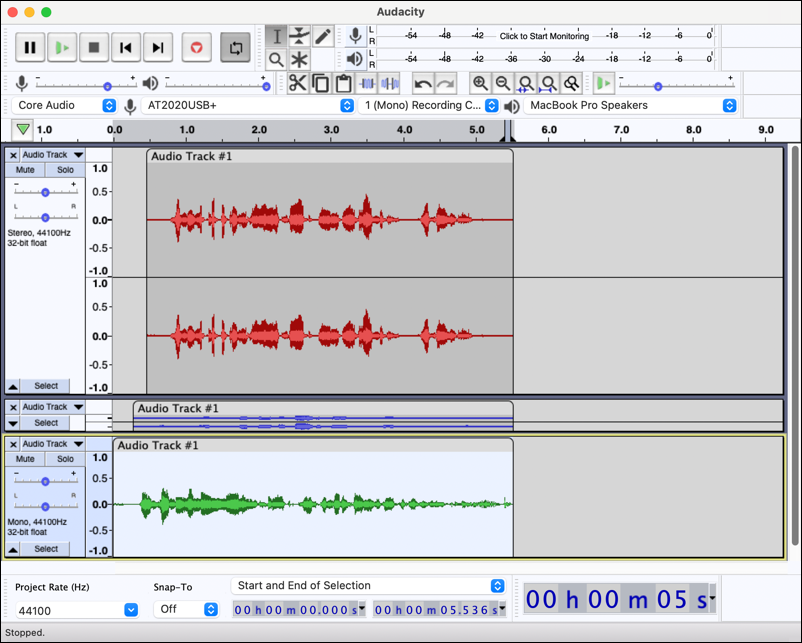 And there you have it. A few ideas on different ways you can use Audacity Theme colors and Waveform colors to update the UI and user experience a little bit. Want more change? Try moving to Garage Band, a free download for MacOS from Apple. It's not quite the same program, but surprisingly similar, with a polished Apple user interface.
Pro Tip: I've been writing about Mac systems since the very first unit hit the market! Please check out my extensive MacOS Help Library for hundreds of additional tutorials to help you be a happy Mac user! Thanks.