I manage a WordPress site with a number of contributors so I'm always looking at the All Posts view to balance posting schedules. And that view is ugly, with lots of empty, unused columns of data. Is there a way to customize All Posts view to clean things up?
The All Posts view on WordPress is a great place to manage what's happening on your blog or site since it's easy to tweak headlines, change publication schedules, move drafts to live published articles and more. But you're right, it can get clumsy and awkward, particularly if you've installed a plug-in that automatically adds additional columns of data that you aren't actually utilizing. The worst offender for this? SEO plugins, which (reasonably) want you to use all of their features to maximize your SEO results.
I have a sleeper blog called Intuitive Stories where I sporadically post marketing and business essays and it's a great place for me to test and demonstrate these sort of features. Though it's not a primary site, I still frequently check to ensure that I have everything updated for security reasons, of course, but still, it looks like I'm a few months behind on my posting schedule. Ah well. My view is likely quite similar to yours. Here's All Posts: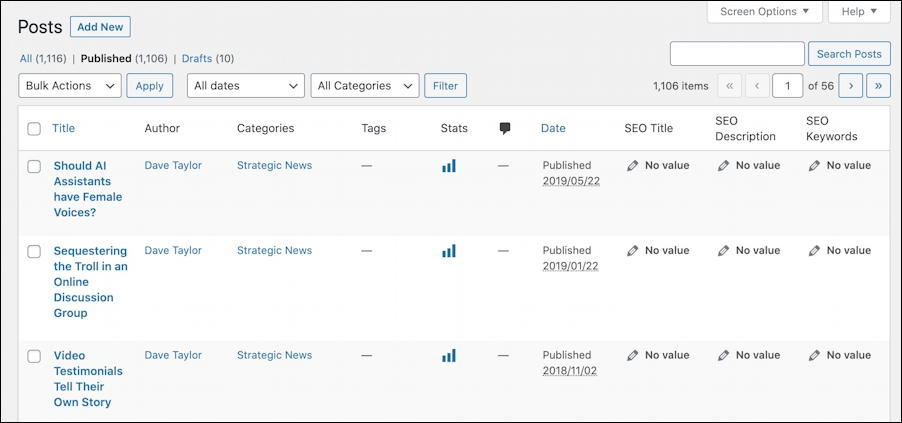 Look closely and you can see none of the articles have tags, they all have the same category, none have comments (do people comment on blog posts any more?) and the SEO Title, SEO Description and SEO Keywords all just say "No value". Okay, so that's a really inefficient display of information where information I do want is squished into a narrow column, like Title, and over half the space is just wasted.
Fortunately there's a fix! Look on the top right…
It's that "Screen Options" tab you want to click. It pulls down a set of super useful options:
Now that's helpful, isn't it? Simply uncheck the boxes associated with the columns of data you don't want to see (for example, the SEO columns in my example) and the display below it will change as you proceed to show a better, tighter, more useful presentation of information:
So, so much better! But there's one more setting you might want to consider that turns this useful view into a really useful view: Change from "List View" to "Excerpt View". Here's what that looks like for my site:
If you're not 100% sure what each and every post is actually about, adding these excerpts can be really beneficial! More importantly, they're even more useful if you go back in time and are working on posts from weeks, months or even years earlier. Then again, aren't we all supposed to have super informative titles? Hmmm… 🙂
Anyway, check out the changes you can make with Screen Options in your WordPress backend and see if that helps you eliminate the clutter so you can focus on managing your writers and posts!
Pro Tip: I've been running and writing about WordPress for many years. Please check out my extensive WordPress help area here on the site for more tutorials and guides while you're visiting!