I just picked up a television with built-in Google Chromecast and am pretty psyched, but realize I don't know how to proceed on the source side. If I'm viewing a Web page or YouTube video on my computer, can I just cast that content to my TV? If so, how??
Congrats on your new TV! It's really helpful that most modern television sets have built-in Google Chromecast technology and, for many manufacturers, Apple AirPlay too. With those technologies the TV really does become just another screen you can utilize for videos, stream movies, mirror content for others to view or just use as a reference screen while working on your main computer. My house is decked out with Vizio televisions, all of which include both Chromecast and AirPlay support, so they're used all the time for watching videos and other content.
The necessary first step is to ensure that all of your devices are on the same wifi network. Go into your TV settings and make sure you've picked the right network, then check your phone and computer to ensure it's the same one. If you don't do that, the consequence isn't dire, but they TV just won't show up as an option for your casting.
Once you have that set up, though, the easiest way to work with the TV via Chromecast is, unsurprisingly, from within Google Chrome. Let's have a look…
HOW TO CAST FROM GOOGLE CHROME TO A SMART TV
This morning I was watching Samsung unveil its latest gadgets and devices at Samsung Unpacked 2021, all via a YouTube live stream. Quite convenient. But it's also a perfect opportunity to push the material to my studio TV rather than watch it directly on my computer screen. Here's how it looked within Chrome on my Mac: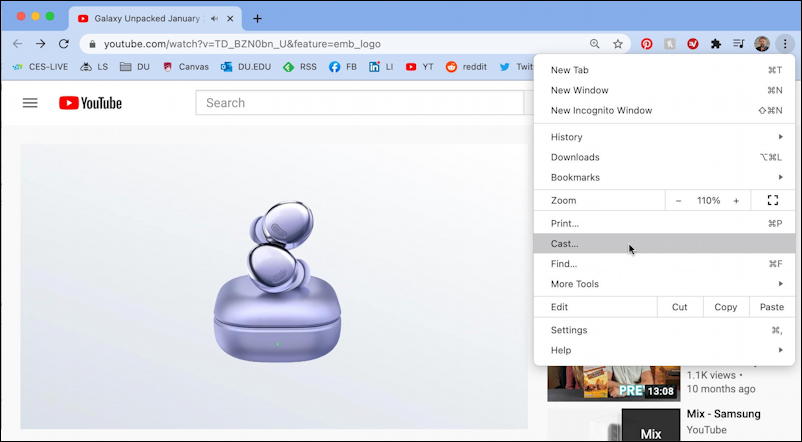 Notice that I've clicked on the "•••" link on the top right (well, they're stacked atop each other, but you can see what I mean). On the resultant menu is "Cast…", which is how you request that the content of this tab be sent via Chromecast to another device. This reveals a new icon along the Chrome toolbar and pops up a menu too:
You can see that I have two televisions ready and available to receive the signal. Don't see yours showing up? Again, check that everything's on the same network. Some TVs also take a few minutes before they appear on the network, so try turning on your TV and waiting 2-3 minutes to check.
I'll choose "Studio TV" to get the monitor I have attached to the wall of my recording studio. In the browser there are a few subtle changes: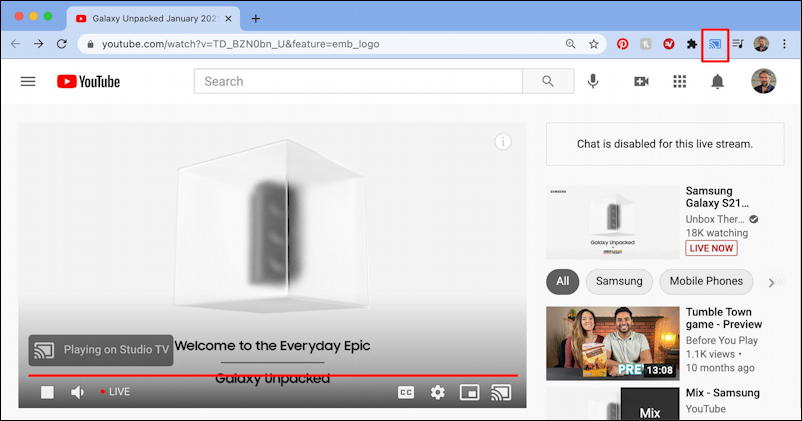 Notice that the Cast icon not only appears on the toolbar, but it's blue (I added the red box to highlight its location) which indicates that it's currently casting content. In the YouTube video preview box itself it now shows "Playing on Studio TV" too. And on the TV?
Chromecast works really well in my experience, with no lag, no glitches and no fuzziness. In fact, as you can see in the above photo, it's crystal clear even on this big 4K HD monitor. Also note that YouTube has the smarts to cast just the contents of the video: I'm not seeing the rest of the stuff on the YouTube page for this video stream. Sooo nice. I use this almost daily.
Let's go back to that Cast menu in Google Chrome, however. Notice now that it shows Studio TV as in use:
It's not obvious, but if you want to drop the Cast connection, just move your cursor over the device and 'disconnect' will show up. But what about that "Sources" tab? That's worth checking out too, as it's a menu: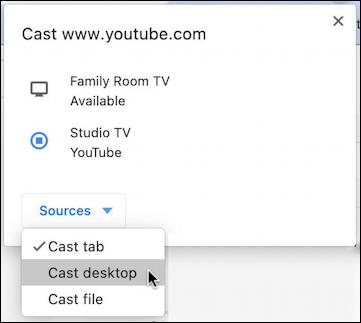 In this instance I'm casting the specific tab from within Chrome, but what if I choose "Cast desktop" instead? What shows up on the TV suddenly looks a lot more like a second monitor:
Again, remember that this is completely wireless. I can use the settings on my computer to make it a mirror of what's on my computer screen (perfect for demos or training) or you can set it up as a second screen (though not from within Google Chrome). If you have a movie file on your desktop you could use "Cast file" to play it directly on your Cast-friendly TV too.
HOW TO CAST FROM MICROSOFT EDGE ON WINDOWS
What if you aren't on a Mac, though, and you don't even like Google Chrome as a Web browser? Turns out that since the new Microsoft Edge is built atop the same framework as Chrome [Chromium, if you're curious] it also has Chromecast features built in. it's just a bit harder to find, as this screencap shows: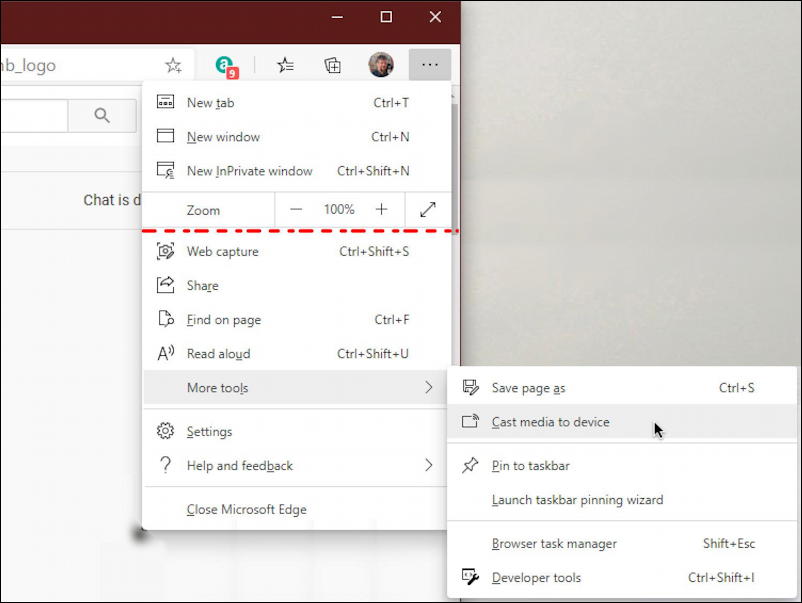 Basically you'll find the more explanatory menu item "Cast media to device" on the "More tools" submenu. Oh, the first time you try from within MS Edge, you might be prompted to download a support extension:
That's it. Now you know! I really love Chromecast and having it built in to my Vizio TVs makes it really easy to utilize any of my televisions as extension TV monitors. I use it for Netflix, Hulu, even streaming TV channels. The only thing left to make it perfect? For Zoom to integrate Chromecast support into its client app. But that's another story 🙂
Pro Tip: I've been writing about Google tools and technologies since the early days. Please check out my extensive Google Tools and Gmail help area for lots and lots of other useful tutorials and how-to guides. Thanks!