I heard that the latest version of Apple's iOS for the iPhone (iOS 14.5) and Apple's tvOS let me use the two to properly calibrate my screen. Excellent. How do I actually do it, though? Thanks.
Modern television sets are beautiful, with bright, vivid screens, deep blacks, crisp motion and are generally a delight to watch. With their astonishing slimness and network-friendly features, there's lots about a modern TV to love. Except for accuracy. Until the rise of digital, all television sets in the USA operated with the NTSC, the National Television System Committee protocol for color and image information. The old joke was that it really stood for Never The Same Color and even with modern digital sets, it only takes a few seconds at a TV store to see just how differently the sets display the very same digital information.
For many viewers it doesn't really matter; if your TV is slightly yellowish or greenish in its tint, you'll just get used to that and won't even notice it. Even friends or family watching your set will be unlikely to notice the difference too, as our brains are extraordinarily good at filling in missing information. But what if you really do want precise and accurate colors? That's what calibration is for, and graphic artists already insist on that for their work monitors, so a specific shade of blue really "is" that blue when printed or displayed. Most consumer TVs have this capability but it's not really for us consumers to use, rather it's aimed at professional installers or special use cases.
That's why the release of Screen Calibration through AppleTV is so darn interesting; for the first time, you can check and calibrate your TV image without any additional purchases or hardware. If you have an iPhone running iOS 14.5 or higher and an AppleTV with the latest version of tvOS, yiou're ready to go. All that you need to ensure is that both are on the same Wi-Fi network…
HOW TO CALIBRATE YOUR APPLETV COLOR WITH YOUR IPHONE
The first step is to go to Settings on your AppleTV and look for 'Color Balance' within the 'Video and Audio' settings: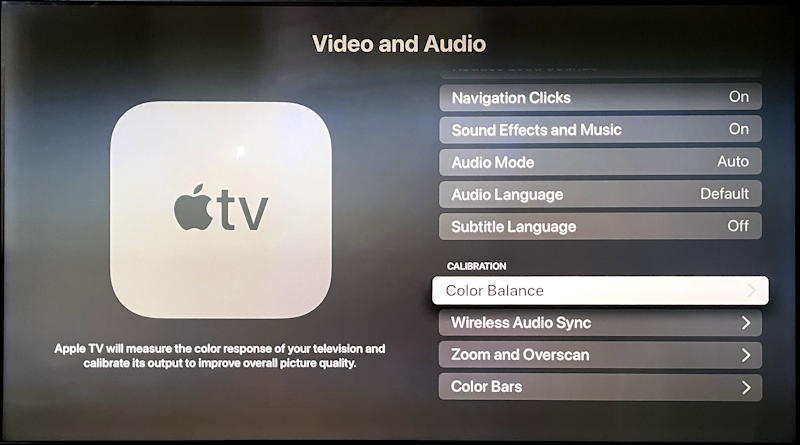 As the info area explains "Apple TV will measure the color response of your television and calibrate its output to improve overall picture quality."
Ready? Choose "Color Balance". Now you'll see this:
Next step is now pull out your iPhone. Unlock it. The phone should then display this: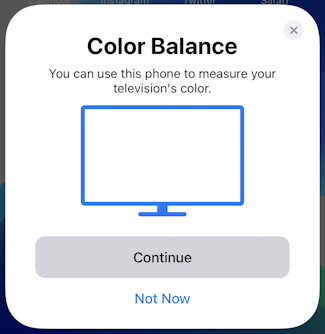 Tap on "Continue" to proceed and it'll start sharing data with the AppleTV unit…
It says to hold your phone close to the TV, but you have to do so in a specific orientation and in a specific spot. The TV shows the 'where' in a big swirling rectangle:
Meanwhile, on your phone you should see this:
Once you have your phone facing your TV about 1-inch from the screen in the swirling blue area it displays a few solid colors and begins the calibration process.
At this point it goes pretty quickly and within a few seconds you'll either see the good news that it's now color balanced or, like me, you might learn your TV already does a really good job with color calibration:
I actually think that learning your TV has been doing great all this time is the better outcome, but if it hasn't, this is an extraordinarily easy way to calibrate it for when you're using your AppleTV. And that's it. Done. Quick and easy, actually. Now, if you do it and it does adjust your color balance, do share the wording on that pop-up in the comments!
Pro Tip: I've been writing about the iPhone, iOS and the AppleTV since the very first units were released. I have quite a few iPhone help articles here on a wide variety of topics, along with lots of AppleTV help articles too, so please check 'em all out while you're visiting. Thanks!