I saw on your recent Facebook post that Reddit is going to be introducing an NFT marketplace so we can buy unique avatars for our Reddit accounts. I'm down! How do I find that marketplace and buy an NFT for myself?
The biggest news out of the art world in the last decade has been the meteoric rise of "non-fungible tokens", or NFTs. They're digital works of art that are uniquely numbered and have their ownership denote in the blockchain. In other words, if you buy the digital rights to a graphic, photograph, or other objet d' art, that's yours forever, and you can even prove ownership. With limited runs or issues, you might have the exclusive rights to 103 of 300 copies, just as you would with a printed and numbered lithograph or similar.
The challenge for non-techies has been how to get into the NFT world. A regular painting you can buy at an art gallery, but how do you buy a digital image or graphic? A few months ago Reddit announced it would allow users to use their personal NFTs as their avatars (known as "Snoo" to Redditors, after the company's mascot) and so it was no surprise when the company announced it would host its own NFT marketplace too. And it's really easy to browse, purchase, and use an NFT as your Reddit avatar! Here's how it works…
THE REDDIT AVATAR NFT STORE
Start by heading to Reddit, then choosing "Style Avatar" from the personal menu. You'll find that the Avatar gallery now has a "Shop" option:
Note that on launch day, the top bar included a "Shop Avatars" link, but that vanished the next day!
You can see my Reddit avatar on the right, with a goatee, backpack, jeans, etc. Time to upgrade to a swanky NFT art piece instead. The Collectible Avatars range in price from $9.99 to $99.99 based on artist and rarity. You can explore to see all the variations available with a few clicks. For example, here are some of the popular options:
Pretty excellent, really. You can also explore Creators and view NFTs by Creator. Here's what u/tirli is offering: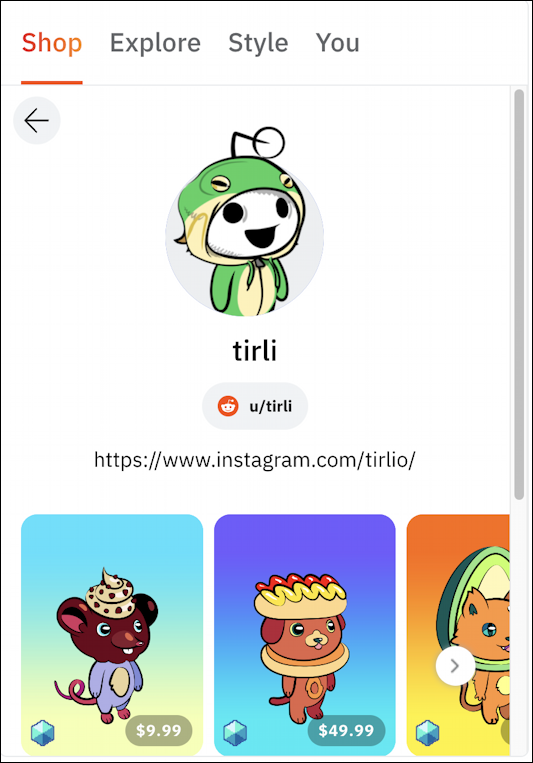 This also shows that a single creator might have some collectible Reddit avatars that are highly affordable and some that are rarer and therefore more expensive to acquire. In fact, in a different view, you can sort by price if you want. A good starting point is the < $10 category, but if you want something more unusual, $75+ might be your preference instead:
I spent some time viewing all the different creations until I settled on one I wanted to acquire as my Collectible "Snoo" Reddit Avatar.
BUYING A COLLECTIBLE AVATAR NFT ON REDDIT
Click on the one you like the best and you'll get more info about it, including a fun little back story: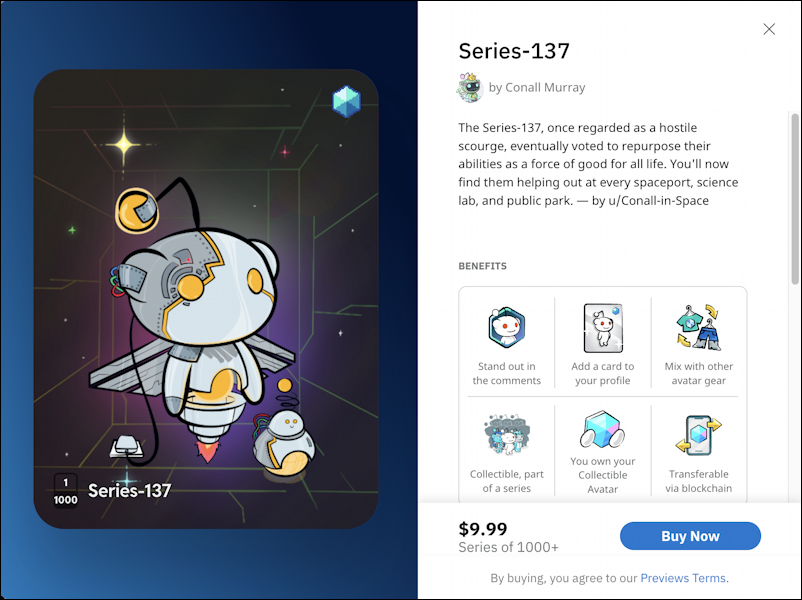 That's pretty fun with its tiny sidekick and charging dock, right? It's worth noting that this is a widely available NFT, as shown on the lower portion "Series of 1000+". That might mean 5,000 or it might mean 500,000. If it's rarity you seek, you'll want a much smaller series, which then increases the price. For testing purposes, this works great.
A click on "Buy Now" and it turns out you need to create a "vault" to hold the "ownership" of this NFT in the Blockchain. No need to panic, however, Reddit's got your back:
Since the blockchain is powered by public key encryption, it's critical that you record the password you choose: If you forget it, there's no recovery process. Your NFT will just be owned by an inaccessible "Vault". Choose a strong password too, and then consider saving it in a password manager program so it's also safe on your own computer.
Once I set up a long, complex password, there's a bit of animation shown as the actual blockchain vault is created…
It's actually pretty cool, as is typical for the animations associated with Reddit.
Eventually, the Vault is created and it's time to actually pay for the NFT. This can easily be done with a regular non-blockchain, non-crypto credit card:
This is a step we've all become comfortable doing in this digital era, so enter all the info requested, double-check you got the CVC verification code correct, and click "Complete Purchase".
Done! Now here's what you'll see as you now own this Collectible Avatar NFT: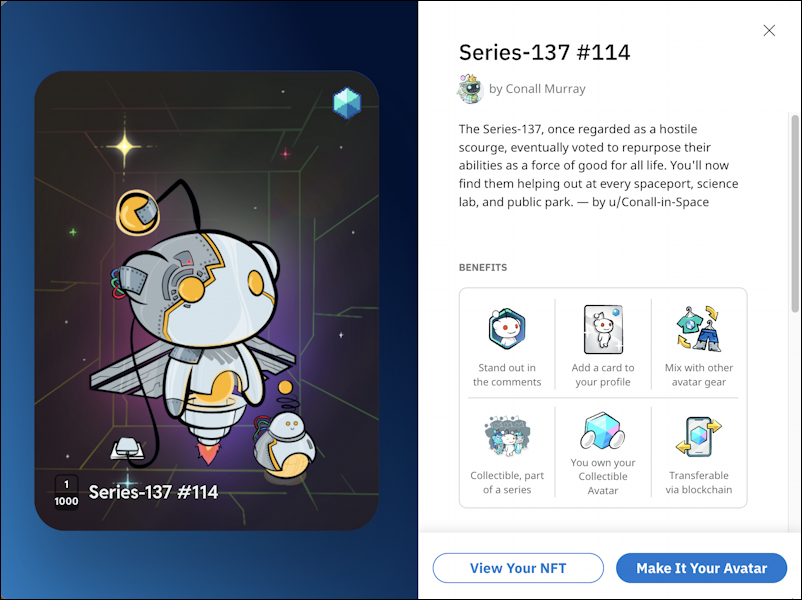 There's one more step you'll want to take…
HOW TO SET AN NFT AS YOUR REDDIT AVATAR
To set the new Collectible Avatar as your actual Reddit account avatar, you'll need to click on "Make It Your Avatar". This now lets you check what's in your collectible avatar gallery (confusingly labelled "Outfits", though I suspect that will be changed soon):
Ready? Click "Save". Done. Now you have a swanky new collectible NFT avatar on Reddit! Here's mine: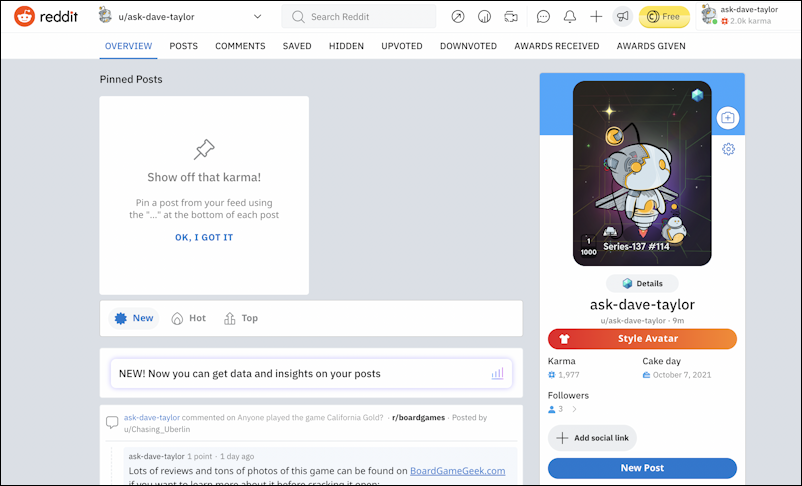 Pretty cool, eh? Even better, when the tiny version of your Avatar is shown in Reddit discussions, it now is a hexagon rather than round, to denote that it's an NFT-based avatar. And that's it. Check out the collectible NFT avatar gallery and see if there's one you like!
Pro Tip: Just getting started with Reddit? Check out my Reddit help library for other helpful tutorial articles to get you up to speed while you're visiting the site. And do feel free to follow me – u/ask-dave-taylor – on Reddit too. Thanks!