My colleagues add a lot of photos and images as attachments in email, and sometimes I need to find a specific photo to send to my boss. I don't know the image names, though, so how can I search through all the images that have been attached?
The migration from standalone app to Web-based email software has generally meant that we gained some features and lost others. Services like Gmail and Outlook.com are terrific in that you can log in anywhere and access them, even from a colleague's computer. But you can't help wonder what's missing with it not being an actual program running on your computer. Turns out that there's almost nothing at all you can't access if you know where to click!
That's my experience with Outlook Online too; that there are quite a few surprising and useful features if you know where to click, even some that Google might consider adding to its industry-leading online email program (1.8 billion active Gmail users versus about 400 million Outlook.com users). You ask about one of my favorites, actually, the attachment browser. It's a completely different way to browse your inbox and other folders and if you get a lot of files or images as attachments as I do, it's a lifesaver to find something days, weeks, or even years later.
BROWSE RECEIVED ATTACHMENTS IN OUTLOOK
More likely than not, you've seen the link to the attachment browser in Outlook.com and just never realized that's what it was. So let's start with a view of my inbox, or enough of it so you can see that link: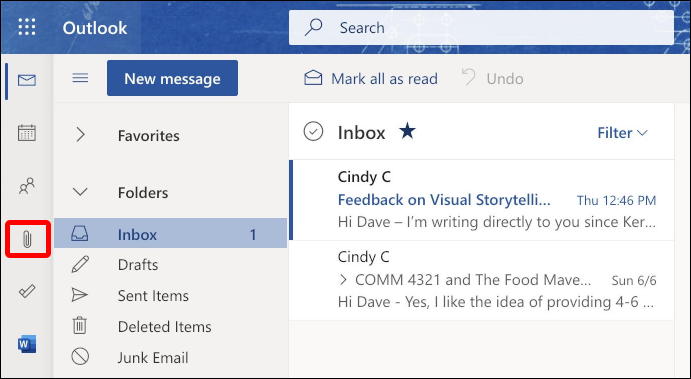 I've highlighted the icon on the left edge, it's a paperclip. If you've never clicked on it, you'd have no idea about its functionality. A click, though, and…

This is the Outlook attachment browser and it's terrific. There's a lot to see here, so let's start with the left side: You can easily browse files or photos with a click. The "View" link on the top right lets you switch between a grid of images and a list (as shown), and you can sort by filename, who sent it, the subject of the email that included the attachment, date, and even which folder you used to save it.
But what's really worth knowing more about is "Filter", on the very top. Click on it and a menu shows up:
As you can see, it's easy to show just Excel files, Photos, files from only this month, even a specific date range or other types of files or attachments. Very helpful!
If I click on Photos, for example, I can see some of the attachments I've received, in big, easily legible images: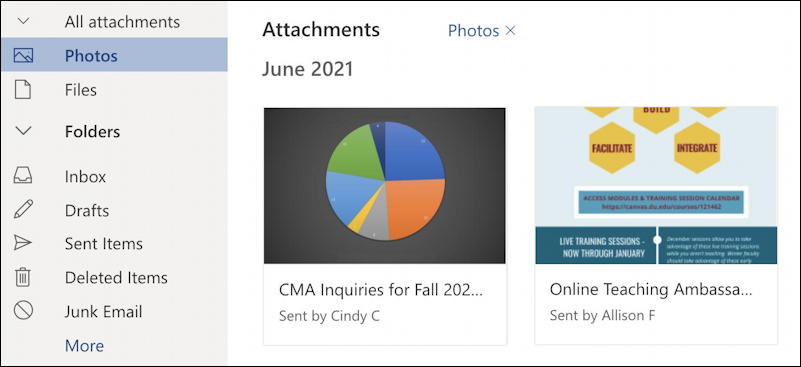 Now let's say that I want to forward that pie chart to a colleague. Here's how that's easily done…
HOW TO FORWARD AN OUTLOOK ATTACHMENT TO SOMEONE ELSE
Click on the image in question and Outlook will show it to you with the associated email message:
A close look at the top bar shows all the functions available at this point for the attachment image alone:
The function needed: "Share by email". Click on that and a new email compose window will pop up with the image (photo, file, spreadsheet, whatever) already loaded up as an attachment:
You have to admit, that's pretty darn straightforward once you know about the attachment browser and search system. Now log in to your Outlook.com account, click on that paperclip on the left edge, and check it out for yourself!
Pro Tip: I've been using and writing about Microsoft's Office Suite for many years. Please check out my Outlook help library for plenty of useful tutorials, as well as additional Office 365 help pages! Thanks.