I'm on Facebook a lot, and I guess that makes me a prime candidate for ads. But many of them are stupid, mis-targeted or offensive. Can I report them or at least block some Facebook advertisers?
Though my first impression was that you were talking about ads from Facebook for their service, you're actually asking about the feedback mechanism for ads you see on Facebook. The good news; there's a very good feedback mechanism built into Facebook that lets you report ads that are boring, repetitive, offensive, crude or even sneaky political content or fake news!
Of course, you have to still do the work, so if you prefer just kvetching about how the ads are so poorly targeted, well, then you'll just have to learn to live with it. But become faithful at reporting mis-targeting and you will gradually get better and more targeted ads. And remember: really well targeted ads are going to be stuff you do care about.
Be that as it may, let's have a look. First off, here's an ad that actually is well targeted, but we'll use it as a demo:
Oh, so many pop culture references (just one: Hawkins Middle School is where the kids in Stranger Things presumably go to school). But let's assume this is an ad I've seen dozens of times in the last few days. Too many times. So let's give Facebook feedback that this is redundant.
To control an advert, click or tap on the "•••" on the top right of the ad block. A menu appears: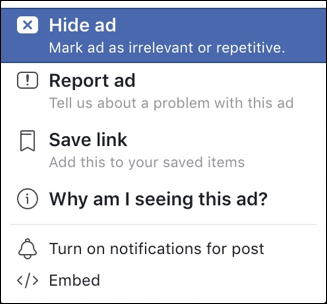 You can hide an ad, report an ad, save the link to an ad (if it's a total hit with you, a perfect match!) or even query Facebook why the ad showed up in your feed at all. For this first demo, click on "Hide ad" to proceed. Now you can indicate why you want to hide the ad:
Three simple choices. I really like to mark "repetitive" ads because I do get sick of 'em after a while. You can also mark it as irrelevant (which gets into that targeting issue) or that you've already actually purchased the product or service. Once you do, click "Done" and…
Notice the last of the options: If you really dislike an advertiser, you can permanently hide all ads from them. That's a handy feature, actually.
But let's back up and try a few of the other options. For example, on a different advert, choose "Why am I seeing this ad?" and you'll get information like this:
More interestingly, choose "Report Ad" and you'll get oodles of choices to identify why you want to report the advertisement:
Lots of things you can tag, but please, click the correct button that accurately explains why you're reporting the advert. That information gets back to the advertiser and each of these can definitely cause them trouble. Reasonable? I hope so.
Anyway, this shows the many ways you can take control of your advertising experience on Facebook. Hope that's helpful for you!
Pro Tip: I've written quite a bit about Facebook in the last few years. Please check out our extensive Facebook help pages for lots more tutorials! Thanks.