I'm in QA testing and take zillions of screen captures on test machines. Then I have to copy them over to my main computer for reports. Tedious. I understand that there's a way in Dropbox to have screenshots automatically export? How do I set that up!
You are correct that Dropbox has a very simple and elegant feature in the latest version of the software that automatically saves every screen capture you take to your cloud account. That means you can then immediately access them from any other device that you have logged into Dropbox, including smartphones and other computers. Now the bad news: Backup Screen Captures is only available in the Windows version of the Dropbox software. Not sure if they'll eventually migrate it to the Mac side but for now it's definitely just PC based.
There's also the question of how to set it all up. if you're lucky, you upgrade to Dropbox, log in, then the first screen capture you take produces a pop-up asking if you want to enable it. Obviously, that's the easiest way by far of the alternatives! If you don't get that, well, then it's time to dig into the somewhat confusing world of Dropbox to figure out where the setting is located.
Btw, not on Dropbox? No worries, use my Dropbox Signup Link and you can be hooked up in just a few seconds!
The confusion really comes from the fact that there are a number of "faces" to Dropbox. For example, you might just click on the Dropbox link in the File Manager, which gets you here:
Useful, but… no link to the preferences and settings, so that's not going to help you.
Perhaps you downloaded the app from Dropbox in the Microsoft Store on your Win10 system? That'll look like this: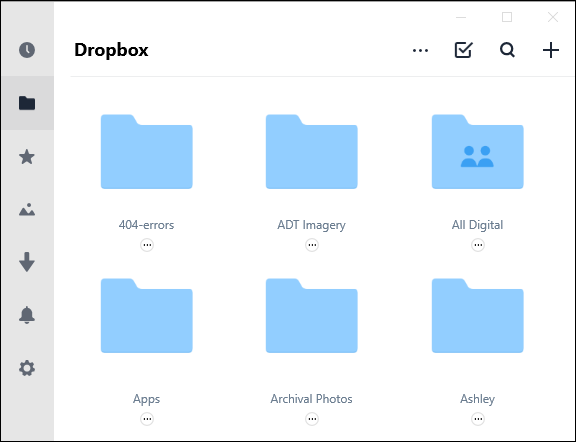 Nice and a clean and straightforward interface, but it too doesn't get you to the right settings. Crazy, right?
Instead, look for the tiny Dropbox icon on the TaskBar and click on it. You'll get a whole window pop up with notifications or a list of recent files:
That's the right one! Finally! 🙂
Click on the tiny gear icon on the top right to bring up the menu:
Now choose Preferences… here and you'll get to the correct spot where all the various settings can be accessed.
Definitely some things to consider in the General preferences category (particularly having Dropbox as a save location in Microsoft Office in case you don't much like OneDrive), but we want to click on the Import tab.
There ya go: The Screenshots option halfway down the screen: "Share screenshots using Dropbox". Check that, click "Apply" and you should be good to go! I have to say, it's become one of my favorite features in Dropbox too, and I've been on Dropbox for a mighty long time…
Now when you click PrtScr or otherwise go to print your screen (well, "save" your screen. Why is it still labelled print?) you should see this pop up every single time:
That's it. Now you're rockin!
If you ever want to disable this feature, follow the same path and just uncheck the "Share screenshots using Dropbox" option. Easy.
Pro Tip: While you're here, please check out my extensive library of Windows 10 help and tips. It'll be time well spent!