I'm contemplating buying a MacBook Pro from a colleague who's upgrading, but don't want to get one where it needs a new battery. What's the easy way to assess battery health on a MacBook device?
Modern computer batteries are a lot better than the older units, but unlike PCs, Apple designs its modern MacBook line with batteries embedded deep in the circuitry, definitely not user replaceable. Worse, on some units, the battery replacement might involve quite a bit more work too, sometimes involving the replacement of a keyboard or display unit because of how they're assembled. Definitely not consumer friendly, so knowing the health of a used device battery is critical.
There are a couple of ways you can ascertain and assess, depending on what version of MacOS the device is running. It's all about charging cycles either way. A charging cycle is one full charge, so, as Apple explains it, "you could use half of your notebook's charge in one day, and then recharge it fully. If you did the same thing the next day, it would count as one charge cycle, not two. In this example, it might take several days to complete a cycle."
How many cycles does a regular battery offer? That depends on the device and the product generation. Most of the modern computers of the last half-dozen years – for example, a MacBook (Retina, 12-inch, 2017) or MacBook Pro (13-inch, M1, 2020) – have a max of 1000 cycles. Go back to a MacBook Air (mid-2009), however, and its battery maxed at 500 cycles. You can check this page to find out max battery cycles for a specific MacBook device: Determine Max Battery Cycle Count for Mac Notebooks.
IDENTIFY MACBOOK CHARGE CYCLES USED
If you're running the latest version of MacOS, Monterey, MacOS 12.x, then you can get a simple assessment with a few clicks. Start by choosing "About This Mac" from the Apple menu. It'll bring up a useful summary including the exact model number of the unit, serial number, etc:
Click on the "System Report…" button and the program launches, offering a super detailed view of everything hardware and software related to this computer. Find "Power" on the left column, and it'll show you how many charging cycles have been performed on this device: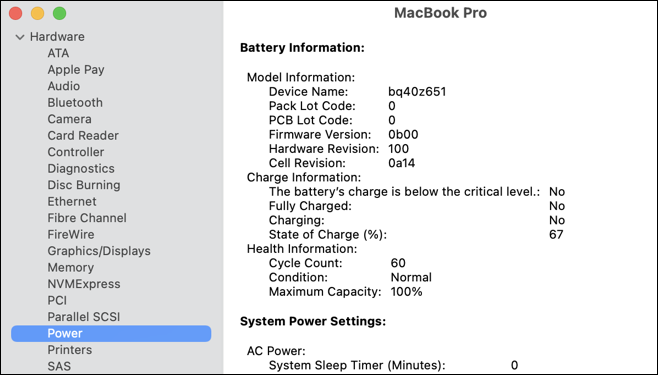 Can you see it near the bottom? "Health Information" section, labeled "Cycle Count". In this instance, it's a new MacBook Pro and has gone through only 60 charge cycles out of 1,000. Lots of battery life yet to use!
CHECK YOUR MACBOOK BATTERY HEALTH REPORT
Another way to get to this information, albeit with less detail, is to fire up System Preferences… then click on "Battery" and, on the left side, "Battery" again. You'll see this: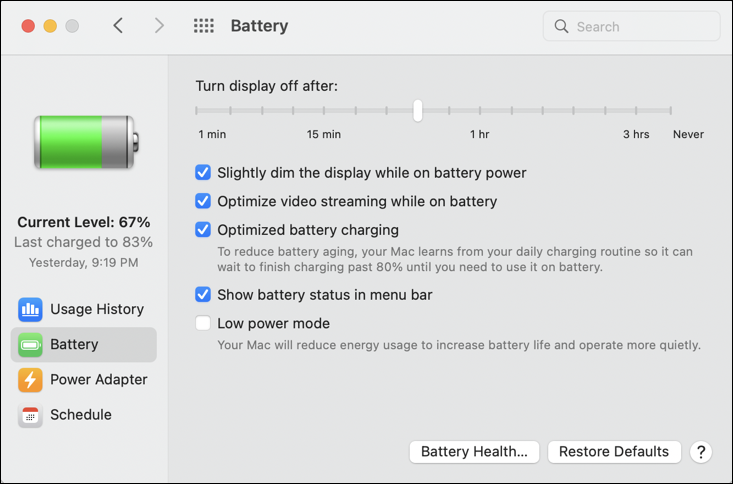 Lots of debate about optimal settings – you can click on "Restore Defaults" if you want what Apple suggests – but you can see how I have mine set up for my MacBook Pro. More importantly, on the bottom, click on the "Battery Health…" button.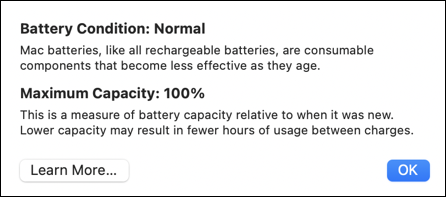 Not sure why they can't show you something like "60 out of 1000 charge cycles: Normal" but it's still an easy way to see things are looking good.
But what if you have an older Mac system? If it's also running MacOS 12.x Monterey, your health report might be slightly different: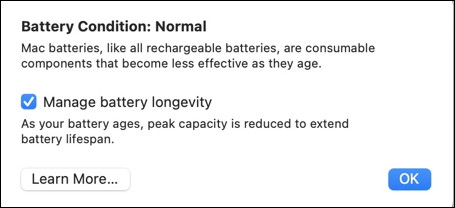 This one only has a cycle count of 177 out of 1000, but that's apparently enough to encourage users to enable "manage battery longevity", as shown. It is a good idea to enable this feature, so I recommend it.
BATTERY HEALTH ON PRE-MONTEREY MACOS MACBOOKS
What if you're not running Monterey at all? Then you won't get that "Battery Health…" button in the Battery System Preference: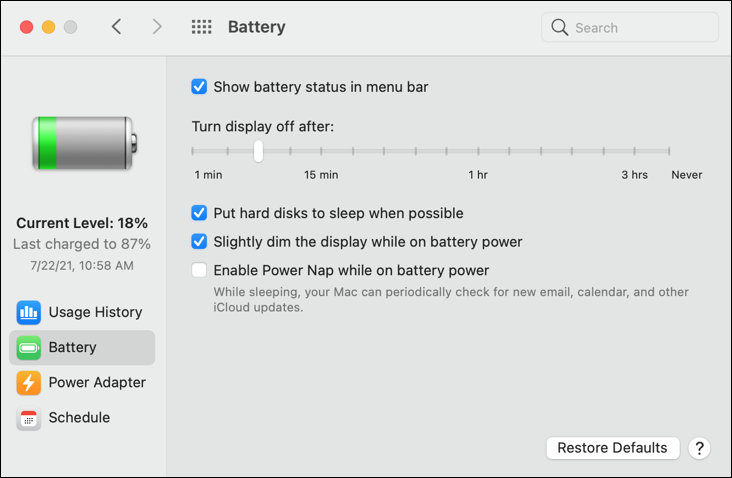 You can still get to the System Report from the About This Mac window, however. Go into "Power" and you can see number of cycles: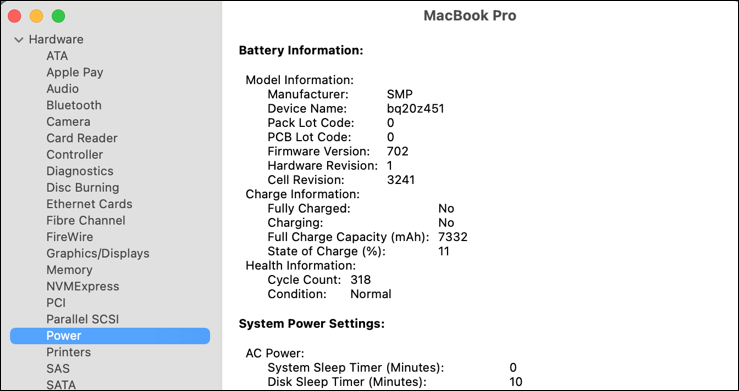 318 charge cycles. This particular computer is a MacBook Pro (Retina, 15-inch, mid-2015), which means that it should support up to 1000 cycles, so its battery is also in good condition, with over 2/3 of its life remaining. If it were a year earlier model, however, the MacBook Pro battery would only be rated to 500 cycles, which would mean that it was 2/3 depleted and eventually would become a problem.
Hope that gets you fully up to speed on batteries, battery lifespans, and MacOS. Good luck with your purchase!
Pro Tip: I've been writing about MacOS since the first Mac was introduced. Please do check out my substantial Mac help library for hundreds of useful tutorials and how-to guides while you're visiting. Thanks.