I have read in multiple places that you can apply for the cool new Apple Card credit card in the Wallet app. But I just don't see how. Help!
Today – Aug 20, 2019 – is the day Apple's opened up the application process to everyone who qualifies, so your timing is excellent. But surprisingly, it's a bit confusing to figure out how to apply from within the Wallet application, so much so that I expect we'll be seeing an update that fixes the problem any day now. In the meantime, I've got ya covered with this step by step tutorial since I too just applied for this new form of MasterCard that focuses on the experience of using it in a digital world, rather than the physical card itself.
Obligatory preface, however: Be smart with your finances! A new credit card, whether it's shiny and cool or old and dull, is an opportunity to sink further in debt. No bueno. So be thoughtful about whether you need a new credit card, consider cancelling one of your existing ones to use this as a replacement, and stay on top of your monthly payments too. 🙂
Okay, now let's step through the process! As you are aware, start with the Apple "Wallet" app. For me, the home screen looks like this: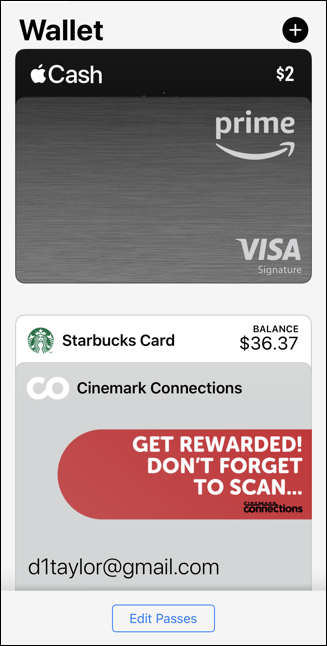 You can see that I have a relatively modest number of cards in my own Apple Wallet.
To proceed, tap on the "+" on the top right. That offers up this screen, which is where I think most people get stuck: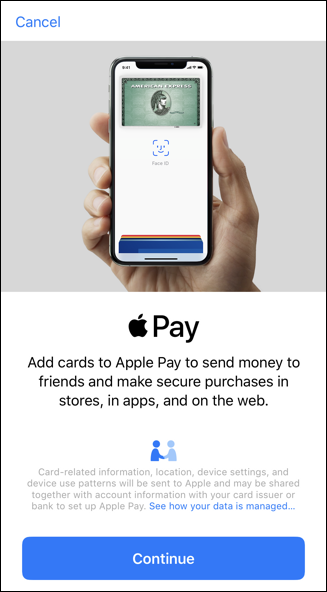 Even though you're about to apply for a card, you want to add a card at this point in the program.
So tap on the big blue "Continue" to proceed…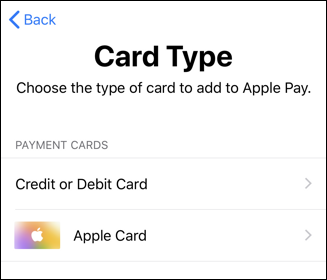 Ahhh there ya go! Used to be that the only option was a Credit or Debit Card, but now you can see that "Apple Card" has been added to the list of payment cards in the Wallet app.
No surprise, tap on "Apple Card" to begin the application process.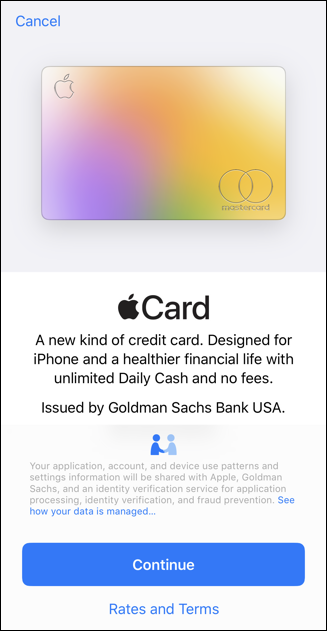 Unlimited daily cash? I'll take $100 million, please. 🙂  Obviously, that ain't quite how it works, however!
To start, you really want to read through the Rates and Terms on this new Goldman Sachs Bank USA credit card, so tap on that before you continue…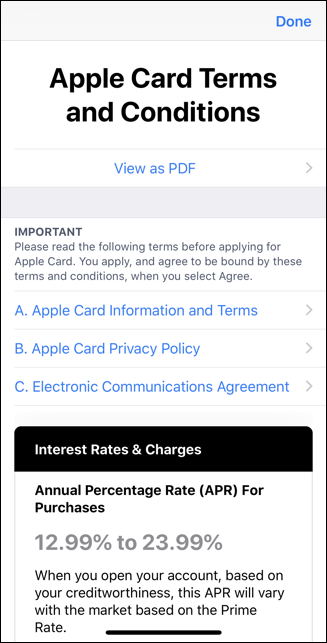 12.99% APR is pretty amazingly low for a credit card, but of course that's dependant on your credit score, so you could end up with a loanshark-level 23.99% APR interest rate instead. Pay attention to this rate once you've been approved too because it's a fast way to end up deep in a debt hole that's almost impossible to escape.
Also worth knowing if you read more on the Rates and Terms is that the Apple Card has no annual fee, no transaction fees, no penalty fees and no other fees. It's all about the interest so if you are going to use the card to finance big purchases, you might want to think twice before proceeding.
Still look good? Okay! Back up one screen and tap "Continue" to apply. Now you'll need to enter a variety of personal information, starting with your name, phone number and birthday: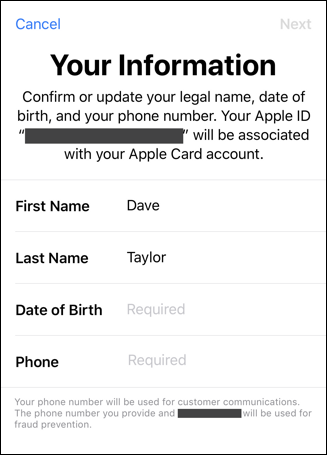 Hopefully you know this information – and be careful that you are using the correct Apple ID for this transaction too: it's in the small print on the lead paragraph – and proceed.
Next up you'll need to specify both your citizenship and social security number: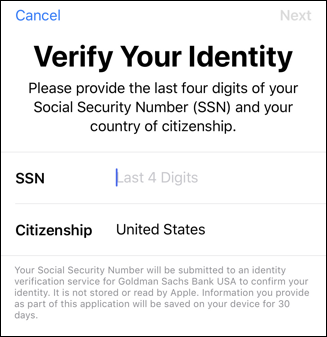 Don't have an SSN? You probably can't proceed. I'm unclear about how citizenship in another nation might affect the application process, so if that's a concern, you might contact Goldman Sachs Bank USA directly with that question. Otherwise, fill these two fields out, then you'll get to verify your address, etc.
One more question before the application is submitted: Annual income.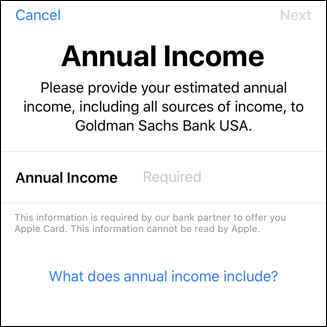 This one's interesting because your credit report already has this data, so I assume it's a quick pre-score before they go out and check your full credit report. Your credit will be a function of your income, of course, so someone earning $175,000 will have a higher credit limit than someone scraping by on $29,000 annually. Still, both should qualify for the Apple Card.
Finally, you've gone through all the steps and…
Good luck with your application!
Pro Tip: I've been writing about all things Apple for a really long time. While you're here, why not check out my iPhone help and MacOS help areas too? Thanks!