I just got a new wireless mouse for my Windows PC and I 'm really loving it, but the scroll wheel is way too eager to move me down to the bottom of a page. It jumps super fast and it's impossible to move down just a little bit. It that something I can adjust or should I get a different mouse for this computer?
A mouse. Seems like so much of computing has moved towards trackpads as laptops have gradually overtaken desktop computers as the most popular platform, so working with a classic 2-button or 3-button mouse with a scroll wheel seems a bit retro! Still, there's a reason it was so darn popular twenty years ago; for a lot of people it's a logical and comfortable way to control the cursor and manage the screen and windows on your computer. And it turns out that there is a way to fine tune what each button does on your PC mouse and, yes, adjust the sensitivity of your scroll wheel.
I'll show how to do all of this in Windows 10 – I certainly hope that by now that's what you're running – but if you have an earlier version of Windows know that the main mouse settings are in your Control Panels area under "mouse" (in fact, your trackball or trackpad settings might well be in the mouse section too, depending on your OS).
On my own Win10 system, I'll start by doing a search from the Taskbar for "mouse":
Conveniently, the default completion of this search is "mouse settings" which is just what I want. A click and Mouse settings is launched: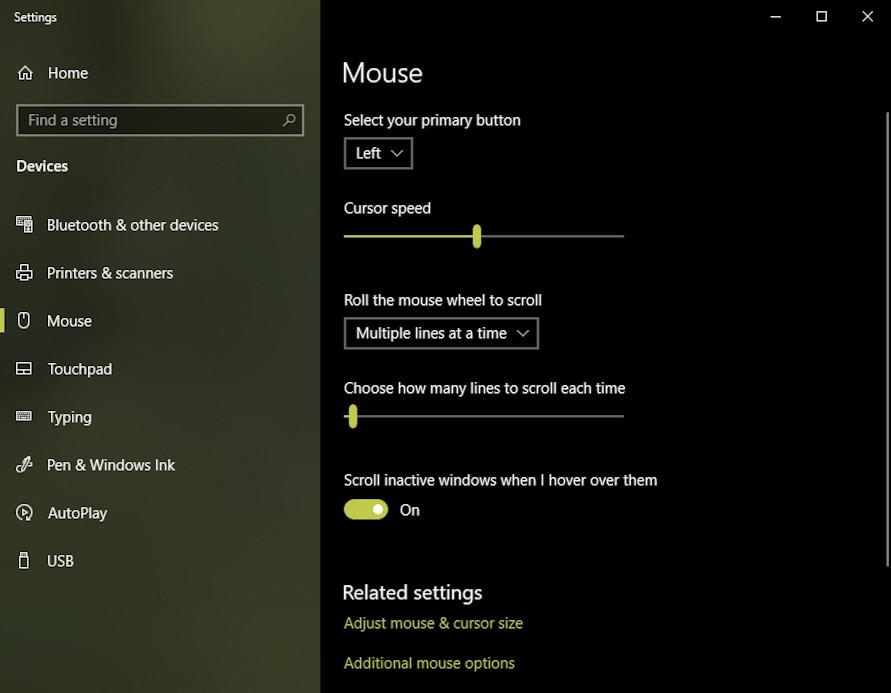 To go down the list, the "primary button" is your select button and few people realize that if you're left handed, you can switch the two buttons to match. It's really helpful (until you then use someone else's PC and are befuddled by their "broken" mouse). If you want the cursor to move faster or slower across the screen when you move the mouse, you can adjust that through quite a few steps.
Next up is the one you want: "Roll the mouse wheel to scroll" and a menu. But let's defer that for a second so I can point out that you can also adjust a setting that can be a bit weird; whether you can use the scroll wheel to scroll background windows. Enable "Scroll inactive windows when I hover over them" and you gain a lot of control, though you do have to be more aware of your cursor location.
Now, with the scroll wheel, notice if you have it set to "Multiple lines at a time" you can use the slider to adjust how many lines to scroll on each 'click' of the wheel. Try choosing that and moving the slider all the way to the left, then use it for a few test, then go back and move it all the way to the right. Lots of control!
Click on that and you'll find there's another option you can choose instead: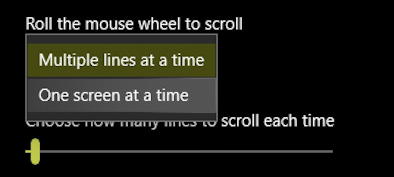 If you think that multiple lines moves fast, "One screen at a time" is pretty crazy and might well be what you have set for your PC currently. It means that every click of the wheel moves you down an entire screenful, so on a long Web page, you can zip to the bottom with just a short spin of the wheel. Change that setting!
Near the bottom of this window is an important link too: "Additional mouse options". Click on it and you'll switch to a retro Windows 7 style Mouse Properties window: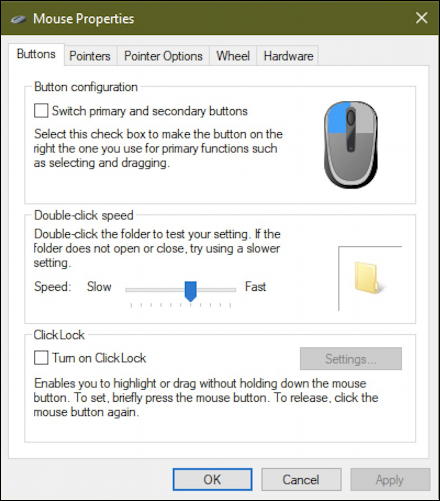 There's a lot more you can tweak and adjust if you prefer, notably if you click on the "Wheel" tab, where you can not only set it to be line by line, but you can specify exactly how many lines should be scrolled on each click of the wheel: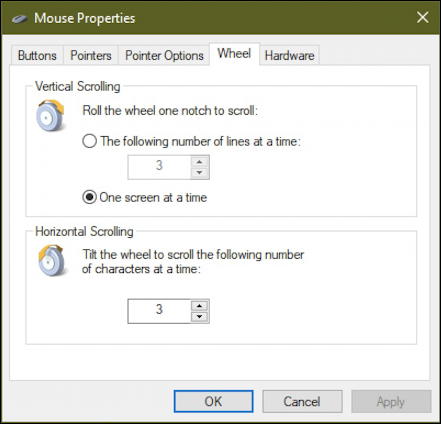 In this instance, the default is 3 lines per click, but instead of a slider, you can "dial in" exactly what you prefer. Try 1 line per click as a starting point and go from there. Good luck!
Pro Tip: I've been writing about Windows since heck was a pup. Or something like that. Please do check out my extensive Windows Help Library where you'll find hundreds of useful and understandable tutorials for everything Windows. Thanks!