When I first got my MacBook, I remember that the keyboard would light up when I used it in low-light situations. Now, however, it never illuminates. How can I enable the keyboard light and adjust keyboard illumination level?
While not every single keyboard from Apple has internal illumination, most of them do, from iMacs to MacBook Airs and more. This illumination level is adjustable, including the ability to completely disable it if you'd prefer not to have the keys light up at all. This also means that you can inadvertently disable this feature too, or set the illumination level so low that it's effectively off too.
Worried it's going to consume battery life? While it's a non-zero energy consumer, the actual power needed is essentially nothing. Plus, a typical configuration has the keyboard lights turning off after a few seconds of inactivity too. Okay, enough chatting, let's jump in and check out your configuration and settings!
KEYBOARD BRIGHTNESS FROM MAC CONTROL CENTER
The easiest way to get to your keyboard brightness setting is from the MacOS Control Center. It's the two tiny switches icon on the right side of your system menubar:

It's between the battery icon and the date and time in the above. A click and a small window appears with a bunch of very helpful controls:
Handy ways to get to a variety of controls and settings, notably including brightness and volume (confusingly labeled Display and Sound here), enable or disable key networking features, and enable Focus. But what we want is "Keyboard Brightness". Click on it and you'll get a slider that lets you adjust your keyboard brightness, logically enough: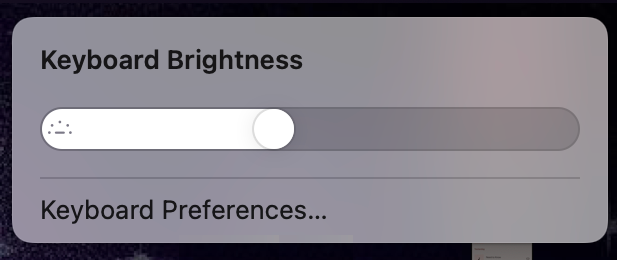 This adjusts how bright, but not when or for how long. Slide it to the right and see if your keyboard illuminates. If it doesn't, you might have a different issue that requires repair. If it does, however, you're good. Next up is the System Preferences > Keyboard. This can easily be opened by choosing "Keyboard Preferences…".
MACOS 12 KEYBOARD PREFERENCES – ILLUMINATION
The Keyboard Preference lets you access the other settings required to fully adjust keyboard illumination to match your preferences:
Make sure you're on the "Keyboard" tab along the top, then you can enable "Adjust keyboard brightness in low light" if you want so that your keyboard isn't overly illuminated in a dark space.
More importantly, you can adjust how long the keyboard stays illuminated – the "backlight" – after you stop touching it:

Notice that there's no "always" feature; this ensures that eventually, your keyboard backlight will turn off at some point. While there's no way to turn off keyboard illumination entirely, setting the brightness to 0 effectively accomplishes the same thing.
While we're here, if your keyboard has an fn/globe key:

This specific pane is also where you can choose what action should occur when you press it too:

And that's it. You are now completely in control of the illumination of your Mac keyboard!
Pro Tip: I've been writing about Mac systems since the very first model! Please check out my extensive MacOS Help Library for hundreds of additional tutorials to help you be a happy Mac user! Thanks.