I went to add my wireless wi-fi printer to my Ubuntu Linux server and it's not showing up. Instead I get a "CUPS" printer, whatever that is, but when I print to it, the printout vanishes. How do I add a wireless IP printer to my Linux system?
Used to be printer configuration was a ridiculously complicated task and ten times so on a Linux or Unix system. You'd need all the details of the printer and then be responsible for a command-line configuration that likely included installing a separate printer control file that detailed its features and command protocol. Back in the day we simply didn't bother printing from Linux systems or just used a "line printer" model for basic text printouts, no images, no colors, no fancy typefaces. Fortunately, things have improved quite a bit, though it sounds like you still need the IP address of your wi-fi printer.
The printer subsystem on a Linux device is still built around CUPS, however, the Common Unix Printing System, but for the most part, you can ignore all of that when adding a new printer. I have an HP PageWide MFP 577 – a big darn printer , but incredibly reliable – and one of its capabilities is that it is a wireless wi-fi printer, so I'll use that for my demo. With that in mind, let's get started on my Ubuntu Linux server!
HOW TO ADD A WIRELESS PRINTER TO A LINUX SYSTEM
As a baseline, open up your Firefox browser on your Linux system and press Command-P to bring up the printer dialog. Mine looks like this when I'm viewing a press release on the Whitehouse Web site:
The Firefox printer dialog shows up on the right side and you can see that the default Destination is "Save to PDF". If I click on that, there are no options, so there's no actual printer available. No bueno.
To fix that, jump into Settings. The easiest way to get there is from the tiny triangle on the top right of the Desktop (depending on your window manager, Linux flavor, etc):
Once you're in Settings look for Printers on the left side and click on it: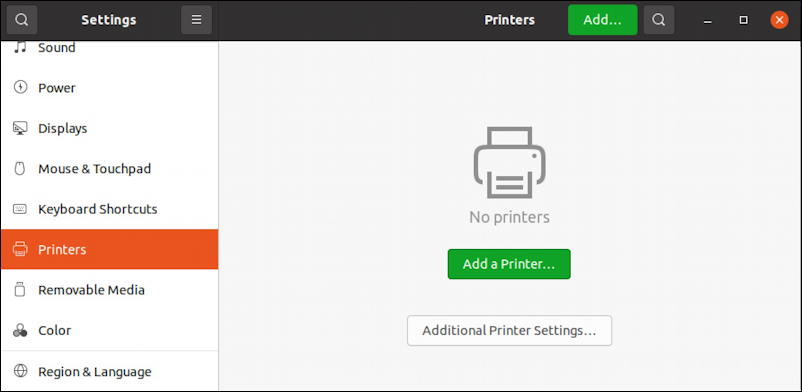 Pretty easy to figure out your next step: Click on the green "Add a Printer…" and the CUPS disconnected printer virtual device shows up after a brief search. But what if nothing else does? No wireless printers, nada: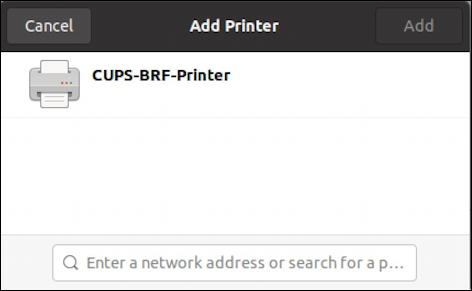 This is where you need to go over to your printer and either print out a settings page or just write down its IP address. Mine, for example, is 192.168.212.9, so I just enter that at the bottom in the text input box, and immediately all the available devices appear on the list:
I'll choose the most sophisticated of the options for the maximum flexibility in printing by selecting "HP-PageWide-Pro-577-MFP". With that clicked, the Linux subsystem can now do all the work behind the scenes and the next thing I see is the printer added and ready to use:
I don't really want that CUPS-BRF-Printer on the list, but more importantly, I want to ensure that the HP printer is my default. That's done by clicking on the gear icon button to the right of the printer name. A tiny menu pops up:

Ensuring this is the default printer for future printouts is easy; just check "Use Printer by Default". Done. Click on the same icon on the CUPS printer – if you ended up adding it – and you can choose "Remove Printer" to clean things up too.
While we're here, you can also rename the printer and specify its location if you have a more complicated office site. Choose "Printer Details":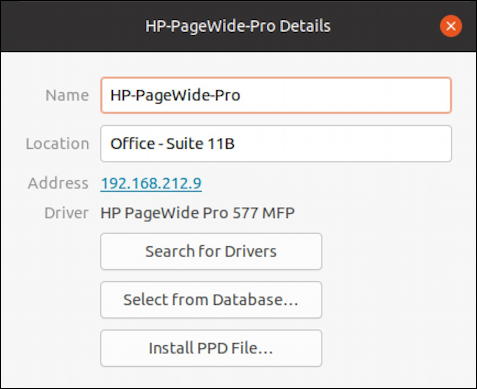 You can't have spaces in your printer name, but you can see I still simplified the printer's name a bit and added its location in our corporate facility: Office Suite 11B.
HOW TO PRINT TO A SPECIFIC PRINTER IN LINUX
Finally, to try it. Back into Firefox and this time a Control-P shows the HP printer as the default destination in the dialog box:
Here you can change orientation, add a few copies, specify you only want the first page or a subset of pages, even enable or disable color printing for a printer that supports that particular feature. Most importantly, choose the printer you want from the Destination pop-up and when everything's set just so, click "Print" and away you go…
Linux is nice because it shows a few status messages at the top of the screen by default too, including when the printout is done. No walking to the printer just to find someone else is hogging it and your job's still in the queue:
The toughest part of the entire process is figuring out the IP address of your wireless wi-fi enabled printer!
Pro Tip: I've been writing about Linux since the dawn of the operating system, and Unix before that. Please check out my extensive Linux help area for lots of additional tutorial content while you're visiting. Thanks!