I don't go by "he" or "she" and would like my Instagram account to reflect my preferred pronouns. Is that something I can specify, or do I need to modify my last name to include them?
Over the last year or two, it's heartening to see just how many sites and social media services have added the ability to specify your preferred pronouns, whether you're a "she", a "he", a "xyr", a "they" or something else. Tell me what you prefer and that's what I'll use. Easy, simple. But you do need a way to specify your preferred pronoun, of course, and one way to do so is what you suggest: Change your last name from "Brown" to "Brown (she/her/hers)", which is a solution, but it's not very elegant!
Fortunately, Instagram, as part of Facebook and Meta, has simple and effective support for personal pronouns, whatever you prefer. If you don't specify anything, that spot on your IG profile will simply be blank. Let's get this set up for my own Instagram profile, and to do this, I'm going to use Instagram for Mobile on my iPhone…
FIND YOUR OWN PROFILE ON INSTAGRAM
Go to the Instagram app on your mobile device and you'll see something like this: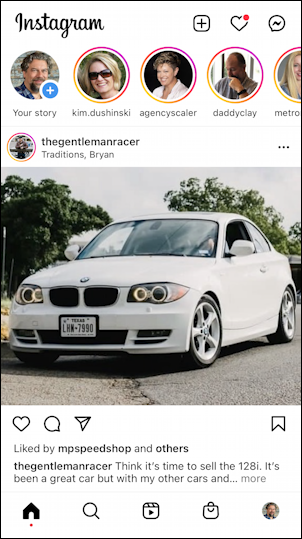 A very nice car that my friend Mike, thegentlemanracer, has shared, I would say! It's a BMW 128i and, heck, I'd buy it if I were in the area. Ah, but we're getting sidetracked…
To find your profile, tap on your profile pic on the lower right corner of the screen. It's a round profile photo. Here's my profile: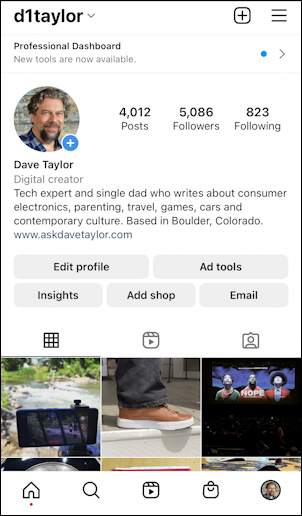 No obvious link or button for adding preferred pronouns, but if I had them set, they'd be displayed right now. To find where to specify your pronouns, tap on "Edit profile".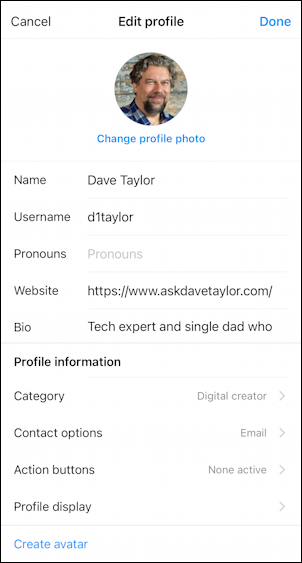 Here, finally, is an empty spot labeled "Pronouns"…
HOW TO SPECIFY YOUR PREFERRED PRONOUNS ON INSTAGRAM
At this point, simply tap on "Pronouns" and you'll be moved to a screen where you can enter your faves: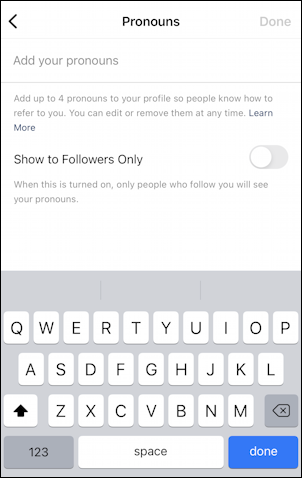 Start typing and you'll find that – surprise! – you can't just specify whatever you want: Instagram has a small library of acceptable pronouns so as you type one in, possible matches will be displayed. Like this: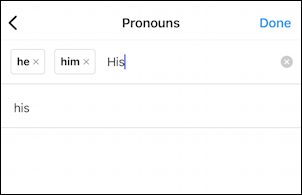 As you match, the pronoun shows up in a box with a tiny 'x' adjacent. Once I've entered mine, I tap on "Done" to go back to my Profile and they show up!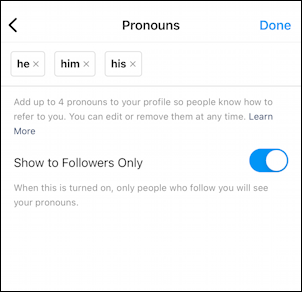 You have one more option here worth considering: Do you want to share these pronouns with everyone who views your profile on Instagram or just people who are already following you? Some people will choose one, others will opt for the other.
Either way, tap on "Done" again and you'll finally see your IG Profile with the preferred pronouns specified: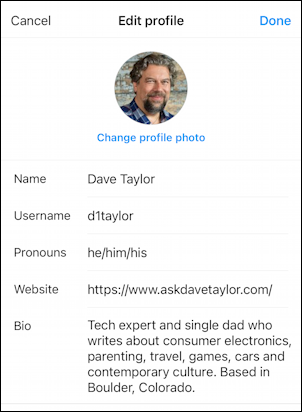 One nice thing is that Instagram will present your preferred pronouns in the most common format, so it's not "his/he/him", for example, even if that was the order I used to enter them in the previous screen. How does it look outside of the profile editor?
HOW YOUR PRONOUNS APPEAR ON YOUR IG PROFILE
If I go back to my own Profile, here's what it now shows: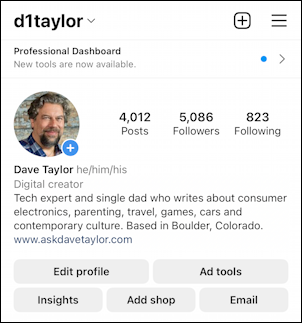 It's still fairly subtle in grey adjacent to my name, but it's there, which is great. How about someone else? I asked a friend to show me what she sees when she views my profile: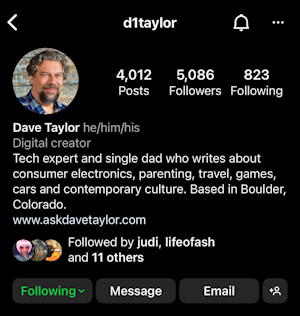 Quite similar, actually, though she doesn't see my "Professional Dashboard" and instead sees "Followed by…" and a few people who follow both of us.
And that's how you specify your personal and preferred pronouns in Instagram!
Pro Tip: I've been writing about Instagram since long before it became a Facebook property. Please check out my Instagram help pages for more tutorials. And don't forget to check out my Instagram account too, I post tons of fun photos at @d1taylor most every day.