I'm new to Linux and want to add a network printer to the system so I can print as desired. Once accomplished, I also want to be able to rename the printers based on where they're located. Is all that possible in Ubuntu Linux?
It's surprising how many people have moved to a paperless computing world, though most probably don't realize it. From electronic signatures and convenient PDF reading features integrated into popular ebook readers like the Amazon Kindle to paperless bill payment systems, we need a lot fewer printouts than we did a decade ago. But when you do need to print something out, well, it's nice to be able to access and utilize a network printer! Linux users are no different in this regard, and adding a printer to a Linux system is way easier than when the OS was first released.
With much of the modern Linux user interface experience, however, it's a bit quirky and some things – like renaming – just don't quite work as you would expect. Let's have a closer look by adding an HP network printer to an Ubuntu Linux system…
HOW TO ADD A PRINTER TO A LINUX SYSTEM
The basics are easy; go to Settings, then choose Printers.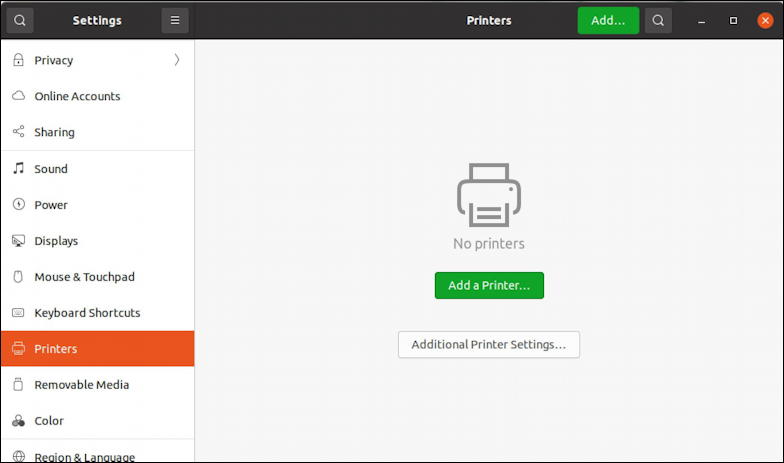 At this point, I have no printers available to use, but the great thing about network-accessible printers is that they're easy to add since they're discoverable by any device on the same network. A click on "Add a Printer…" and two are found: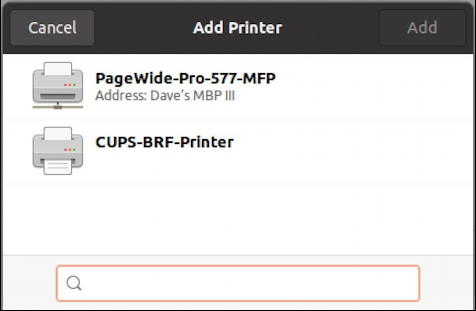 The first is as expected, the HP PageWide Pro 577 MFP printer that is being accessed through my MacBook Pro, but what's that second device? CUPS is the Common Unix Printing Sytem and it's essentially a "virtual" printer that makes it easy to save material as PDF as if you were sending it to a printer. Mac and PC systems both have this feature.
It is not, however, the printer we want, so I'm going to choose "PageWide-Pro-577-MFP" and click "Add" in the upper right corner of this window.

Success, though the printer name is pretty ghastly. But an interesting thing happens once the system realizes that this particular printer also has a FAX capability: A fax device appears as an alternative output choice too: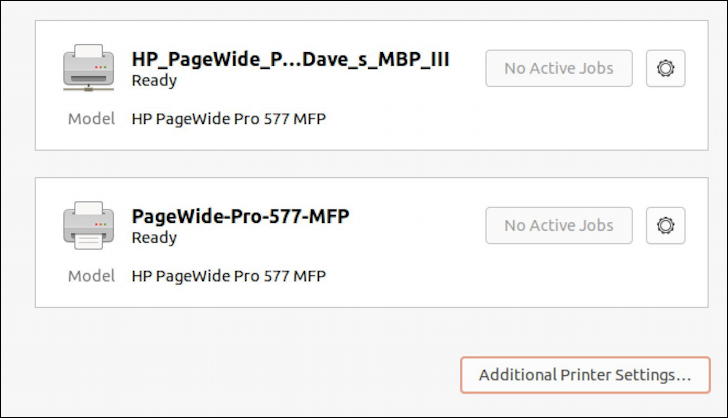 Okay, then, printer – and FAX – added, so now let's rename that printer to have it be a bit more user friendly.
HOW TO RENAME A PRINTER IN UBUNTU LINUX
A click on the gear icon on the right side will reveal a small menu of settings and options: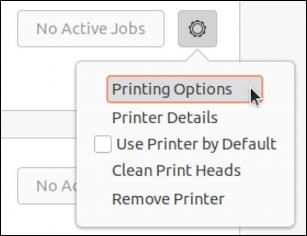 Surprisingly, there's no "Rename Printer" on this menu, though it would be a logical option. Notice the "Use Printer by Default" option, however: It's a great box to check if this is indeed going to be your default Linux printer.
Choose "Printing Options" and you'll be able to customize the configuration and settings: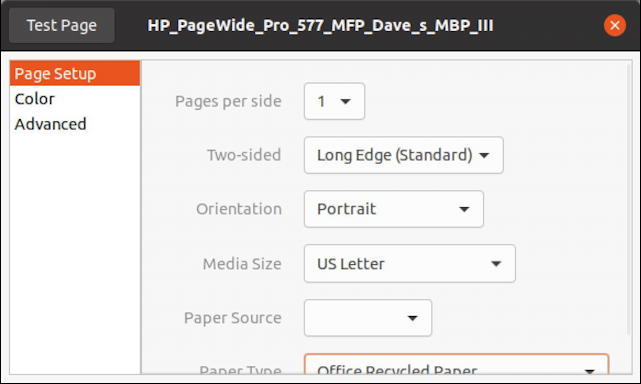 You can see the full – ugly! – printer name in the title bar too. Definitely worth fixing, if we can. On this screen, go through and ensure that the settings match the capabilities of the printer. It should, but it's good to double check.
Go back and choose "Printer Details" from that same pop-up menu and, finally, here's where you can rename the printer: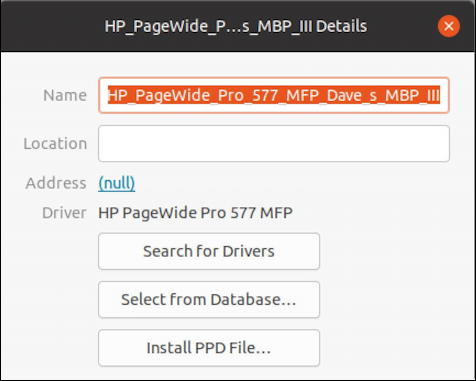 Click in the Name field and type in a more human-friendly name. In your case, one that includes the location of the printer itself. Your best bet is to avoid spaces since they'll be turned into underscores anyway. I suggest dashes, like "PageWide-Pro-577-MFP". There's no "Save" or "OK" button, which is confusing, so click on the Location field (and add a location if you like) to ensure that the text you've typed is accepted, then, hopefully, it'll be renamed.
My experience wasn't quite that, however, as the result of me trying to rename the printer was:

The printer vanishes (though it came back when I rebooted, but with its original name) and it's the printer with the FAX icon that was renamed based on what I updated in Printer Details. Confusing.
A quick test in the Brave browser to try and print a page and here are the printer options that are shown: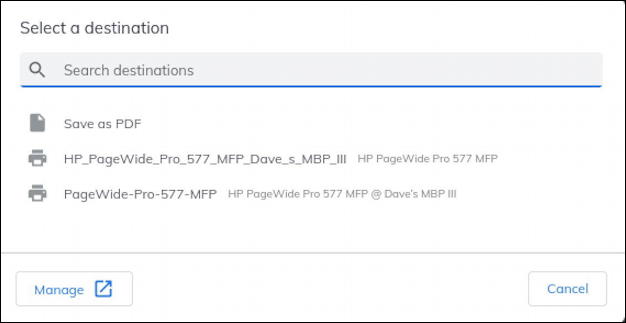 Both are shown as printers – at least by icon – and it's definitely confusing that my printer turned into two different printers with different names, but… so it goes. Sending the print job to "PageWide-Pro-577-MFP" did result in a printout, so I'm going to chalk that up as a success. I hope you find that your system is a bit more friendly with printer renaming, but at least you know how to go through the steps needed. Good luck!
Pro Tip: I've been writing about Linux since the dawn of the operating system, and Unix before that. Please check out my extensive Linux help area for lots of additional tutorial content while you're visiting. Thanks!