By habit I always reject desktop shortcuts, taskbar shortcuts and all that other litter from installing programs on Windows. Why is it so cluttered?? Suddenly, however, I find myself wanting to create a shortcut to a new program on my desktop after all. How can I add a program shortcut in Win10?
Desktop Shortcuts. A digital example of too much of a good thing isn't so good, in my opinion. In fact, it's fascinating to peek at people's computers and notice how the common approach of Windows programs adding a desktop shortcut produces screens that are littered with icons. For many Windows users, it's completely overwhelming to see the dozens upon dozens of icons on their desktop, many for programs they don't use, or don't even know they have installed! Windows does such a great job with file discovery and alternative paths, it's smart and easy to prune your Desktop list down to the few essential programs you love. Others can be in the Start Menu or even in the Taskbar. Or skip 'em all and just do a quick Cortana search to launch the program, game or utility you seek.
But I'm not here to fix Windows 🙂 so let's talk about how to restore that Desktop icon for your favorite program that you, in a fit of zeal, opted not to have created. This becomes a bit more clear when you realize that the official name for these are Desktop Shortcuts: the tiny arrow superimposed on the program icon denotes that it's a "reference" to the actual program file, not the program itself. Let's have a peek:
On the left side you can see the Desktop Shortcut for the terrific Hancom Office 2020 suite of programs. How do I know it's a shortcut? That tiny arrow on the lower left corner.
The rest of that image shows one logical way to try and create a shortcut, by right-clicking on an application or program icon on the Taskbar. In this case, I right-clicked on the tiny Google Chrome icon, then right clicked on its name in the smaller menu (yes, you can right-click on something you right-clicked to appear!). It offers "Pin to Start" and the ability to change its presence on the Taskbar, but that's about it.
Instead, go to the Start Menu and find the application you want to add on the left side list of all apps, then right-click:
Notice here I right-clicked on "Google Chrome" which offered three options: Pin to Start, More and Uninstall. Choose More and the last of the options is actually the one we seek: Open file location. By digging down to the actual location of the program (or any of its shortcuts on your system) creating another shortcut will prove to be a breeze.
Here's what shows up in Windows Explorer: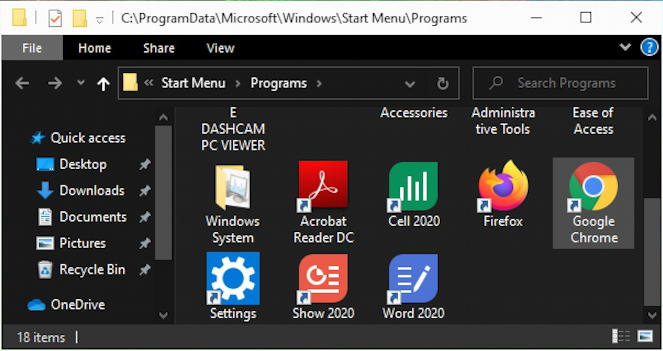 Ah, the tiny arrow shows that these are all shortcuts. Notice the folder is "Windows \ Start Menu \ Programs", which is logical! No worries, though, because you can create a shortcut of a shortcut and Windows knows exactly how to treat that situation.
Right click on the shortcut for the program in question, in this instance "Google Chrome", and a rather substantial menu shows up:
Choose "Create shortcut" and don't worry about your current location in the file system. Because Windows has ya covered. It'll pop up the following prompt:
That's darn handy, isn't it? Click or tap on "Yes" and you'll have exactly what you seek: A Desktop Shortcut for the program in question!
Done. And that's all you need to do. There are probably paths that involve one or two less clicks, but this is a pretty easy path to get the task accomplished: Just remember to right click on the program in the Start Menu and you can go from there. Now about that messy desktop…
Pro Tip: I've been writing about Windows for years and years. Heck, I'm a Windows Insider MVP at Microsoft! What this means is that I have a ton of Windows help content on the site, so please do check it out while you're here.